Dean Martin sang the glories of love saying, "When the moon hits your eye like a big pizza pie, that's amore." Who's to say we can't also sing, "When the moon hits your eye like a big apple pie…"?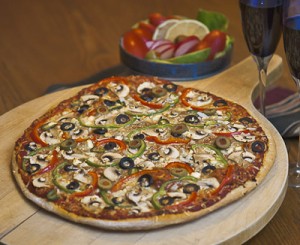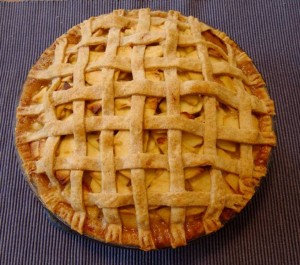 Baking pies – pizza or apple – doesn't need to be tricky or intimidating. Some flour, a little salt, some water, maybe yeast or fat, and there you go.
Pizza dough requires only flour, salt, water, and yeast; so simple. Pie dough is only a bit more complicated – you add butter and/or shortening to the flour, salt, and water.
Download these recipes and start baking! I'll let you in on a little secret; you can have pizza AND apple pie for the same meal.
Start with the best ingredients you can find and you can't go wrong. Blend both whole wheat and unbleached white or try whole wheat pastry flour. Be brave; you can do it.
In the Northwest, you can buy organic flour and grains from a wide assortment of small growers, millers, and distributors. If you can find Fairhaven Organic Flour Mill products in stores, snap them up!
My favorites are Fairhaven's fine grind whole wheat, stone ground whole wheat, whole wheat pastry flour, and unbleached white flour. They're the perfect base for all your baking.
Then mix and match from other regional suppliers; some are available in stores and others are online only. Order online from any of these companies – all the grains and flours listed below are organic.
Bluebird Grain Farms: Emmer Flour, Einka (Einkorn) Flour, Dark Northern Rye Flour, Hard White Wheat Flour, Hard Red Wheat Bread Flour, Emmer Pasta Flour – all organic (Washington only)
Nash's Organic Produce: Hard Red Wheat Flour, Soft White Wheat Flour, Annual Rye Whole Grain, Hard Red Wheat Whole Grain, Soft White Wheat Whole Grain, Triticale Whole Grain – all organic
Timeless Natural Foods: Purple Prairie® Barley Whole Grain, Emmer/Farro (Semi-Pearled) Grain, KAMUT® (Semi-Pearled) Grain – all organic
Lentz Spelt Farms: Black Nile Barley Flour, Einkorn Flour, Emmer Flour, Spelt Flour, Black Nile Barley Whole Grain, Grünkern Whole Grain, Einkorn Whole Grain, Emmer Whole Grain, Spelt Whole Grain – all organic
Granite Mill Farms: Stone Ground Sprouted Hard Red Wheat Flour, Stone Ground Sprouted Soft White Wheat Flour, Stone Ground Sprouted Spelt Flour, Sprouted Hard White Wheat Flour, Sprouted Emmer Flour – all organic
Azure Standard/Azure Farms: Buckwheat Flour, Einkorn Flour, Sprouted Emmer Flour, Garbanzo Flour, Green Split Pea Flour, Hard Red Winter Wheat Flour, Sprouted Hard Red Wheat Flour, Hard White Winter Wheat Flour, Sprouted Hard White Wheat Flour, KAMUT® Flour, Lentil Flour, Millet Flour, Milo (Sorghum) Flour, Oat Flour, Whole Wheat Pastry Flour, Pinto Bean Flour, Quinoa Flour, Rye Flour, Small White Bean Flour, Spelt Flour, Triticale Flour – all organic
Read more about grain, flour, millers, and bakers
Local Grains: Taking Back Our Wheat
When Did our Daily Bread Take a Wrong Turn?
How to Buy a Flour Mill: Check Craig's List
Dishing on Pollan's Cooked
Reclaiming Farmland and an Ancient Grain
On the Road: Emmer – An Ancient Grain
Dryland Farmers – Eastern Washington and Northwestern Montana
On the Road: Historic Grist Mill, Thorp WA
Country Living Grain Mills: One Small Company's Local Food Economy
Tall Grass Bakery: Let Them Eat Bread
Essential Baking: Seattle's Biggest Small Bakery
Wheat Bread: a Baking Retrospective