George DePasquale and his business partner, Jeff Fairhall, knew from the beginning that they wanted to build a bakery selling George's unique and creative breads. Almost 20 years later, unfortunately Jeff is now deceased, but George is still following their dream.
[jj-ngg-jquery-slider gallery="Essential" width="650″ height="465″ center="1″ tags="Essential" effect="fade" pausetime="2500″  directionnav="false" controlnav="false" order="sortorder" disablecaptions="1″ ]
(If you want to pause the rotating photos, rest your cursor on any image.)
"I've been a baker all my life," says George. "I came out of the natural and organic side of things." Always working in wholesale bakeries, he came to Essential Baking with the right combination of experience and passion.
When he was a child, George's quintessential (and large!) Italian-American family gathered every weekend to make food for the coming week – for the whole family. Fresh pasta hung drying over the backs of the sofa and chairs and lay curled on the beds, pots of sauces simmered on the stove, and piles of fresh fish were cleaned and frozen. And Mama always baked bread for the family.
It was the homemade bread and exposure to the bakery down the street that made those years so important to George. He literally grew up with "flour in his hair;" baking bread all his life.
San Francisco in the late 60s and early 70s was not only the center of the "alternative lifestyle," it was where George began his long career as baker. "We were part of the first artisan movement, reintroducing beautiful bread to people. We were the oddballs; back then 'whole wheat' bread was the healthy stuff."
It was an education to live in a commune where everyone idolized food, yet food safety practices were shocking and the food was abysmal. The first bakery George worked in offered another educational experience for a young man just starting his career: the women worked topless because of the high heat.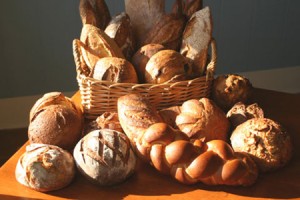 George and Jeff came into the baking world knowing that they would be wholesaling rather than retailing their bread. Jeff's sandwich shop offered a sandwich that was technically something now called "a wrap" before "wrap" was ever used to describe a sandwich!
They began selling at farmers markets, using them as test markets. Essential Baking still sells at farmers markets around Puget Sound, continuing to use them as venues to test new and different styles and flavors.
Today George is experimenting with locally grown and milled wheat. And he has discovered that he has become an unwitting advocate for the terroir of wheat. "I don't know how that happened. The wheat being grown in western Washington seems to have way more flavor than other wheat," says George. "I believe that there is a certain 'localness' to flavor. Unfortunately large growers target varieties of wheat for high production and ease of processing rather than taste."
Business Philosophy
Essential Baking is a moderately-sized business; not too big, not too small. At the same time, the company is growing rapidly and George and his team ask themselves every day, "Are we too big?"
"How do you balance the concept of when are we too big? We debate that kind of stuff all the time here," says George. "I'm really excited to be in the position that we are in – still artisan bakers, yet mechanized enough to produce the 25,000 pounds of dough we need every day. We always were going to be wholesale and we always knew we wanted to grow."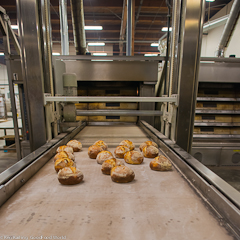 Growing into a large commercial bakery requires automating and with that growth comes a point when the quality begins going down. How do you keep to your core principles and still produce a large quantity?
It is Essential's goal to make good bread and offer an alternative to conventionally produced baked goods, not to be the largest bakery in Seattle. George is the first to acknowledge that, "It's a hard business!" The challenge is to keep making good bread.
Even with the company's recent growth, Essential Baking has never used its size to try to put any of its smaller competitors out of business. George says, "I hope people will buy my bread because they like it. There is enough difference between all the local bakers that retailers and consumers can buy different products from different sources. There are breads that someone like Columbia City Bakery or Tall Grass Bakery can make that we can't even touch. For example, we can't make a dozen of anything, and small restaurants want just a dozen or two of something every day."
Concerns
With business concerns always at hand, there are also three major global issues that keep George up at night: climate change, approval of GE wheat, and availability of organic flours and grains.
The heat and drought across the country have corn and soybean farmers deeply concerned, while growers of spring wheat are likely to have a good year. An early spring meant wheat was planted early enough and matured enough to withstand higher temperatures and lower rainfall. While 2012 may be a reprieve for wheat farmers, continuing drought could bring lower production in coming years.
Currently no genetically engineered (GE) wheat is sold in the United States, however between 2002 and 2005 a transgenetic variety of hard white wheat was sold here. The developers of these patented, modified varieties are working hard to introduce a number of new varieties around the world. How will that affect Essential Bakery?
"We are GMO-free across the board," says George. "We are a full service bakery and produce everything from bread to deli cheesecake. There are no genetically engineered products – grains, oils, sweeteners, etc. – used in our bakery."
The third issue – availability of organic flours and grains – is driven by economics. As the demand for organic products continues to increase, the prices for those products are going up. Companies like Essential that are between the producer and consumer in the supply chain are being squeezed from both ends.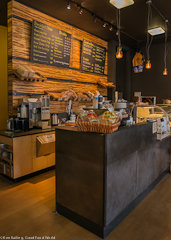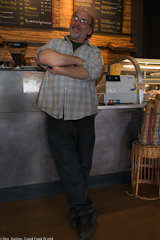 The farmers set their prices, the brokers set their margins, the retailer won't raise the price, so the increased cost falls on the shoulders of the baker. The price for the raw material is going up, yet the consumer isn't willing to pay a higher price for a loaf of bread in the supermarket. The tripling of the price for organic flour that has occurred over the last several years has cut drastically into an already tight profit margin for Essential Baking.
Artisan bakers – individuals, small bakeries, and larger ones like Essential Baking – are all educating consumers about the value of good grain, good production, and quality bread. People who seek out good food are willing to pay $40 for a bottle of imported olive oil and $25 a pound for farmstead cheese, but will balk at paying $6 or $7 for a loaf of bread. After all, it's just flour and water…
Marie Antoinette may – or may not – have said, "Let them eat cake" when bread riots broke out in France in the late 18th century. A new revolution needs to happen; today's consumers are happily eating fluffy, enriched, cake-like white bread.
It's time to say, "Let them eat bread, real bread!"
Read also: When Did Our Daily Bread Take a Wrong Turn?