It's time to be honest; so I'll lay it all out right here. I'm into my third year of my 5-year plan to learn how to bake good bread, and somewhere around March this year, I lost my baking mojo! Every loaf that came out of the oven fell into two categories: brick or curling stone!
Actually I didn't lose my ability, I just got cocky and thought that I was getting closer to being a "real" baker so I started experimenting. And every scientist (and baker) will tell you that you don't start experimenting until you've got the basics down. You'll blow something up – or in my case, you'll pull some spectacular flops out of the oven.
At this point we have to give my husband props for eating almost all of my experiments with minimal complaints! There were a couple that went right from the oven to the back yard to feed the birds, so he didn't have to try ALL of them.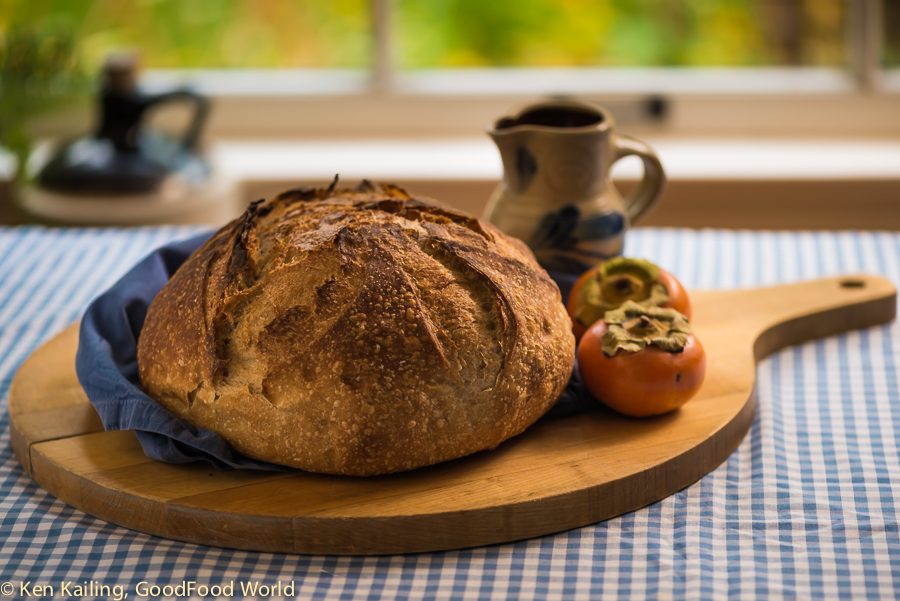 Here's what I learned during my "baking bad" months:
Pay attention!
Don't rush things, don't try to take short cuts.
Measure carefully – by weight.
Keep your starter well fed and happy.
Pay attention! It's worth repeating 'cause it's too easy to forget the salt, forget how long your dough has been rising, or forget how long the bread has been in the oven.
Know your flour and how it behaves.
Let's talk about that flour thing…
In my arrogance, I thought I could just substitute any flour in formula and it would come out fine. Not true!
Flours made from grains like Einkorn, Emmer, Spelt, and other members of the Triticum species, as well as Rye and Triticale (a natural cross between Rye and Wheat), all have specific characteristics that affect the outcome. Some are "thirsty" – that is, they absorb more water, and the strength and elasticity of the gluten that forms varies too. Some are "sweeter" and rise faster, some rise slower but the gluten is weaker.
On the other hand, whole grain flour can't replace unbleached white flour in equal amounts. White flour, even unbleached, is silky smooth, has the bran filtered out (that's what makes it "white"), and will – on occasion – rise like a balloon since it's pure starch. Whole grain flour contains all the bran from the grain, which can actually "cut" the gluten and keep the bread from rising.
Flour that is stone ground will often be coarser than flour milled in a hammer mill, requiring a change in the amount of water needed and more judicious handling.
My pledge to good bread
I will only (I promise, Kevin Christenson!) use flour from Fairhaven Organic Flour Mill as my "base" for my baking from now on. More than 60% of all the grains milled at Fairhaven are grown in Washington, as is more than 50% of the wheat Kevin mills. The loaves that are predominantly Fairhaven flour come out beautifully every time for me.
I will carefully blend in stone ground organic flour from Nash Huber's organic farm in Sequim WA, stone ground organic sprouted wheat flour from Granite Mill Farms (Thompson Falls MT), or amazing flours made from Einkorn or Emmer grown and milled by Bluebird Grain Farms.
I will make bread mindfully; paying close attention to the weather, the grain, my handling of the dough, and the health and vigor of my starter.
And finally, I will always share fresh bread with family and friends, enjoying not only good food but good company!
Bon appétit!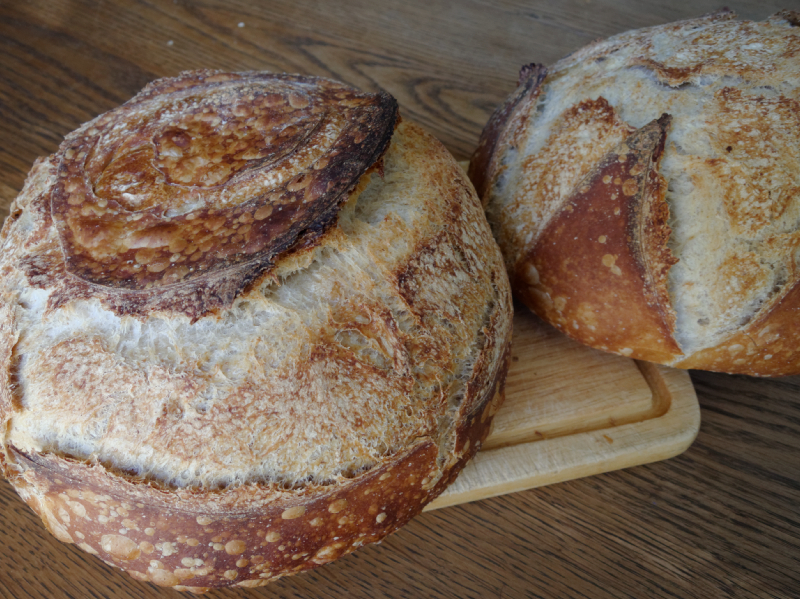 Read more about grain, flour, millers, and bakers
Local Grains: Taking Back Our Wheat
When Did our Daily Bread Take a Wrong Turn?
How to Buy a Flour Mill: Check Craig's List
Dishing on Pollan's Cooked
Reclaiming Farmland and an Ancient Grain
On the Road: Emmer – An Ancient Grain
Dryland Farmers – Eastern Washington and Northwestern Montana
On the Road: Historic Grist Mill, Thorp WA
Country Living Grain Mills: One Small Company's Local Food Economy
Tall Grass Bakery: Let Them Eat Bread
Essential Baking: Seattle's Biggest Small Bakery
Wheat Bread: a Baking Retrospective