"Let food be thy medicine and medicine be thy food." Hippocrates
"Eat less, move more, eat lots of fruits and vegetables, go easy on junk foods." Marion Nestle, Ph.D., M.P.H., What to Eat
"Eat food, not too much, mostly plants." Michael Pollan, Omnivore's Dilemma
Supermarkets and big box stores offer nearly 50,000 – or more – products for us to choose from to feed ourselves and our families. It turns out that is a big challenge to healthy eating. A nation-wide analysis of U.S. grocery purchases revealed that highly processed foods make up more than 60 percent of the calories in food we buy, and these items tend to have more fat, sugar and salt than less-processed foods.
If we don't understand the high cost of bad food – to ourselves, our families, our communities, and our economy – we will see life expectancy shorten, chronic diseases increase, and healthcare costs continue to spiral. In Montana, the pressure of bad food and the poor access to good food is being felt across the state.
In the face of warming climate, more extreme storms and weather patterns, temperature extremes, and increased or decreased precipitation, we need to work to ensure our and our communities' food security.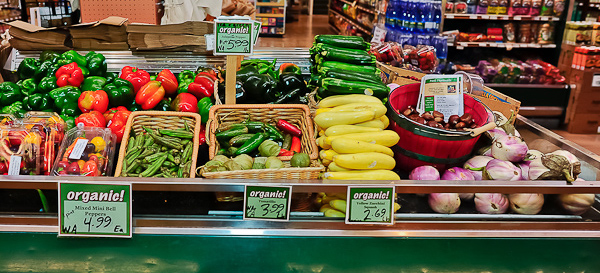 Selecting locally grown and minimally processed food items – good food – means more healthful and nutritious food on your plate. How do you know what is available to you? Every year nearly 50 small Montana food producers came together at the Montana Department of Agriculture Food Show, to present rich cheeses, breads and cereals, nutritious meats and grains, preserves, pickles, and snacks – and beverages ranging from milk and juices, tea and coffee, to craft beer and spirits – from across the state.
Your nutrition advisor: Look for these benefits from a sampling of products from Montana.
Fermented veggies1: naturally fermented pickles, sauerkraut, and kimchi contain beneficial probiotics that promote a healthy digestive tract.
Buy from: Farmented Foods (Bozeman), Plate and Pantry (Bozeman).
Raw honey2: raw honey contains small amounts of enzymes, minerals, and vitamins; choose raw for the greatest benefits.
Buy from: Treasure State Honey (Fort Shaw).
Sheep's milk cheese3: sheep's milk contains less lactose as well as less alpha s1 casein protein, than cow's milk and may be easier to digest if you have lactose intolerance. Sheep's milk has twice the butterfat as cow's milk, which means it takes less volume of milk to make the same amount of cheese.
Buy from: Sheep Mountain Creamery and Meat (Helena).
Safflower oil4: has an oleic-acid content normally between 80% and 83%, one of the highest of all cooking oils on the market, giving it stability for high-temperature cooking. The high oleic-acid content also contributes to lowering bad (LDL) cholesterol and maintaining good (HDL) cholesterol.
Buy from: The Oil Barn (Big Sandy).
Grass-fed beef5: there are many benefits associated with livestock that is naturally pastured and not fed grains such as corn, soybeans, and barley:
Lower in total fat
Higher in beta-carotene
Higher in vitamin E (alpha-tocopherol)
Higher in the B-vitamins thiamin and riboflavin
Higher in the minerals calcium, magnesium, and potassium
Higher in total omega-3s
A healthier ratio of omega-6 to omega-3 fatty acids (1.65 vs 4.84)
Higher in CLA (cis-9 trans-11), a potential cancer fighter
Higher in vaccenic acid (which can be transformed into CLA)
Lower in the saturated fats linked with heart disease
Buy from: Bar 77 Montana Grassfed Beef (Bozeman), MM Beef Company (Billings), McCafferty Ranch Beef (Belt), Yellowstone Grassfed Beef (Bozeman).
Sourdough bread6: the fermentation process which is part of the making of sourdough bread may make it more digestible for people with non-celiac gluten intolerance.
Buy from: On the Rise Bread (Bozeman), Sunflower Bakery (Helena), Blue Truck Bakery (Great Falls), Stella Bakery (Bozeman).
Pulses7 (lentils, peas, chickpeas): lentils provide special nutritional benefits including:
Twice the protein of quinoa
20-40% of the recommended daily allowance (RDA) of iron
53% of your RDA of folate
Nearly 1/3 recommended intake of dietary fiber.
Full of a wide range of minerals like: calcium, magnesium, phosphorus, sodium, zinc, copper, manganese, and selenium.
Naturally gluten-free
Contain a healthy 3.7:1 ratio of Omega-6 to Omega-3
Estimated glycemic load of 13
Buy from: Timeless Seeds (Ulm), Marias River Farms (Chester).
Make your choices carefully; eat well and be well!
---
If you have – or want to have – a Montana food-based business, we can help you. At at GoodFood World, we provide business, marketing, and operational consulting to help you build a lasting business that delivers healthful and nutritious food to your friends, neighbors, and community. Contact Gail Nickel-Kailing, experienced business advisor, or Ken Kailing, for physical design and resource planning recommendations.

---
Your breakfast menu: bread, honey, coffee and cream! All Montana-sourced!
Click on any of the images below and take a tour of the 2018 Montana Department of Ag Food Show. See who was there, check out the wide variety of products available, and shop Montana!
---
Sources:
More Reading: