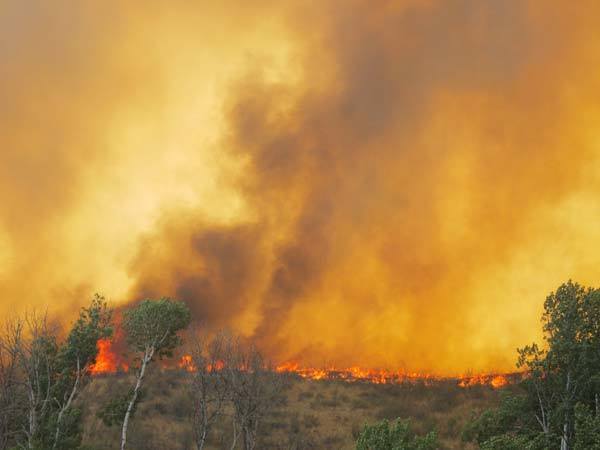 When the temperature is in three digits, high winds are toppling and uprooting trees, and lightning is setting the world on fire around you, all you can do is pray and put your head down to save your family, your farm, and your livestock. Jennifer Argraves, Louis Sukovaty, their children Icel and Geza, neighbors, and a team of firefighters were able to keep the fire at bay and keep Crown S Ranch, Winthrop WA, safe.
Farming is a high risk business, and when you are raising livestock – beef cattle, sheep, pigs, turkeys, ducks, laying hens and broilers, and rabbits – you are responsible for hundreds of living creatures. And when dozens of fires are burning hundreds of acres of pasture and timberland, that responsibility can be frighteningly heavy.
Looking out over the same hayfield – August 2014 (left) and October 2010.
We're thankful that Crown S Ranch, Bluebird Grain Farms, and Booth Canyon Orchard were spared by the multitude of fires that have burned in north central Washington since mid-July. The most recent fires appeared – or reappeared – Saturday, August 2. None of us will rest comfortably until the summer fire season is over!
As electric and telephone services are restored and we hear more about farmers and ranchers we have visited, we'll provide updates here.
Read more about Crown S Ranch:
The Grazing Eco-System – Crown S Ranch
Engineering an Organic Farm: Crown S RanchThe Forgotten Ham
Local, Direct, Sustainable, Organic – One Farmer's Delivery Dilemma
A New Generation of Farmers – Young, Educated, Energetic
Small Farmers Need Small Slaughterhouses