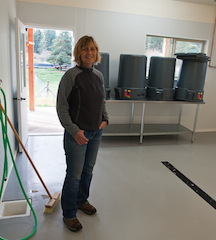 Small farmers in the West who are raising meat and poultry need affordable – and legal – slaughterhouses. Nearly all the meat and poultry consumed in the US today comes from just four companies that operate their own USDA-inspected processing plants. Most of the remaining meat processors – beef, pork, lamb – do not process poultry. And if you are raising organic poultry your choice of a processor may be hundreds of miles away.
A federal exemption allows farmers who raise 20,000 birds or fewer annually to get a state license to butcher their poultry themselves. That option is costly and time-consuming. Read more about the hurdles that Tyler Jones and his family had to overcome to get licensed by the Oregon Department of Agriculture.
Jennifer Argraves, who farms Crown S Ranch in Winthrop WA with her husband Louis Sukovaty, recently overcame those hurdles in Washington. She spent five years negotiating through the legal maze that required five different permits before they could open their facility.
They now have a state of the art organic-certified, Washington Department of Agriculture-certified poultry slaughterhouse where they process their own chickens and turkeys. Here is what Jennifer has to say about the process:
Farmers are experimenting with a variety of solutions including mobile slaughterhouses. Several have been licensed in Montana, Washington and California, but none yet in Oregon. Unfortunately they are expensive to build and operate.