When you were 5, what did you want to be when you grew up? A fireman, a ballet dancer, a doctor? Maybe even a farmer?
Over the last several generations, somewhere between the ages 5 and 15, farmer fell off the list of careers for most Americans.
In 1937, there were more than 6.8 million farms in operation; today there are just over 2.1 million. And while 70-80% of the population was employed in agriculture in 1870, only 2-3% is today.
As the farm population has gotten smaller, the average age of American farmers has gone up. About 40% of our farmers are 55 years old or older.
Are we at risk of losing all our farmers?
Until recently it seemed so. But not now…
Farming is the new cool career! Fast Company – that 1990s dot com publication for rapidly growing "fast companies," recently published a list of the "10 Best Green Jobs for the Next Decade."
Job #1? Farmer!
Says Fast Company:
America has only two million farmers, and their average age is 55. Since sustainable agriculture requires small-scale, local, organic methods rather than petroleum-based machines and fertilizers, there is a huge need for more farmers — up to tens of millions of them, according to food guru Michael Pollan. Modern farmers are small businesspeople who must be as skilled in heirloom genetics as marketing.
Related careers: urban gardener; farmers market and CSA coordinator; artisanal cheesemakers; and other food producers.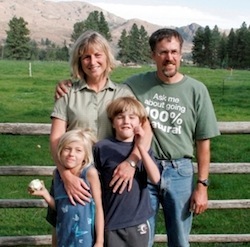 Today's farmers are highly educated and many are experienced in fields that may, at first glance, seem unrelated to the business of farming. They come to farming prepared with life experience, advanced or technical degrees, and business skills.
Jennifer Argraves and Louis Sukovaty are engineers by training – she, civil engineering; he, electrical/mechanical engineering – and combine their training with their passion: farming.
On Crown S Ranch, you will find grass-fed cattle, pigs, laying hens, chickens, and turkeys on certified organic pastures in Washington State's Methow Valley. Argraves and Sukovaty combine traditional animal husbandry with new technology to create sustainable farming practices.
Heidi Norman Wise and John Wise own and manage A Wise Choice Dairy in northwest Wisconsin. Heidi left a career in the finance industry – nearly 17 years at American Express and Ameriprise Financial in Minneapolis – to help manage 65 cows and calves. She hand John plan to increase their herd to 80 milk cows by the end of this year.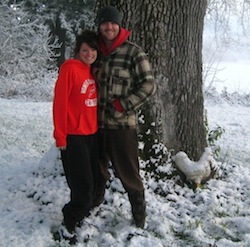 Even people in their 20s and early 30s are exploring farming as a career. A recent article in the New York Times – In New Food Culture, A Young Generation of Farmers Emerges – profiled farmers like Oregon's Tyler and Alicia Jones.
Now, Mr. Jones, 30, and his wife, Alicia, 27, are among an emerging group of people in their 20s and 30s who have chosen farming as a career. Many shun industrial, mechanized farming and list punk rock, Karl Marx and the food journalist Michael Pollan as their influences. The Joneses say they and their peers are succeeding because of Oregon's farmer-foodie culture, which demands grass-fed and pasture-raised meats.
The next generation of good food providers has arrived. We welcome and encourage them!
________________________________________
Sources:
Agriculture in the United States: http://en.wikipedia.org/wiki/Agriculture_in_the_United_States
Agricultural Demographics (EPA): http://www.epa.gov/oecaagct/ag101/demographics.html
Ten Best Green Jobs for the Next Decade: http://www.fastcompany.com/articles/2009/01/best-green-jobs.html
Farming is the new hipster occupation of choice: http://www.grist.org/article/2011-03-07-farming-is-the-new-hipster-occupation-of-choice/
In New Food Culture, a Young Generation of Farmers Emerges: http://www.nytimes.com/2011/03/06/us/06farmers.html