1984: January
Once again, we received matching grant funds of $475 from ASPC (American Sheep Producers Council), Denver. The funds were to be used for promotion, so we decided to use part of the money to construct the South East Minnesota Sheep Producers Association (SEMSPA) display booth for future fairs and shows. Jack Stamschror volunteered to do the construction and Jeananne Warner and Debbie Stegemann did the finishing work. Now, we had an attractive display to be proud of and we no longer had the expense of shipping a display back to Denver after each promotion.
We also purchased a Farberware Grill after Terry Carter and I attended a training session in Minneapolis on grilling lamb for taste sampling. It was sponsored by North Central Wool Marketing; whose President, Dick Boniface, was always helpful to us in our endeavors. Now, we were all set for promoting!
However, we received word from Minnesota Lamb and Wool Producer's (MLWP) President, Dean Benker, that we should suspend all taste sampling until it was ascertained that we were covered by ASPC's liability insurance. I called Denver to check this out and their insurance representative said that all producers in the country were covered. Considering there were several hundred thousand producers, we wondered if he knew what he was talking about. While we pondered the problem, our "guardian angel," Dr. Dave Blahna of the Dodge Veterinary Clinic stepped up and paid the premium on our liability insurance so we could go ahead with promotions we had planned.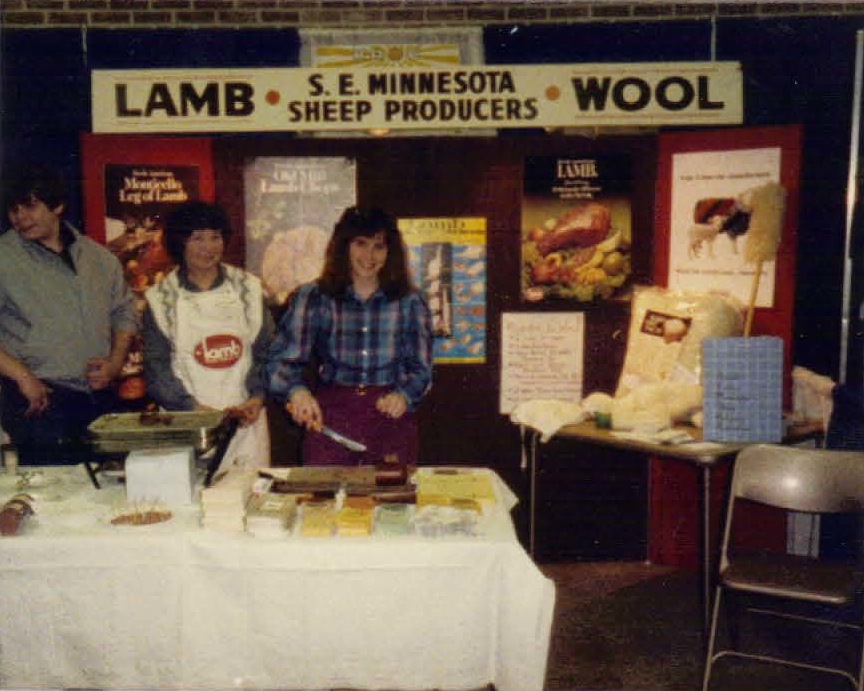 February 19 – Shearing Day. We had 122 ewes this year, but just prior to shearing, Paul Beyes, a producer from Hawkeye, IA, purchased 10 yearling ewes, leaving us with 112 ewes to lamb. We sheared them 3 weeks prior to lambing. In the days before the barn renovation, we did not shear until after lambing in the spring, as the barn, without good windows and doors, was just too cold to shear them in the coldest months. Now that we had a pretty snug barn, we sheared pre-lambing and it was much better.
Once the heavy fleeces were off, the ewes put out body heat; which helped warm the barn. They shivered a couple days, but there was much more room in the barn, and they were more comfortable, and so was I. When you are working in a barn full of wooly sheep, you can get stuck in the middle of them… and worse, get stuck between groups trying to go in two different directions, and get spun around pretty good!
Lambing goes much better too when they are sheared, as wool draws a lot of moisture and makes the barn damp… not healthy! Once the wool was off, the barn was nice and dry, as we bedded with shredded newspaper which we bought in 50 pound bales from the county recycling center. It packed down, stayed dry, and fresh paper was added each day. There is a story here…
One year just before Easter, a group of First Grade students came out on a barn tour to see the ewes and newborn lambs. It just happened that the bales of paper I had used were from comic strips, very colorful! in addition to that, when the lambs were born, I sprayed paint a number on the ewe and a matching number on her lambs, so we would't get confused about whose lambs are whose before they get ear tagged.
That year the paint was a bright green, and along with the colorful paper, the colorful ewes and lambs, the children were delighted! "Oh!", they said, "You decorated them for Easter!" As always, "out of the mouths of babes!"
Another benefit of shearing pre-lambing, is avoiding the danger of a wooled ewe in a lambing pen with her lambs, lying down on a lamb and smothering it. That does not happen often, but it does happen, as they don't feel the small lamb under them through their thick wool coat.
With shearing out of the way, we were able to enjoy Winona State's Jazz Band Concert on February 24, and also the Honor Band Concert on February.25. Lisa, in her Senior year, was still enthusiastically blowing a Tenor Saxophone, and enjoying it! She had the capacity to blow a Baritone Sax too, but chose to stick with the Tenor. She had many good and happy experiences with her music throughout her school years.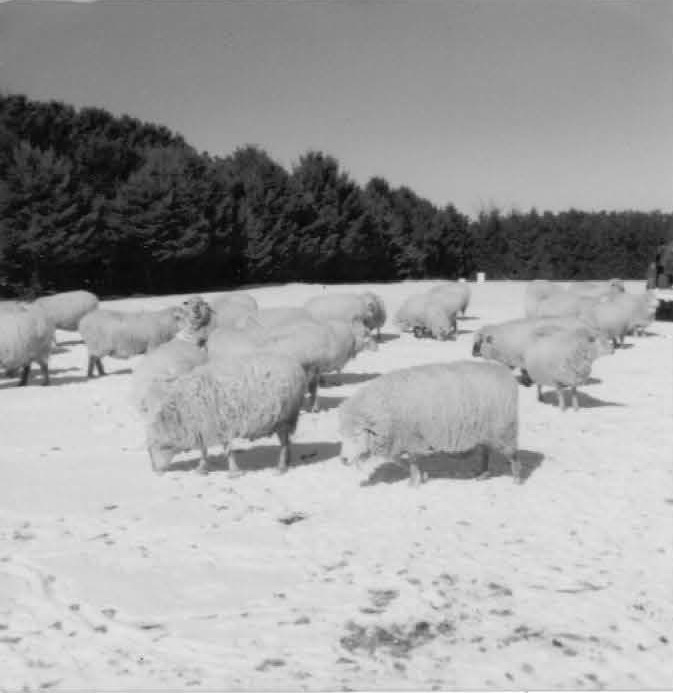 March 10 – Lambing began with some trepidation on my part, as The Shepherd magazine had just published a story by Dr. Charles Parker, "The Year of the Prolapse," in which he described what was a veritable epidemic of uterine prolapses in pregnant ewes, to the point where producers were having up to one-third, one-half, or more of their ewe flock prolapse. No cause had been found as yet, so I was somewhat nervous.
Sure enough 5 of my ewes did have prolapses that year, but I replaced the prolapse, inserted prolapse retainers, and trussed them up with prolapse harnesses made from baling twine, and they all carried their lambs to term, and lambed successfully through the harness and retainer with no losses. We occasionally had a ewe that was prone to prolapse, both before and after this incident, but never to that extent, and I never knew what precipitated it that year. We were always careful to not feed hay with any trace of mold, or dusty, or musty grain, so had no clue as to what caused the problem.
Along with lambing, I had to dash up to Rochester the evening of March 19, to finalize plans for upcoming events in early April, both the KROC Home show and the HyVee North and South stores were asking us to do promotions the weekend before Easter. Whew!
Despite the prolapse scare, lambing was going very well, and by March 20 "Bluebird" produced twins, and as usual they were both ewe lambs! A few days later, her daughter #146, who had quints the previous year, delivered a set of quadruplets: 3 ewes, and 1 ram. Another thrill! Two days later her twin, #145 delivered twin ewe lambs. No wonder our ewe flock was growing by leaps and bounds!
We had begun calling these two ewes "Big Mumbo," (#146), and "Big Jumbo," (#145), they were both good sized ewes, capable of carrying a lot of lambs! I made sure I gave "Big Mumbo" extra rations, and she raised all four lambs herself and did a good job of it!
We came through the lambing with no lambs lost, the second time for that joyful event, and had our first year where our flock lambing average hit 200%! A big milestone! I was exhausted, but happy!
Early April – The Lamb and Wool Promotion Committee did a pre-Easter, 2-day lamb sampling event at both the North and South HyVee stores. Sixteen legs of lamb were used in the two afternoons of samplings, and HyVee was very happy with the sales generated!
May – And how nice to have the ewes and lambs out on pasture, and be able to catch my breath! Not for long though, as we had quite a bunch of bottle lambs, which at first had to be fed several times a day, but as they grew they were finally fed lamb milk replacer twice a day, along with getting started on small amounts of grain.
With our lambing rates increasing, it was inevitable that we would get more bottle lambs. Some of our older ewes that had twins, were no longer able to feed two lambs, due to mastitis, so one would have to be bottled, and any ewe that had triplets, other than "Big Jumbo," would have one lamb removed to the bottle lamb pen.
A ewe would try to feed all her triplets, but she only has two teats, and in all but a few cases, one lamb would get shorted, and not grow out as well as they should, so it made more sense to bottle one. We started them out on tiny nipples, called "Pritchard Teats," which worked very well with new lambs.
Once they were doing well, Sean was very good at getting them used to the larger black nipples on a bottle, and shortly after that on buckets, so 4 lambs could feed at one time on a bucket. Gradually, their feedings were cut down to two a day, then once a day. That made the raising of bottle lambs much easier. They had their own pasture next to the barn, and once they were grazing well and eating grain "free choice," they were weaned off the milk buckets entirely.
Our committee decided against doing the Agri-New Show this year. With limited resources, we had to choose carefully where we promoted, and we came to realize that the Agri-New Show was attracting mostly farm people, who usually raised their own meat animals, and were less likely to purchase lamb. We needed to spend our dollars promoting in markets which carried lamb and had clientele more likely to buy lamb.
June – We did a 3-day promotion at Lake City's "Water Ski Days," and sold Lamb Shish-kebabs at $1.00 apiece. We had a sign that announced "Lamb Shish-kebabs," after some time passed and no one was buying any, my co-chair, Jeananne noticed and mentioned the fact to me. I thought a minute, and then said, "Change the sign to just Shish-kebabs." That did it, people started buying, and we handed them their Shish-kebab along with a napkin which said "Enjoy your Lamb!" We sold over 1,000 kebabs, and after paying our expenses, cleared about $350, and made a lot of people into lamb lovers!
November – At a 2-day in-store taste sampling we conducted at Barlowe's in Rochester, their sales of lamb increased from an average of $600 to $2400 during the event.
December – The Corn Belt Lamb Tele-Auctions continued with loads of 400 head of lambs being sold every two weeks. The bidding was very competitive. In addition to Tele-Auction lambs sold, my locker lamb sales were 21, breeding stock sales for the year were: 14 bred ewes, 16 ewe lambs, and 2 rams.
Another excellent year!