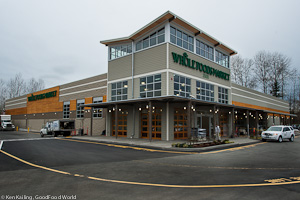 Whole Foods Market® is opening a new Seattle-area market in Lynnwood on March 15, and we got a peek behind the curtain at the controlled chaos going on before the grand opening. The new store, which will employ more than 150 in a 33,000 square foot space, is located in a remodeled Circuit City building.
The new space was built with a commitment to environmentally friendly construction, including natural lighting from huge windows and evenly spaced skylights, LED lighting, and locally sourced, reclaimed Douglas fir wood.
We arrived early for a tour of the new facility and dodged between trucks belonging to landscapers, electricians, and vendors. Inside we saw what looked like a laptop-armed battalion frantically tapping away at their keyboards and small groups of trainees in the check out lanes listening closely to their instructors.
The countdown to the grand opening is just 6 days, and the (mostly) young staff was all smiles and very energized about the opening. Their enthusiasm and commitment to the company was contagious – I want whatever they're having!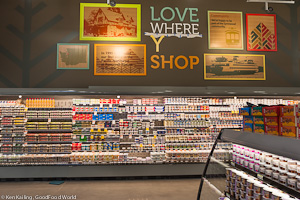 Whole Foods is big business – 315 stores in the US, Canada, and the UK, employs more than 64,000, and generates sales of more than $10 billion – and yet is still operating under core values that reach back to the original store founded in 1980 in Austin, Texas.
Selling the highest quality natural and organic products available
Satisfying and delighting our customers
Supporting team member happiness and excellence
Creating wealth through profits and growth
Caring about our communities and our environment
Creating ongoing win-win partnerships with our suppliers
Promoting the health of our stakeholders through healthy eating education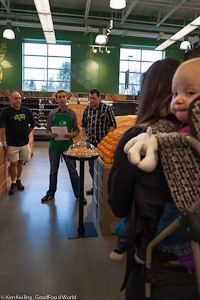 As we toured the store, we saw a company that aspires to attain some pretty lofty goals, some which may be just beyond reach at times. A commitment to locally-grown produce in a location almost on the 48th parallel is a tough challenge, however even this early in the season, the store will be opening with 30 different items in the produce and floral section from local growers. At the height of the growing season, 70% will be locally produced, and 80% of that will be organic.
Through a program called the Local Producer Loan Program (LPLP), Whole Foods has committed $10 million for low-interest loans ranging from $1,000 to $100,000 to small, local producers. This a terrific way to develop viable new suppliers – like the recent loan that went to Jeff Miller of Willie Greens to build five greenhouses, each measuring 30 feet by 240 feet. Jeff is growing early spring vegetables for Whole Foods.
In the Pacific Northwest, Whole Foods acts as a catalyst bringing together some very interesting – and sometimes really unique – local producer networks. Three such companies come together in a yummy cookie: the Mirracole Peanut Butter Chocolate Chunk Granola Breakfast Cookie. Quite the mouthful – the name and the cookie.  Nicole Cole, owner/founder of Mirracole Morsels (Kingston WA), makes it with hand ground peanut butter from CB's Nuts (Kingston WA) and Theo Chocolate chunks (Seattle WA). The nuts, nut butter, and chocolate are all available at Whole Foods' markets.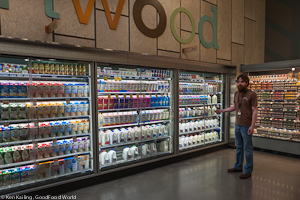 And Whole Foods bottled milk supplier – Fresh Breeze Dairy (Langley WA) – is also part of the cookie network: Theo Chocolate uses milk from Fresh Breeze Dairy for some of its milk chocolate selections. Networks within networks!
In an entirely different section of the store – the cheese case – we found another example. Mount Townsend Creamery (Port Townsend WA), a recipient of one of the LPLP loans and regular supplier to Whole Foods, partnered with Finnriver Farm and Cidery (Chimacum WA, 12 miles away) to make a special cider-washed fresh cheese.
The store – and the story – can be pretty overwhelming when taken in one gulp! And there are some places one can see from behind the curtain where the company is still "a work in progress." While "naturally local" and "from around here" appear on signs throughout the store, that's an ideal that is hard to practice.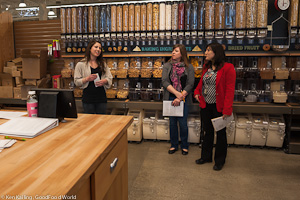 In the seafood section for example, farm-raised fish from Asia and Indonesia are regularly offered for sale. While Whole Foods has set high standards for quality and environmental responsibility, to ensure that those standards are met requires third party auditors and inspectors. Some of the fish and shellfish farms in those areas have been built in sensitive coastal areas and have very harmful environmental effects.
It's a tough challenge for the company to ensure imported fish and shellfish offered for sale are indeed meeting company standards. We highly recommend that consideration be given to our own northwest fishery, including shellfish from Taylor Shellfish Farms (Sheldon WA).
GoodFood World has defined "good food" as "local or regional, whole or minimally processed food products that are socially responsible, environmentally resilient, and economically viable." Implicit in that definition is the avoidance of any genetically engineered ingredient, including Monsanto's rBGH used to increase milk production.
Back in the cheese and dairy cases, we discovered a little known fact that raised our collective eyebrows. This paragraph was included in the grand opening coupon book handed out on our tour:
"… many of our cheeses are organic, most of them are free of rBGH/rBST [author's emphasis] (synthetic growth hormones, that is) and we don't sell any cheese that contains artificial flavors, colors, or preservatives."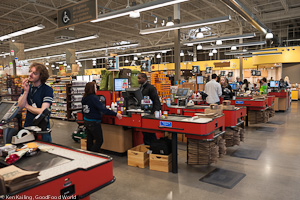 We'd like to see that say, "… ALL of them are free of rBGH/rBST…"
So how does a multi-national, "supernatural" food store like Whole Foods keep to the straight and narrow, the high ideal of good food? It's tough, they try, and sometimes they don't quite reach the mark.
Given the model set by the supermarket chains that Whole Foods competes with, the company is a prime example of what can be done with vision, leadership, and team members who are enthusiastic about the part they play in making the company successful.
Hat's off to a company that is walking the right path and striving to do the right thing!