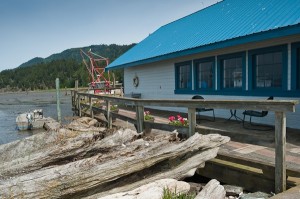 Taylor Shellfish Farms, now managed by Bill and Paul Taylor, has a long family history of growing and harvesting shellfish, and leadership in regional water quality initiatives.
In the 1880s, J.Y. Waldrip – the Taylor's great-grandfather and an erstwhile rancher and gold miner – settled in Puget Sound to farm Olympic oysters. Today, a fifth generation is involved in the family operation.
Taylor Shellfish Farms covers a total of 3 ½ square miles of tide flats located primarily in Puget Sound with another farm on Willapa Bay in southwest Washington.
The farms employ more than 400 to raise, harvest, and process a wide variety of shellfish, including Eastern, Pacific, Olympic and Kumamoto oysters, Manila clams, Mediterranean mussels, and Puget Sound geoduck.
While the Taylor farms are not certified organic or Marine Stewardship Council (MSC) certified, growing methods in all but one of the Taylor Shellfish Farms are essentially organic, with no chemical input or post harvest treatment. One farm is currently treating the beds for burrowing shrimp, and farm management is actively searching for new ways to treat the pests. "We farm our shellfish sustainably," says Bill Taylor. "There are no inputs in all but one of our farms and it's very careful controlled there."
It's not just oysters that are grown in the Pacific Northwest; a native bivalve – the geoduck – is a relatively new addition to the fisheries. Geoduck are the largest burrowing clam in the world, and Washington shellfish growers have only been raising them since 1991. Taylor Shellfish Farms have been marketing them for less than a decade.
Raising and harvesting geoduck is not a short-term proposition! It takes nearly five years before they weigh 1 ½ to 2 pounds, a saleable weight. And because they burrow underground and extend a neck that is 3 feet long to the surface, they must be harvested by hand.