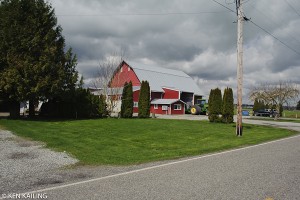 At Fresh Breeze Organic Dairy, farming has made a full circle; five generations of Dutch farmers have made their living here. Shawn Langley's great grandfather would surely be comfortable on the farm today, even though farming methods have changed over the last hundred years, because Shawn's organic methods reflect traditional farming.
Shawn's great grandfather, however, would be challenged by the competition that Fresh Breeze faces today; competition that includes treating cows with BST (Bovine somatotropin), also called Bovine Growth Hormone (BGH). While many conventional dairies claim that the milk they process does not contain BST/BGH, there is no certification process – other than organic certification – that can assure consumers the milk is free of the hormone.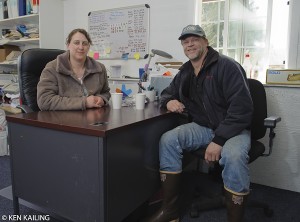 Shawn and Clarissa milk 225 to 250 cows every day – twice a day – and feed an additional 160 or so calves and heifers on about 400 acres. While Shawn milks both pure Jersey and Holstein cows, he is breeding more and more crosses because the Jerseys are smaller, have easier births, and process their food more efficiently and the Holsteins are high milk producers.
Small farms, like the Langley's, have had to make some careful choices. While becoming certified organic was a natural step reflecting farm practices that were nearly organic anyway; since then marketing organic milk has become tougher. The Dairy is USDA-certified Organic and certified Salmon Safe for water quality.
Many organic farms the size of Fresh Breeze find it difficult to market and distribute their products and will choose to become part of a dairy co-operative, like Organic Valley. Of the four organic dairy farmers in Watcom County, three sell through Organic Valley. Shawn has kept his farm independent and is going it alone.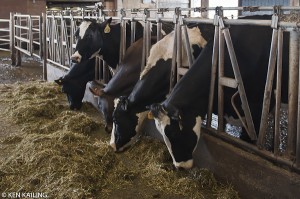 Not only is Fresh Breeze competing with the marketing and distribution power of a $600 million co-operative, Shawn has to deal with farmers who are making claims that cannot be substantiated such as: "beyond organic," "more than organic," "natural," "pastured," and "local."
Recent competition comes from a farm founded in 2009 in central Washington that milks more than 1000 cows every day and sells products under their own label and under the Organic Valley name. While the farm is certified organic and claims that the animals are grass-fed on pasture, it is difficult to move that many cows to healthy pastures – and back – twice a day. The question Shawn asks every day, is this: "Can they truly be certified organic with a herd that size, under those conditions?"
A barn fire about 7 years ago – the day after Shawn and Clarissa's son was born – burned their main barn to the ground and killed 21 cows. From the ashes grew a new, better barn and the commitment to keep farming for the next generation.
The pastures where Fresh Breeze cows spend their days require irrigation only in the very driest part of the summer. As the grass profile changes during the season, the flavor of the milk can change, so it is important that Shawn carefully manage the way his cows are moved from pasture to pasture. Conventional industrial dairy farms feed the same combination of grass silage, hay, and grain year round which keeps the taste of the milk consistent.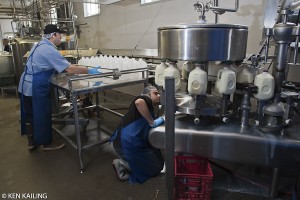 Because she recognized that milking cows is only one part of getting a good product into the hands of the consumer, Clarissa has responsibility for bottling and marketing a full line of milk products. Fresh Breeze Dairy has an automated bottling line that rapidly fills and caps plastic bottles of all sizes. Fresh Breeze now bottles organic fluid milk (whole, 2%, 1%, fat free, and chocolate), heavy whipping cream, half and half, and eggnog, in season.
When Whole Foods Market comes calling, small food businesses listen! In response to a request by Whole Foods for a local organic dairy that could deliver bottled milk, Clarissa quickly found a source for half gallon, quart, and pint glass bottles. In less than 30 days, she was able to provide Whole Foods with "cream on top" glass-bottled milk.
Consumers from as far south as Portland OR can buy Fresh Breeze Organic Dairy's products in their local markets and food co-ops. Those bottles of milk come from pastured grass-fed cows, raised with care, and milked in a clean, modern parlor. The milk is vat pasteurized to maintain the full rich flavor and bottled in the dairy next to the house where Shawn and Clarissa are raising their children.
For more information, visit the Fresh Breeze Organic Dairy website.