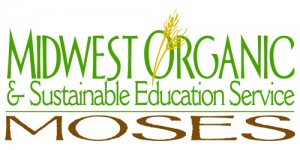 The 22nd MOSES Organic Farming Conference – organized by Midwest Organic and Sustainable Education Service (MOSES) – is the largest organic farming conference in the US. Nearly 3000 attended this year's event, held February 24-26, 2011, in the bustling Mississippi River city, La Crosse Wisconsin.
This year's keynote speakers included:
Urvashi Rangan, Director of Technical Policy for Consumers Union. She developed the ratings system, database, and website for evaluating environmental labels.
Rangan spoke about a marketplace filled with confusing labels, where "natural" and other claims compete with credible labels like organic – and where organic does not always mean what it should. The need for organic standards to remain high and evolve over time is vital to the long-term success of the organic movement, especially as consumers increasingly want to know the origins of their food and how it is produced.
Tom Stearns, founder of High Mowing Organic Seeds, one of the leading organic seed companies in the US,
Stearns talked about local food systems development in Hardwick, Vermont, and the fascinating, collaborative work among farmers, businesses, and the community as they face this challenge in a bold and ambitious way.
Learn more about High Mowing Seeds and Hardwick, Vermont, in the book The Town That Food Saved.
Many of us who are consumers forget that running a farm is running a business. Whether it's just a few acres or a few thousand, good business processes need to be in place to be profitable.
At MOSES Organic Farming Conference this year, farmers got to choose from a variety of sessions focused on business practices and processes, including:
Employee Management Systems
A Simple and Comprehensive Approach to Yearly Farm Planning
Certification Basics
Working Backwards towards a Profit
Farm to School: What You Need to Know
Whole Farm Insurance Options for Organic Farmers:
Adjusted Gross Revenue Lite
Capturing and Organizing Farm Information: A Simple and Comprehensive System
Wholesale Markets for Local Food: What's Next?
Public and Private Grants and Programs for Farmers
In Her Boots: Sustainable Farming for Women, by Women
Social Justice Certification
Getting Ahead on the Farm
For more information about the conference, download the conference brochure here (it's about 9MB so be patient).
Watch the video below and let Faye Jones, Executive Director of MOSES, give you a tour of this year's conference.