HOMEGROWN
Good Flour Makes Good Bread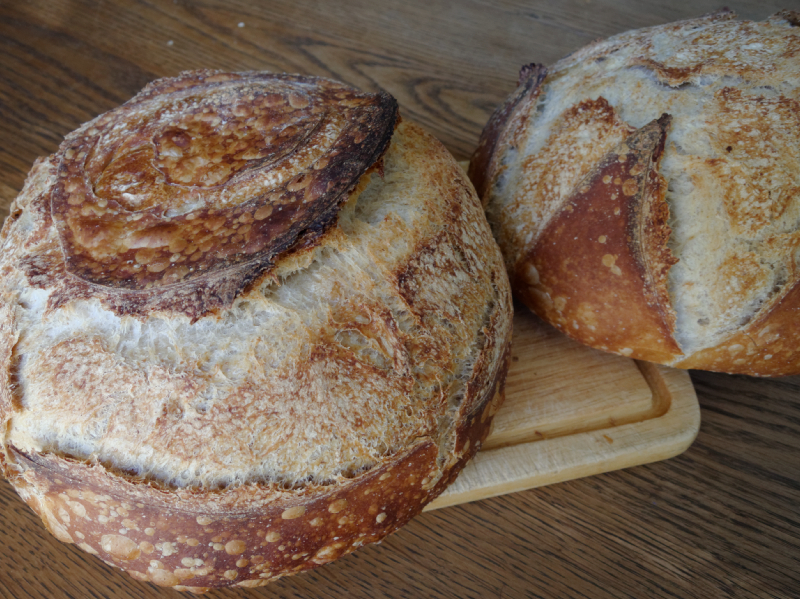 It's time to be honest; so I'll lay it all out right here. I'm into my third year of my 5-year plan to learn how to bake good bread, and somewhere around March this year, I lost my baking mojo! Every loaf that came out of the oven fell into two categories: brick or curling stone!
Actually I didn't lose my ability, I just got cocky and thought that I was getting closer to being a "real" baker so I started experimenting. And every scientist (and baker) will tell you that you don't start experimenting until you've got the basics down. You'll blow something up – or in my case, you'll pull some spectacular flops out of the oven.
Read Good Flour Makes Good Bread and see how I humbled myself to good flour and good bread, and finally turned out some pretty fine loaves.
---
FEATURE ARTICLE
It Takes a Community
T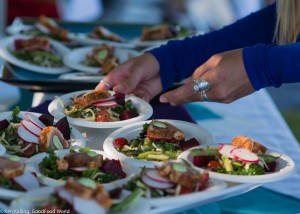 he Snoqualmie Valley is just minutes from downtown Seattle, yet it's miles and miles from the noise, the dirt, and the traffic. Small farms are strung along the Snoqualmie River like beads on a necklace. They thrive on the rich bottom land and easy access to water, yet they are inundated with floods in the spring and the fall.
Every year the Snoqualmie Valley Preservation Alliance throws a party – food, drink, dancing, music, and auctions – to raise money to be able to evaluate, monitor, and mitigate the effects of too much (and too little) water in the valley. Erick and Wendy Haakenson, Jubilee Biodynamic Farm, were this year's hosts.
The Snoqualmie River drains water from the surrounding hills, many of which are covered with expensive homes built in the last 20 years. Construction in the watershed has removed forests, increased the amount of "hardscape," and changed water patterns.
Read It Takes a Community To Save a Valley.
---
FEATURE ARTICLE
PCC Green Lake Village – NOT Your Parents' Co-op!
Seattle's Green Lake neighborhood, wrapped around Green Lake Park, is one of the city's most popular. What better place to put a new PCC Natural Market?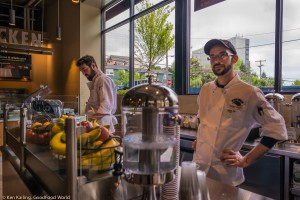 Food co-ops have always reflected contemporary culture and have changed as society has changed and, let me tell you, the Green Lake Village PCC is clearly NOT your parents'—or grandparents', if you're young enough—food co-op!
The new Green Lake Village PCC, anchored in a just-completed urban development comprising 300 apartments, clearly reflects its location. Large and well-staffed, the new PCC works hard to balance its focus and attention between weekly family shopping trips and the convenience of carryout prepared food.
Read the whole story and take a "virtual tour" of the new store here.
Diana Chapman, Director of Sustainability, PCC Natural Markets, discusses the ways that PCC is working to manage waste in house and in the community.
---
FEATURE ARTICLE
What Do You Tell Your Daughter?
Raising a family is a challenge in itself; raising a family in Monrovia Liberia is fraught with difficulties of all kinds. For Nico Parkinson, GoodFood World contributor, raising a family in a city threatened by a deadly virus, Ebola, is not an option.
As an aid worker for the Food and Enterprise Development Program for Liberia (USAID FED), Nico understood and accepted the risks of the job. He will not extend those risks to his family.
The family landed safely in Salt Lake City, Utah, late in the afternoon of August 11 and were reunited with Nico's brother and father.
Here is the first message Nico sent out on arrival:
Let's say you go spend a year in a foreign country. Said country recently fought a civil war that destroyed all the schools and basic infrastructure.  here are no real long-term job opportunities and a small percentage of the ruling class keep themselves in power, earning astronomical wages. But the country's people refuse to give up. They are resilient. They find ways to respond and grow.
Then they learn about a deadly virus, tearing through hospitals decimating an already disadvantaged professional class. You leave the country on an airplane, and the feeling that everything you witnessed over the last year has been forgotten. Instead of responding to life, the people are responding to death.
How can you make sense of an unfair world? What do you tell your daughter?
Read Nico's Global Food Systems articles here.
(Photo courtesy of Nico Parkinson)
---
ON THE ROAD
Eating (and Working) Local in Western Maryland
Kate McLean (Our Good Food on a Budget correspondent) and her husband Ian started their married life in the late summer of 2013 WWOOFing in the Northeast. They are now settled in Maryland, near the Pennsylvania border, where Kate has an entire portfolio of jobs!
"My job description now looks a lot like Western Maryland's local food scene at a glance; I've pieced together full-time work by reaching out to surrounding small towns. Between the farm, the hotel, the restaurant, and the creamery, it involves a lot of driving, plenty of good people, and a whole lot of good food."
Take a tour of Kate's current employment list here. She'll soon be adding a fifth job to the list!
(Photo courtesy of Kate McLean)
---
RECIPES
Summer Means
"No Cooking!"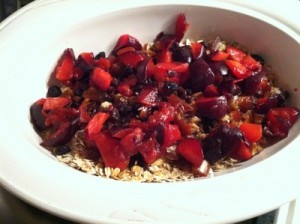 This classic Swiss breakfast recipe (direct from Switzerland) made from uncooked rolled oats, dried and fresh fruits, and ground nuts, is heavenly.
Eat it in warm or hot weather only, since it requires no cooking, and is simply refrigerated overnight.
Quantities are up for grabs depending on how much you like of any particular ingredient.
It is so clean, healthy, and refreshing!
Get the recipe for "no cook" muesli here.
FARM TALK
Voices From the Farm: From Ice and Snow to Summer Delight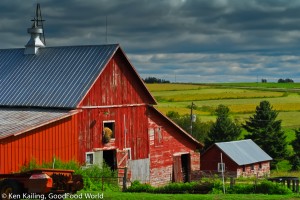 Our Minnesota shepherdess, Lea McEvilly, gives us the details of the farm in the spring and summer of 2008:
Near the end of April the ewes and lambs went to pasture and it was time to clean up the house yard and get the vegetable garden ready for planting.
With fewer sheep to care for there was more time to spend gardening, and despite an overabundance of rain, by June things were pretty much under control.
Read Lea's latest update here.