We've Lost One of the Great Ones!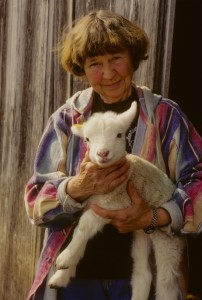 March 8, Lea McEvilly, a dear friend and contributor to GoodFood World, passed quietly at 92.
A child of the Great Depression and rural one-room schools, Lea dreamed of having her own farm. And her dream came true in January 1965, when she and her husband found 80 acres of rolling hills in southeast Minnesota, not far from the intersection of Minnesota, Wisconsin, and Iowa.
Lea built up her flock by developing her own unique breed of sheep (a 5-way cross she devised), was instrumental in creating a co-operative that used telecommunications to auction sheep and lamb meat directly to buyers – long before the days of the Internet, and helped launch a successful sheep industry in Minnesota and the upper Midwest. For 46 years, Lea raised as many as 300 sheep at a time with just the help of her dogs – and an occasional llama.
She was small but determined – far out weighed by many of the rams she wrangled, and chose to do things her way. As befitting this unique woman, Lea left this world with her children by her side on March 8, International Women's Day.
Read the history of her farm in Voices from the Farm – 84 stories, published over 3 1/2 years!
We miss you, Lea!
---
When a Friend Needs Help…
A quirk of the weather (thanks, Climate Weirdness!), and hungry migrating birds can clean out a crop in a matter of hours! Help a friend: Make a donation at Nash and Patty's Go Fund Me Page.
Patty and Nash Huber, Nash's Organic Produce, made it through the February snowstorms only to have hungry trumpeter swans, geese, and ducks strip their spring vegetable crop down to just stems. And 12 years of farmer Nash's breeding work to develop superior strains of purple sprouting broccoli and Italian cauliflower are gone.
---
Gulch Distillers' Purple Prairie Barley Whiskey started with a conversation
and the question, "What if…?"
Like good bread and good beer, good spirits come from carefully managed natural processes. And the very best fermented food and drink comes from skilled hands using ingredients from known and respected sources.
Grain-based products – like whiskey – can be made with any cereal grain including wheat, barley, rye, and "wheat relatives," like spelt and emmer. All of which are grown in Montana. However, Gulch Distillers uses only Montana-grown grains in their grain-based spirits.
I had to ask, "How about partnering with Timeless Seeds to make whiskey out of our Purple Prairie Barley®?" And that was the beginning of the "Great Experiment."
---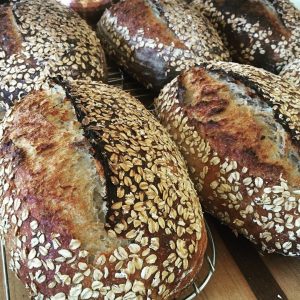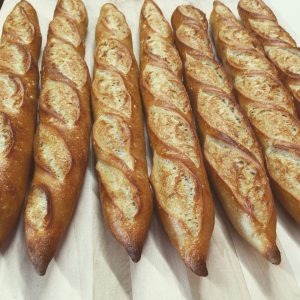 Most of the US forgets – or is simply ignorant of the fact – that the Northern Great Plains are a major part of the nation's "bread basket." They've been raised to think that wheat comes from Kansas.
The truth is that northern-tier states east of the Rockies produce millions of bushels of wheat, most of which is sold by the train carload to one of just a handful of huge commercial flour mills or is exported. In fact, 85% of the wheat produced in Montana – and 50% of the wheat produced in the US – is exported worldwide.
Montana-made artisan bread from Sunflower Bakery, Helena, and Blue Truck Bakery, Power.
Our goal at GoodFood World is to stimulate discussion by reporting on the critical issues affecting the production and use of organic wheat and other grains, especially the challenges to small-scale organic family farms, millers, and bakers. Have you bought locally grown grain, flour, or bread? Your comments and input are appreciated!
---
It was a hot and hazy August day when we drove 15 miles due west of Augusta, Montana, into the rolling hills where we glimpsed the foothills of the East Front of the Rocky Mountains and the edge of the Bob Marshall Wilderness. As we passed the Nilan Reservoir, we edged further into drier ranch country.
Ordinarily on a late August morning, you wouldn't find a couple of dozen people in seed caps and brimmed hats gathered on a sunny hillside in west central Montana just for a chat. We were there to learn!
The day's event, Day on the Range, hosted by the Lewis and Clark Conservation District (LLCD) and the Natural Resources Conservation Service Montana (NRCS MT), addressed an array of topics to both educate and enlighten ranchers and farmers – and a few lay people like us.
---
Farmers markets and CSAs sprout up every spring along with the lettuce and tomato plants. Supermarkets across the country, from small family-owned stores to big box chains, are all offering organic options throughout the store, not just produce any more.
And we have more and more options to choose from in the "middle of the store."
So, we all think – or would like to think – that we're eating nutritious food. Do we even know what good "nutrition" is?
---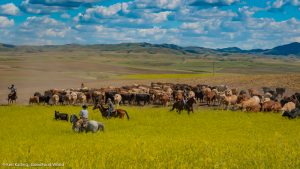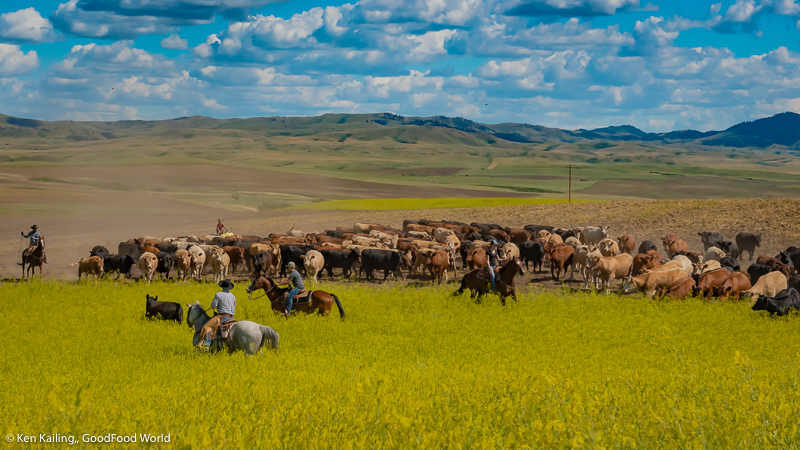 When you pull into Prairie Grass Ranch, just a seven miles south of Havre MT in the northern foothills of the Bear Paw Mountains, you're greeted with rolling hills and open skies. Jody and Crystal Manuel are organic dryland farmers and beef ranchers on this 4,000-acre spread.
Just 10 years ago, the Manuels began their conversion to organic farming and today they raise lentils, KAMUT® Khorasan wheat, emmer, spelt, rye, hops, and cover crops including yellow clover. Livestock ranges from broiler chickens and laying hens to grassfed beef and pastured hogs.
On a beautiful early summer day, more than 100 people gathered for a Montana Organic Association Farm Day to learn more about dryland cropping, cover-crop grazing, soil health, and control of the organic farmer's nemesis: bindweed.
---
The Bounty of the Gallatin Valley
Amaltheia Organic Dairy is more than an organic goat dairy and cheese maker and it's more than the home of delicious organic whey-fed pigs. Amaltheia is also home to Nate Brown's beautiful organic produce.
In a valley sadly being encroached on by developers throwing up cheaply made and expensively priced homes for Bozeman's growing population, Amaltheia proudly produces a full menu of protein and produce.
It is operations like Amaltheia, run by livestock raisers and cheese makers Mel and Sue Brown, and their son Nate Brown, produce farmer, who need to be honored, respected, and protected, for the hard work they do to deliver some of the best food in Montana.
Look at those root vegetables! Look at those peppers! You can do your part by shopping at your local farmers market. And while you're there, hug a farmer and thank them for your food!