CHANGING FOOD CULTURES
Changing Food Culture in Japan
Once the world over we all had access to good food; food that now is being forgotten or altered beyond all recognition.
Our newest GoodFood World columnist, Rose Silcox-Quimby will explore these foods and, more importantly, seek for ways to get them back and preserve them for the future.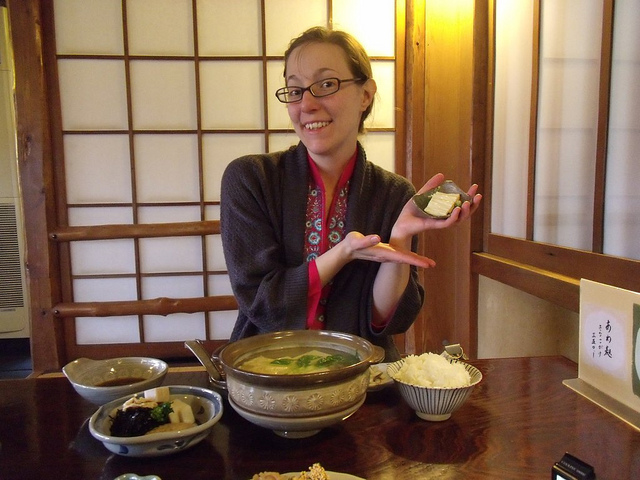 In her first contribution, she explores how both isolation and independence have influenced Japan's food culture. And how Westernization has changed the Japanese diet with cheap, fast, and high-calorie food
Read the whole story here.
---
ON THE ROAD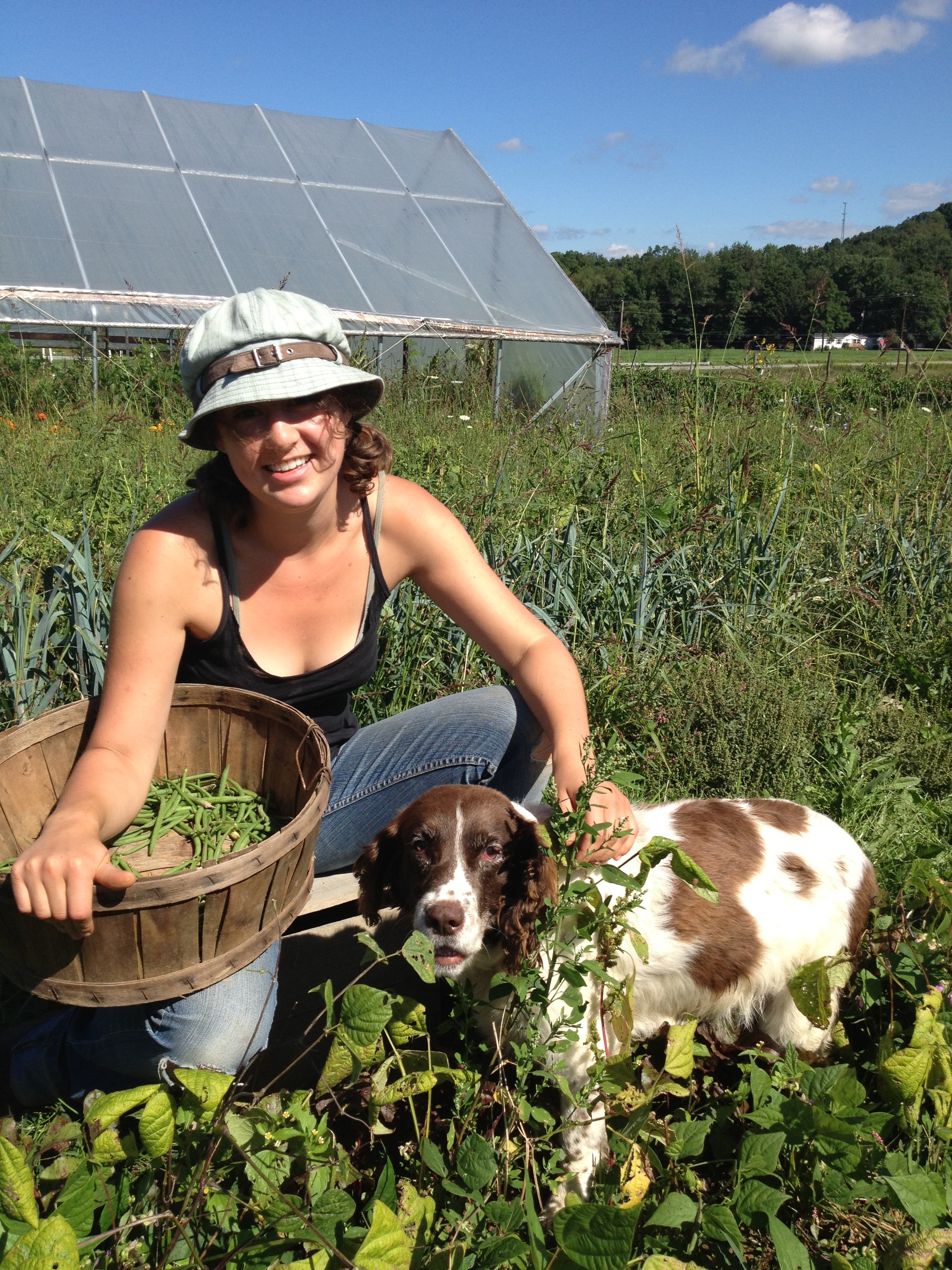 Living the Good Life
Kate McLean (Our Good Food on a Budget correspondent) and her husband Ian started their married life in the late summer of 2013 WWOOFing in the North East. Their advice for others wanting to try it: "It's likely you'll also come out of it with a couple of good stories, some delicious recipes, a few great friends, and at least one place you'll always remember."
One year ago she was working three jobs. She pulled espresso at a coffee shop and shelved armloads of romance novels at a bookstore. At her favorite job, Kate would whip up elaborate breakfasts for sleepy-eyed travelers at a local B&B. She said, "We ate well and life was good."
Just 8 months after their wedding, Kate and Ian have started a new chapter in their adventure and they are still Living the Good Life!
---
FEATURE ARTICLE
Grow Your Own – Food, That Is…
Lisa Taylor, Seattle Tilth Education Programs Manager, author of Your Farm in the City, teaches everyone from toddlers to oldsters to feel the soil, plant seeds, develop "relationships" with their plants, and grow their own food. She has advice for growing food in spaces as small as a window box or as large as a city lot.
Across the country, spring can't come soon enough and the call to garden is getting louder and louder. We had the opportunity to speak to Lisa and get a little advice for new and beginning gardeners. It's never too early – or too late – to tuck a few seeds in some soil and get growing! Read GoodFood World's exclusive interview with Lisa Taylor in Grow Your Own.
---
FEATURE ARTICLE
Puget Sound Shellfish at Risk
By the time the first settlers reached the small spit of land that was ultimately to become part of Seattle Washington in 1850, the Olympia oyster population on the Pacific coast was already beginning to be over harvested. And in the early 1900s, poor water quality in Puget Sound threatened to finish it off.
More than a century later, Washington, Oregon, and Alaska have a significant hatchery-based oyster industry and are now the major producers of the Pacific oyster in the U.S. The non-native Pacific oyster, first imported in the early 20th century, is the most important commercial oyster species in the region.
Combine agriculture runoff and rising carbon dioxide levels in air and water and you have a prescription for shellfish collapse. In Hood Canal, a Puget Sound estuary, water pH has become surprisingly acidic – a condition which damages the shells of marine mollusks like oysters, clams, and mussels.
Read the whole story here in Puget Sound Shellfish at Risk.
---
FEATURE ARTICLE
How I Became a Plant Breeder
Frank Morton of Wild Garden Seed tells his story: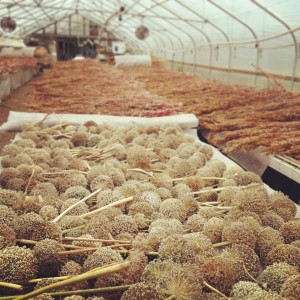 In 1983, my third spring as a market gardener, I was looking over a flat of lettuce grown from my first saved seed. The year before, I had allowed my peas, beans, and two lettuces to "run to seed," as my mother would have put it. This flat was the third sowing I had made from a bag of Salad Bowl lettuce seed, a commercial green oakleaf type, and my attention was drawn to a single red plant in the midst of 199 green ones. It was a "Red Salad Bowl," and I knew exactly how it came to be.
I had grown Red Winter Cos (a rare French heirloom, at the time) alongside the Salad Bowl, and this was a cross! A little light came on—this plant could make seed for a new lettuce! It would be unique to my little farm near Seabeck, Washington. I set that seedling into a special place and allowed it to flower and make seeds—only 65 seeds as it turned out…because it was so late in the season when the cross had appeared. Had it appeared in the next sowing, no seeds would have been borne.
I planted all 65 seeds the next spring, expecting to see a flush of Red Salad Bowl lettuces, but instead, up came a rainbow of genetic variations that I had no idea existed.
Here's the whole story: How I Became a Plant Breeder.
LEARN MORE ABOUT HOW YOUR FOOD GETS TO YOUR PLATE
Select any collection from above; each contains multiple articles on a single topic.
HEALTHY EATING
Ask Ina!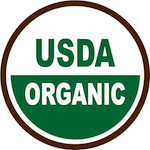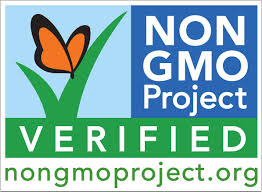 Have a question about good food? Trying to avoid "not good" food? Ask Ina! This week, Ina Denburg – our Healthy Eating columnist – answers the question, "We are concerned about GMOs in our diet. Can you tell me which foods I should avoid to keep GMOs out of our pantry and off our plates?"
Ina has identified the top 5 GMO ingredients you should avoid. Once you start reading ingredient labels, you will find them, usually listed as multiple ingredients, in nearly 80% of all mainstream processed, frozen, baked and packaged foods. They are ubiquitous within our food system, from cereals to breads, soups to frozen dinners, snacks and ice cream, even some infant formulas.
Get the whole story here: What Foods Should I Avoid to Keep GMOs Off Our Plates?
---
RECIPES
Soup of the Evening, Beautiful Soup!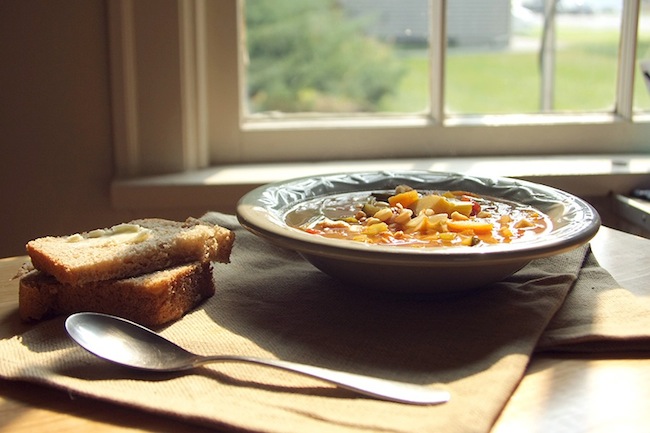 It's worthwhile examining our dependence on canned goods during a season when the lack of sunshine coincides with a shortage of fresh produce at the market.
But the difference between fresh and canned extends far beyond the method of preparation. If you consider the quality of the product and the potential side effects of its packaging, you might find that these so-called convenience foods actually pose an inconvenience for your health.
Read the whole story, get a great recipe in Soup of the Evening, Beautiful Soup! and prepare your own.
---
HOMEGROWN
Campanula:
Edible Bellflowers
Arthur Lee Jacobson, expert on edible wild and houseplants, talks about growing and eating Campanula – bellflowers.
Gardeners have long cherished many species of Campanula as ornamentals for their lovely bell-shaped flowers. Nearly all species bear blue or white flowers; rarely do they have yellow flowers.
A few species have been grown as vegetables and many others are eaten from the wild.
Find out more in Campanula: Edible Bellflowers.
FARM TALK
Voices From the Farm: A Heroic Rescue Trip and the Storm Queen Arrives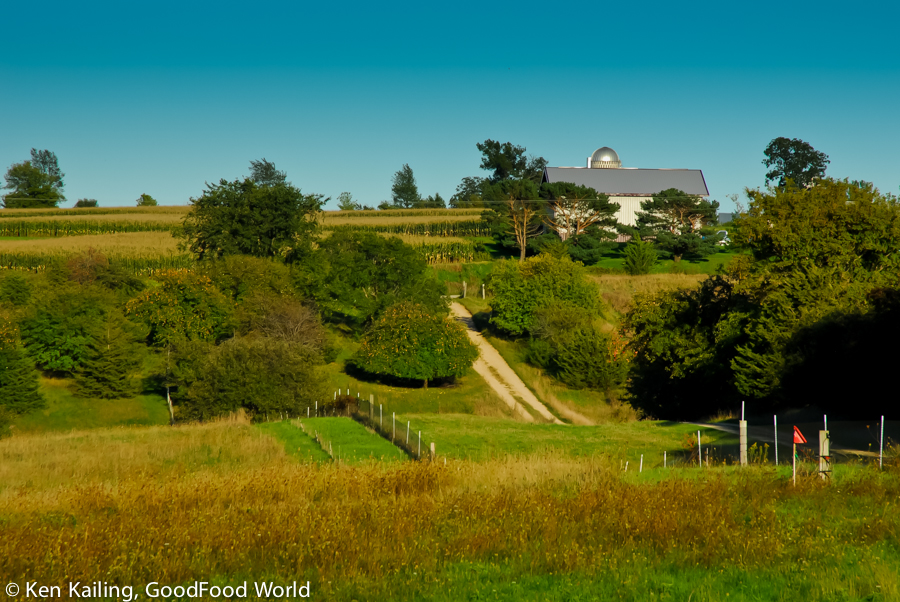 Our Minnesota shepherdess, Lea McEvilly, gives us the details of the farm in the spring of 2007:
Following the loss of Red Rover, Lisa had been encouraging me to start looking for a new guard animal. I was still depressed at the death of the little alpaca and I was reluctant to pursue the search for a replacement.
Then one day Lisa emailed that I should look at "Pet-Finders.com," where there was a dog there that I should see.
Read Lea's latest update here.