(Click on any image for a larger view.)
---
FEATURE STORY
PCC Columbia City – Back to the Future
The late nineteenth and early twentieth centuries were the golden age of the independent family-owned and operated shops. During periods of rapid population growth, families moved into neighborhoods segregated by class and ethnicity and into the suburbs created by the installation of streetcars. To meet the needs of these new neighborhoods, small family-run stores sprang up, generally reflecting the surrounding ethnic demographics.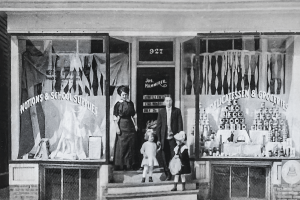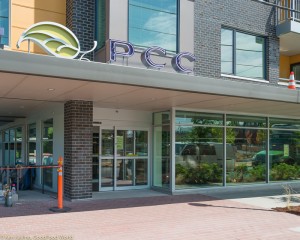 Hammerer's Delicatessen (ca. 1912), Milwaukee WI, and PCC Natural Markets Columbia City (2015), Seattle WA
Today the size and format may be considerably different, but the intent to serve the community is still the same. After exhausting all options for renovation, reconstruction, and expansion at its 30-year old Seward Park location, PCC Natural Markets, the nation's largest member-owned natural food co-op, chose to move just a mile away to the historic center of the Columbia City neighborhood.
Known for its fresh produce, bulk selection, and wide offering of local and organic products, the PCC's newest store is not only built on the company's successes and new shopping trends, but also pulled a few ideas from the past to expand services.
Get the whole story in PCC Columbia City – Back to the Future.
---
FEATURE STORY
Making Sure Farm Friends Are OK
Wild fires and forest fires are rampant across the Northwest, south into California, and east into Montana. When you have friends farming on lands that are in the paths of these fires, all you can do is pray that they will be safe.
Farming is a hard business and with heat, drought, and fire, it's even harder. Know your farmers and thank them for your food today!
Here's the update on farm friends of GoodFood World – and yours!
---
FEATURE STORY
So Long and Thanks For All the Fish!
It is a curious situation that the sea, from which life first arose, should now be threatened by the activities of one form of that life. But the sea, though changed in a sinister way, will continue to exist; the threat is rather to life itself.
Rachel Carson, The Sea Around Us (1951)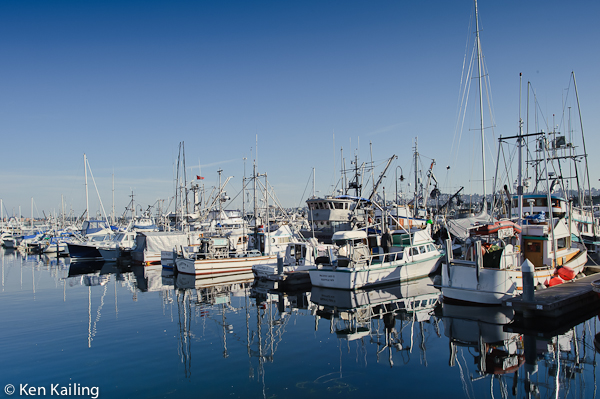 The ocean contains 97% of the planet's water and covers 71% of the Earth's surface. Stand on the shore and its expanse and distant horizon imply an endless source of resources.
Now we recognize that the oceans are not boundless and the numbers of fish are not endless.
It wasn't until the late 20th Century that we understood the world production (harvest) of fish is on a downward trend and we will be out of fish by the middle of this century unless we take some drastic steps.
Read on in So Long and Thanks For All the Fish.
---
FEATURE STORY
Sizzling Summer Sundays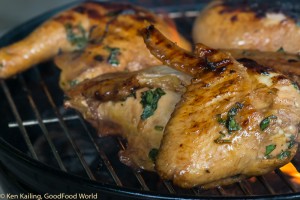 There are days when it just doesn't pay to cook inside, and hot summer Sundays seem to be the norm here in Seattle this year!
Fire up the grill, quarter that pastured organic chicken, and do dinner "al fresco!"
This Sunday supper included not only Crown S Ranch chicken but Crown S Ranch eggs in the potato salad. Marinated for about 18 hours, the chicken was moist and flavorful. Perfect for a picnic on the back deck!
Try your hand using this recipe: Sizzling Summer Sundays: Chicken on the Grill.
---
GUEST POST
The Challenge of Cheap Food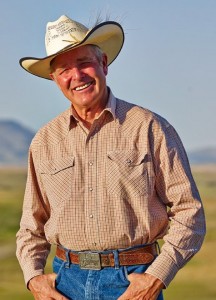 In the rush to insure cheap and plentiful food for our nation, we have inadvertently created a much greater problem and we are now experiencing a very high cost for our cheap food. The perception of many people is that "healthy food" is too expensive, so they don't buy fruits and vegetables or much organic food of any kind.
There is a growing movement of farmers and scientists, doctors and entrepreneurs that are gathering around the idea that we need true cost accounting in our food supply to help consumers make choices that include the real costs of the way food is grown and how it affects our health. 
In other words if the price of the food included internalizing the externalities of its true cost of production, it would be easy to make the right choice at the supermarket as the cost of organic food would then appear cheap in comparison.
Bob Quinn is one of those farmers and scientists; he is highly educated and he works the soil. Read his comments in The Challenge of Cheap Food.
---
FEATURE STORY
Peas and Love in the City
After spending 20 years with Seattle Tilth in a variety of posts, including everything from office and event manager to education program manager and children's program manager, Lisa Taylor has moved on to concentrate on using her skills as urban farmer, garden educator, speaker and workshop organizer, and consultant.

Lisa has taught everyone from toddlers to oldsters to feel the soil, plant seeds, develop "relationships" with their plants, and grow their own food in spaces as small as a window box or as large as a city lot.
Now that she is independent and offering programs of all sorts, garden advice, and hands' on education, don't miss your opportunity to benefit from one of Puget Sound's local treasures.
Reach out to Lisa for some advice or to schedule a program or workshop and pick up one of her books and get your hands dirty! And read more in Peas (and Love) in the City: Lisa Taylor's Garden Books.
---
FEATURE ARTICLE
I Don't Raise Beef, I Manage a Pasture and Raise Grass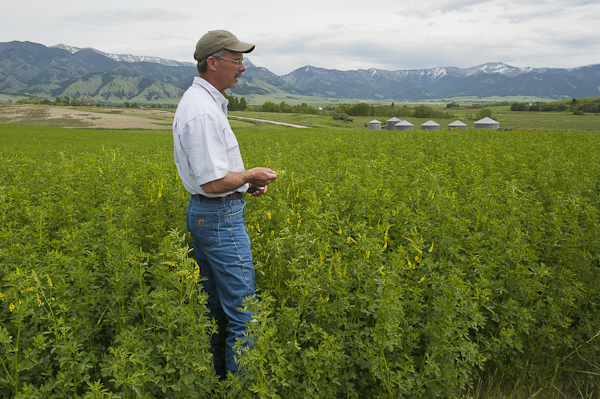 Brian Goldhahn, ranch manager and owner of C-5 Organics, will tell you right out, "I don't raise beef cattle, I manage a pasture and raise grass. Good grass makes good beef." The assortment of grasses, legumes, and other plants Goldhahn raises looks like a cow's idea of a gourmet salad bar.
By finishing his cattle that are ready for market on fields of especially sweet grass, C-5 grass-fed beef has just the right amount of fat and marbling to give it excellent flavor.
Brian not only nurtures his cattle, he nurtures the soil that feeds his pasture. And good grass makes good beef – and good soil!
---
FEATURE ARTICLE
If It Isn't Broken, Don't Try To Fix It!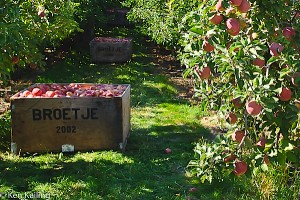 As they say (more or less): "inquiring consumers want to know…" GoodFood World recently received a comment from a reader that made it clear consumers are concerned – and confused – about genetically engineered foods being developed and brought to market.
To help answer our reader's questions, we spoke to Keith Mathews, CEO of FirstFruits of Washington, marketing arm of Broetje Orchards near Yakima WA.
He gives us details on how organic apples are grown, non-browning varieties of apples developed using traditional breeding methods that are already on the market, and the dedication of apple growers and breeders to bring the healthiest and best-tasting apples to market without genetic engineering. Read the whole story here and listen to our interview with Keith.