ON THE ROAD
PCC Green Lake Village – NOT Your Parents' Co-op!
Seattle's Green Lake neighborhood, wrapped around Green Lake Park, is one of the city's most popular. What better place to put a new PCC Natural Market?
Food co-ops have always reflected contemporary culture and have changed as society has changed and, let me tell you, the Green Lake Village PCC is clearly NOT your parents'—or grandparents', if you're young enough—food co-op!
The new Green Lake Village PCC, anchored in a just-completed urban development comprising 300 apartments, clearly reflects its location. Large and well-staffed, the new PCC works hard to balance its focus and attention between weekly family shopping trips and the convenience of carryout prepared food.
Read the whole story and take a "virtual tour" of the new store here.
Diana Chapman, Director of Sustainability, PCC Natural Markets, discusses the ways that PCC is working to manage waste in house and in the community.
---
HEALTHY EATING
Ask Ina: Beware Trojan Horse Foods
Have a question about good food? Trying to avoid "not good" food? Ask Ina!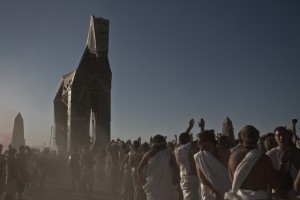 This week, Ina Denburg – our Healthy Eating columnist – answers the question, "Shopping for healthy foods can be daunting, especially when it comes to understanding nutritional labels. Grams, calories, percentages, recommended allowances. Is there a way to quickly assess whether a food is "healthy" or not?"
In a recent article – Your Health Food's Hidden Sugar Bomb - Michael Schulson discussed why we so readily fall under the spell of factory food company marketing. Using a Trojan Horse metaphor, he showed how a single healthy ingredient along with text and pictures promoting goodness lulls us into a sense of safety. With our caution disarmed, we simply stop questioning whether there are any hidden Greeks ready to sneak out and attack our bodies.
Ina provides six tips to identify the Trojan Horses and arm against them. Get the whole story here: Ask Ina: Identifying Trojan Horse Foods.
---
ON THE ROAD
Eating (and Working) Local in Western Maryland
Kate McLean (Our Good Food on a Budget correspondent) and her husband Ian started their married life in the late summer of 2013 WWOOFing in the Northeast. They are now settled in Maryland, near the Pennsylvania border, where Kate has an entire portfolio of jobs!
"My job description now looks a lot like Western Maryland's local food scene at a glance; I've pieced together full-time work by reaching out to surrounding small towns. Between the farm, the hotel, the restaurant, and the creamery, it involves a lot of driving, plenty of good people, and a whole lot of good food."
Take a tour of Kate's current employment list here. She'll soon be adding a fifth job to the list!
(Photos courtesy of Kate McLean)
---
 FEATURE ARTICLE
What do I do with THAT?
CSA members, have you ever looked at your weekly produce delivery and wondered what to do with it all?
Jubilee Biodynamic Farm, Carnation WA, solved that problem for its CSA members by building a new kitchen space that has triple wash-sinks, granite counter tops, and tools like food processors and knives for shredding and cutting.
And then, coinciding with the beginning of the Summer CSA Session, Jubilee added a "Food Coach" – Terrie Irish – to show people how to prep and store their weekly delivery and to make amazing – and simple – dishes with it all.
Terrie provides hands-on coaching and food preparation advice on CSA pick-up days at the farm. Read the whole story in The Newest CSA Benefit: Food Coach.
---
GLOBAL FOOD
One Man's Revolution to Change Farming in Liberia
The small West African nation of Liberia does not usually conjure images of farming. For most, Liberia is synonymous with conflict and brutal guerrilla soldiers bartering diamonds for guns. Liberia celebrated ten years of peacetime in 2014 and a renewed vow to deliver better infrastructure, economic growth, and progress to over four million inhabitants.
William Tolbert, a Liberian citizen educated in the US, was inspired by the organic movement here and moved back to his home country in 2010 to implement organic farming techniques. He exemplifies the "Triple Bottom Line" – Environment, Economy, and Ethics – in his farming practice.
Now Tolbert is raising funds to provide training, support, and microloans, and connections to quality buyers for subsistence farmers so they can grow more and better produce and generate higher incomes and profits.
Read how one man labors to launch an agricultural revolution in Liberia.
---
CHANGING FOOD CULTURES
Shiso: The Taste of Summer
Rose Silcox-Quimby, our Changing Food Cultures contributor, explores the seasons of food.
Summer for me brings back fond memories of living in Tokyo and discovering new foods to enjoy to beat off the muggy summer heat of such a massive city. Chief among my favorites was shiso.
Shiso, also known as Perilla, Beef Steak Leaf, or Japanese Basil, is actually a member of the mint family. Though I first experienced shiso while living in Japan, it turns out shiso is widely used across all of Asia from China to India, most heavily in Japan and Korea. And it grows profusely here in Puget Sound!
Read the whole story here. .
---
RECIPES
Dinner With Friends:
Lentil and Farro Soup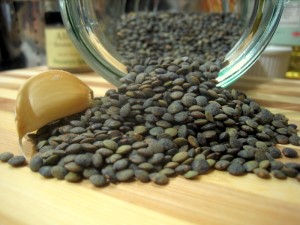 What do you really know about the food on your plate and where it came from?
Today's exercise in the provenience of our food – who grew it, who processed it, who sold it?
Meet the folks who made our dinner possible. Let's start at the top: bread, salad, soup – where did it come from?
Gives "friends with benefits" an entirely new meaning!
Get cooking! Dinner With Friends.
FARM TALK
Voices From the Farm: From Ice and Snow to Summer Delight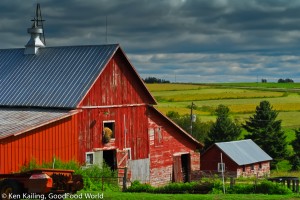 Our Minnesota shepherdess, Lea McEvilly, gives us the details of the farm in the spring and summer of 2008:
Near the end of April the ewes and lambs went to pasture and it was time to clean up the house yard and get the vegetable garden ready for planting.
With fewer sheep to care for there was more time to spend gardening, and despite an overabundance of rain, by June things were pretty much under control.
Read Lea's latest update here.