HEALTHY EATING
To those unfamiliar with the absurdist theater of school lunch, it is puzzling, even maddening, that feeding kids nutritious food should be so hard. You buy good food. You cook it. You serve it to hungry kids.
Yet the National School Lunch Program, an $11.7 billion behemoth that feeds more than 31 million children each day, is a mess, and has been for years.
And hospital food has fared no better!
Now there are farmers, chefs, and cooks, schools, hospitals, and other institutions, across Montana and across the country making a change.
---
HOME GROWN
Our world seems to be more and more fractured and confrontational, and food – making it and eating it — is one of the best ways to learn about and understand other cultures.
When you enjoy food from another part of the world, you begin to connect with the people for whom it has been a way of life for millennia.
Sample Duguid's recipes, enjoy her stories and photos, and begin to make connections with some of your favorite foods and their origins in Iran and the Persian Empire.
---
HOME GROWN
A couple of years ago, we had the pleasure of meeting Lowell and Sue Cordas, proprietors of Lowell's Tools. Let me tell you, that was the end of our purchasing "cheap" garden tools that seemed to wear out too soon, fall apart too fast, and generally provide poor service.
It's going on February (thank goodness!) and the seed catalogs are starting to arrive. So while you're daydreaming about warm weather and your summer garden, it's time to think about the tools you will be using.
Good tools make for easier work and you owe it to yourself to have the best. Our recommendation is that you check out Lowell's offerings.
---
LOCAL PRODUCERS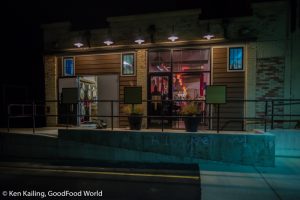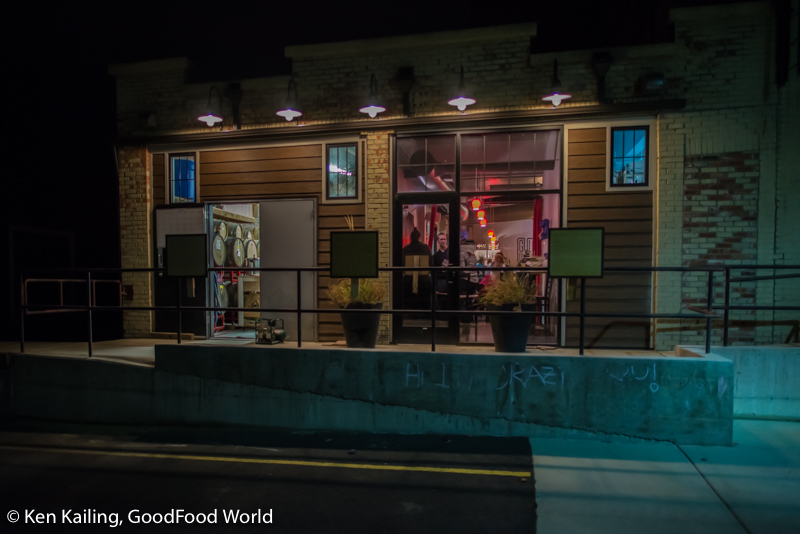 What happens when two friends start dreaming about opening a distillery and making whisky in central Montana?
Mix in shared childhood memories, inherited Helena red hair, and a love for single malt whisky, and you get Gulch Distillers.
Gulch Distillers has a hometown feel and offers hometown products. Tyrrell Hibbard and Steffen Rasile use Montana-grown grains in their grain-based spirits, and use locally grown herbs, fruits, and other products when possible on both sides of the business – botanicals in the factory and fruit and berries at the tasting bar.
---
GLOBAL FOOD SYSTEMS
In October 2016, two Tolima coffee lots ended up in the top five at a country-wide coffee cupping festival, including first place, surprising judges and the public. The victory and recognition comes at critical point for coffee producers in the southern part of the department. Though geo-climatic conditions favor the production of specialty brews with unique flavors, coffee producers face obstacles in processing, accessing financial mechanisms, and finding new markets.
There are an estimated 24,000 coffee farmers in the nine municipalities in Colombia's Tolima province. Tolima's largest coffee cooperative, CAFISUR (Cooperativa de Caficultores del Sur del Tolima), has worked for the past fifty years to fill gaps in the coffee value chain, building smallholder farmers' skills and knowledge and giving them a better chance at equitable prices.
---
REGIONAL FOOD SYSTEMS
The last week of October, heading into fall and Halloween, more than 200 people – from federal, state, county, city, and tribal agencies, Montana State University and the University of Montana, NGOs, food-related businesses, and farmers, ranchers, and producers – spent two days of intensive conversation outlining policy initiatives to be considered by the Montana State Legislature over the next decade to support, improve, and market Montana's food products within the state and around the globe.
---
HONORING OUR SMALL BOAT FISHERMEN
Martha Stewart "American Made" Award Winner: Loki Fish Co.
At GoodFood World, we stand up and cheer for our friends at Loki Fish Co., Seattle! After more than 35 years of hard work, sleepless nights, and cold wet days, Pete Knutson – with his son Dylan – got the recognition he deserves as a spokesman, leader, and crusader for small boat fishermen throughout Puget Sound and the Alaskan fisheries.
One of just 10 award winners, Loki Fish Co. was spotlighted in New York City by Martha Stewart as a winner of the Martha Stewart American Made nationally recognized awards, which spotlight extraordinary makers, small-business owners, and creative entrepreneurs in the fields of crafts, design, food, and style.
If you're in Seattle, stop by one of the year 'round farmers markets, buy a piece (or a freezer full) of the best salmon you will ever eat, and give the Knutson's a high-five! They have worked hard for this and deserve every bit of support we as consumers can give them!
More about Pete, Dylan, and their fishing vessels Njord and Loki here.
---
FEATURE ARTICLE
For those who are trying to farm in the Palouse region of eastern Washington, northern Idaho, and northwestern Montana, there is only one name for it – Dryland Farming. Annual rainfall levels of 8 to 16 inches mean that farmers have to be good – very good – at moisture management.
Meet just a few of the folks who grow and process grain, pulses, peas, and chickpeas on nothing more than the moisture that falls out of the sky.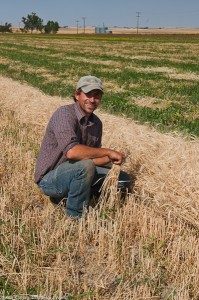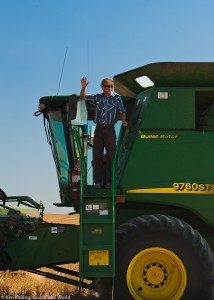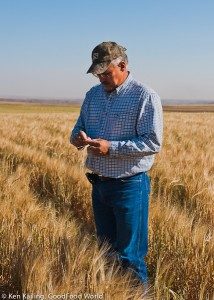 .
Or make a farm visit on July 9, to Bob Quinn's farm near Big Sandy MT and meet more of the members of the Montana Organic Association..
---
Save
Save
Save
Save