FEATURE ARTICLE
The Business of Baking at SHIFT
Kate McLean, our resident baking expert and healthy food proponent, is dodging clouds of flour and pots of chocolate to make delicious baked goods for a brand new restaurant – SHIFT – located in the northwest corner of Maryland, not far from the Pennsylvania border. Here's what Kate has to say:
At SHIFT we take homemade to heart. The house ketchup is not just our favorite brand; it's made weekly in the prep kitchen, as are all the other sauces. Orange juice is fresh-squeezed, pasta rolled by hand; we even take credit for yogurt and pickles.
I'm right at home with this philosophy. If you see fudge sauce or marshmallows on the dessert menu, you can bet they're made from-scratch. No food dyes, corn syrup or hydrogenated oils. Fruit is used when it's in season and bulk ingredients are organic.
No, the sugar's not local and neither is the chocolate; these are fundamental building blocks of dessert as we know it. I can't figure a way around that one, but considering everything else we do I'm comfortable with the compromise.
The Business of Baking at SHIFT is serious business! And Kate is totally committed to it.
---
FEATURE ARTICLE
If SMALL is Beautiful, Why Has BIG Taken Over the World?
Quick, take a look… tell me where are we?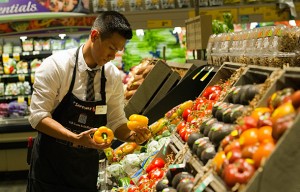 No idea? Well, folks, you're now a victim of the "franchization" of America! Every place is now the same place. (This is a photo of the Tenleytown Safeway in Washington DC.)
We'd like to think the food world is different, but the world of food is even more insidious. Just the top 10 food processing companies together generated more than $197 billion in revenues in 2014.
And your grocery cart? Those top food processing companies control it. Americans are spending twice as much on processed food today than we did just 30 years ago. In 2012, we spent 22.9% of our food budgets on processed food, compared to just 11.6% in 1982.
Produce is no better. While today's produce sections are piled high with colorful fruits and vegetables, all that choice is just an illusion too. In most supermarkets there are just a handful of varieties of each kind of vegetable offered for sale.
There is good news. Even as we face globalization (and standardization) of nearly every element of our lives, including the food we eat, there are between 25 and 27 million small and medium independent companies working separately to deliver us diversity and quality. It's time we recognized the value that these businesses deliver to us, and to our communities.
Read the whole story in If SMALL is Beautiful, Why Has BIG Taken Over the World?
---
OP ED
Agri-Culture
The more our industrialized agriculture tries to replace it, the more the ecological small scale agriculture persists as a viable alternative, especially when close to urbanizing populations. But the dynamics are important as is the cooperation.
A major problem with our food system is thinking that one size fits all and failing to see the potential of the "small is beautiful" scenario in a mixed landscape. That mixed landscape is a necessary buffer to protect the natural resource base – the key elements of the endemic ecosystem – and to give something back to the community.
The healthy alternative to more unmanaged – and ungoverned – growth is consciously building resiliency to meet climate change and provide young people a future they can feel good about, not scared to death over. This to me is the "bright side of life" as long as we keep believing in it. And Ed Hamer is doing it. Read more and watch his Ted-x talk here.
---
CONSUMER ADVISORY
FAQs About GMOs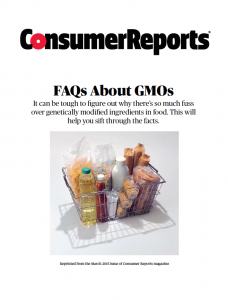 It can be tough to figure out why there's so much fuss over genetically modified ingredients in food. This reprint from the upcoming March 2015 issue of Consumer Reports will help you sift through the facts. Do you really know what's in your shopping basket?
Consumer Reports tests have found that many processed foods might contain genetically modified ingredients. If you want to be certain your food isn't made with GMOs, look for the "Non-GMO Project Verified" seal — or buy Certified Organic. It's a growing controversy: Should foods containing genetically modified organisms (GMOs), which are created in a lab by altering the genetic makeup of a plant or an animal, always have packaging notifying consumers of that fact?
Ninety-two percent of Americans believe that these foods – widely found in kitchens across the country – should be labeled before they're sold, according to a recent nationally representative survey of 1,004 people from the Consumer Reports National Research Center. So how do you know if your food contains GMOs? Get your copy of the report here and learn more.
---
FEATURE ARTICLE
To Save Our Wild and Native Seafood, We Have to Eat It
If you live on the East Coast, West Coast, or Gulf Coast or even the Great Lakes, chances are you're still able to get some fish caught wild in your coastal waters or freshwater inland "seas." However if you've looked closely at the fish in your local supermarket – regardless of where you live – chances are you'll find your fish originates from just about anywhere else in the world.
The fishery eco-system includes the ocean, the atmosphere, the surrounding landscape, the fish and the food they eat, the fishermen who harvest them, the handlers who process the fish, the retailers who sell them, the chefs who cook them, and the consumers who eat them. Fish and fisheries are not separate from their ecosystems and the environment and must be managed as a whole.
Read the whole story here, and seek out – and eat – the best of your local seafood. If we don't value it, it won't last.
---
FEATURE ARTICLE
Farming in the 21st Century
Over the last 150 years farming has changed from an animal-powered (and human-powered) occupation to a high-tech, high-energy business. And as fewer and fewer men – and occasionally women – choose to take it up, the age of today's farmer has slowly inched up until it has approached "retirement" age.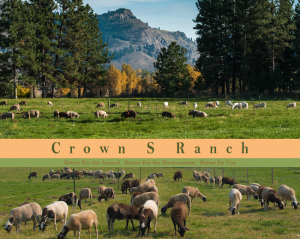 There are, however, young people coming to farming with unique training and education. Jennifer Agraves and Louis Sukovaty were just such young people when they tabled their engineering careers in their mid-thirties to take over Louis' family farm, Crown S Ranch. Today, they combine traditional low-tech methods of animal husbandry with high-tech, solar-powered solutions. This newly released e-book covers:
A New Generation of Farmers
Engineering an Organic Farm: "It isn't easy!"
Organic Farming: Better For the Environment
Meet Your Meat
Small Farmers Need Small Slaughterhouses
Delivery Dilemmas
Selling From a Small Scale Integrated Livestock Farm
Get your FREE copy here.