(click on any image for a larger version)
Alice's New Wonderland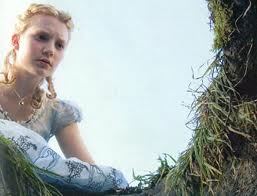 Ina Denburg, our Healthy Eating columnist, has been digging deep into how genetically engineered foods expose us to the dangers of glyphosate – the active ingredient in Monsanto's Roundup herbicide.
"I feel as if I'm in a bizarre Wonderland that is unfortunately called the political reality in America!" says Ina. "The faster I run towards devouring new information about the negative health effects of glyphosate, the more I'm frustrated by the continuing attacks on our body politic by Monsanto and their minions."
It certainly doesn't help that they're receiving continual support from both the Environmental Protection Agency (EPA) and the Food and Drug Administration (FDA) charged with protecting our health and well being.
It is no longer tolerable that the foxes run the hen houses! Read the whole story in Alice in Glyphosate Land.
---
Your Summer Reading List
Summer reading that will inspire, motivate, and educate you!
We've raided the shelves of the Kailing library to create a list of books that cover a wide range of topics and represent thinking separated by thousands of years. These books are centered on the relationship we have with the earth and each other, with our communities and surrounding ecosystems, with the plants and animals around us, and with the food we eat.
Ranging from poetry and fiction, from philosophy to biography, these are books that can change the way you live on and care for the earth. Here are our recommendations.
---
Dishing on Michael Pollan's Cooked
OK, folks, I have a confession! I've read most of Michael Pollan's books and bought a copy of his latest, Cooked, as soon as it came out.
So what's the secret? Shhhh… I've only read pages 205 through 289, the part titled Air. Not the Introduction (25 pages), and not any of the other parts (Fire, Water, and Earth). So why have I skipped three-quarters of Pollan's book?
Frankly, I'm not into grilling meat (Fire), cooking onion soup (Water), or making fermented foods (Earth), I am a novice baker trying my darnedest to learn how to make good bread. So I would rather have bought a book by Michael Pollan called Baked. (Somehow I don't think that one is on the list…)
In his book Michael talks about his time with guru bakers, farmers, and millers, as well as a visit with our friend Steve Jones (Dr. Wheat in Western Washington). To make good bread you only need a few basics: flour, water, salt, yeast, time, and heat. That's all!
Here's our take on local and regional grain and flour, and baking bread.
---
Fishy Fish Tales
As two Midwesterners who moved to Puget Sound, we found out exactly how little we knew about seafood. After all, the fish we grew up on came out of lakes and streams.
Today fishing industries around the world – both finfish and shellfish – are continuing to harvest as many fish as possible, mostly without regard to the remaining fish stocks, the environmental effects of fish farms, and the careful labeling and identification of the product in restaurants and markets.
And to make matters worse, we are facing the introduction of genetically engineered fish into the American food system.
The issues surrounding production, processing, and marketing of authentic, thoughtfully harvested, healthy seafood are many and complex. Read the Fishy Fish Tales we're being told every day.
---
Living the Chicken Life
Kate Hilmer, our Good Food on a Budget columnist, has taken to living the chicken life; at least she is sharing her home with 9 fluffy feathered poulets.
Says Kate: This whole adventure began late last month when we decided to raise ten little chickens. We saw this as an opportunity to gain some experience in urban farming: we'd raise them in Missoula and transfer them to their respective coops when they were old enough.
We have no prior experience in raising children, poultry or otherwise, but what follows is an account of our education thus far. Read the whole story here.
---
Food Waste in the 21st Century
It's the 21st Century and one would think that by now human beings would have figured out creative and efficient ways to produce sufficient healthy and nutritious (good) food to feed us all and to eliminate costly and destructive food waste.
It turns out that we not only haven't figured it out; the whole process is getting more and more problematic and the amount of food waste – at least in the United States and other developed countries – is increasing.
As much as 50% of the edible food products grown and produced in the United States are lost, discarded, or "wasted" from the farm to the fork. And more than a quarter of those food products are discarded after they are purchased in retail stores or restaurants.
Read more about how food waste is handled and what you can do to reduce food waste in Food Waste in the 21st Century.
________________________________________
Voices From The Farm: More Adventures with Sheba, the Wander Dog
This week in More Adventures with Sheba, the Wander Dog, Lea McEvilly, Farm Talk, says:
We finally got a break in the weather, for a few days at least, and it was really welcome! I opened up the big north barn door to get some fresh air in the barn.
This meant Sheba could come outside whenever she wanted to, but she usually stayed in the barn with the sheep. As long as the door was open, and she could see what I was doing, she was content to stay in the barn. But that didn't last!.
Catch up with life on a Minnesota sheep farm here.