When you pull into Prairie Grass Ranch, just a seven miles south of Havre MT in the northern foothills of the Bear Paw Mountains, you're greeted with rolling hills and open skies. Jody and Crystal Manuel are organic dryland farmers and beef ranchers on this 4,000-acre spread.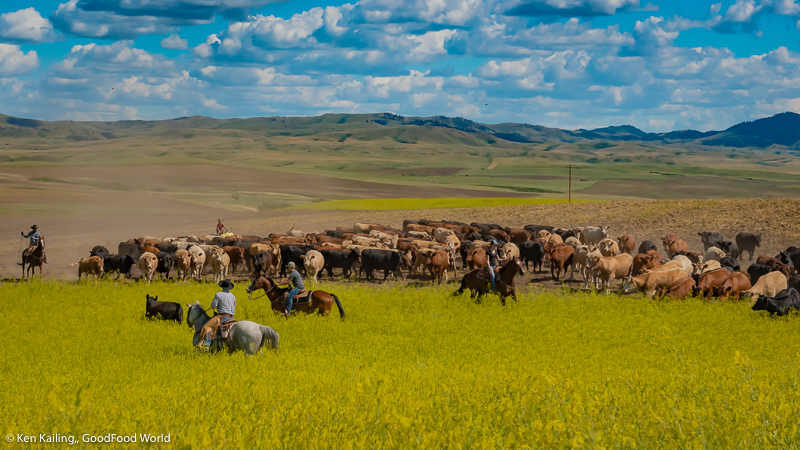 Just 10 years ago, the Manuels began their conversion to organic farming and today they raise lentils, KAMUT® Khorasan wheat, emmer, spelt, rye, hops, and cover crops including yellow clover. Livestock ranges from broiler chickens and laying hens to grassfed beef and pastured hogs.
On a beautiful early summer day, more than 100 people gathered for a Montana Organic Association Farm Day to learn more about dryland cropping, cover-crop grazing, soil health, and control of the organic farmer's nemesis: bindweed.
---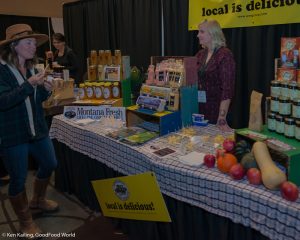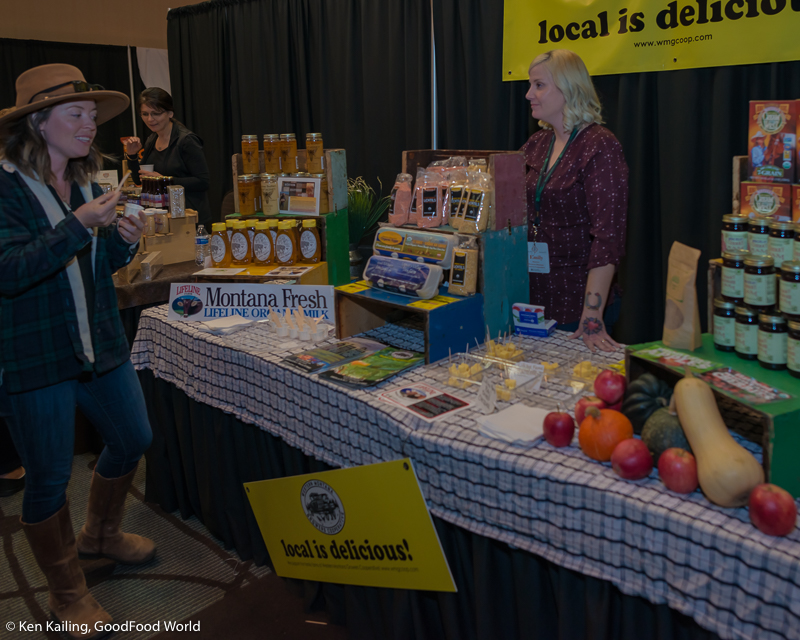 Can Montana feed itself? That sounds like a pretty basic question – after all, Montana is the fourth largest state in the United States, spanning 147,000 square miles.
Shouldn't we be able to support our meager population of 1,050,000 souls? We are primarily an agricultural state where almost 28,000 farms and ranches are spread across 60 million acres.
It turns out that bigger geography is definitely a challenge when the population density is fewer than 7 persons per square mile across the state.
To bring together food growers, producers, and processors, the Montana Department of Agriculture launched its first "Food Show" on October 10, 2017, in Bozeman MT. Approximately 50 food-based businesses and nearly 250 wholesale and consumer customers shared samples and stories across a wide range of food and beverage choices.
---
The current National Organic Standards were finalized in 2000 (yes, they were finally put into place that recently), and because of the way they were written, large organic production – Big Org – joined Big Ag in implementing industrial agricultural methods. And from then on, small to medium-sized organic producers have been pushed to the background.
Over the years a number of "Organic Plus" initiatives have been proposed and developed; Rodale has now proposed a new Regenerative Organic Certification that build on – not replace – existing USDA organic standards. The proposed standards are built on these three pillars.

Where current standards do not focus as deeply on soil health and biodiversity, animal welfare, or social justice fairness, the Regenerative Organic Standards strengthen the standards to consider the living systems – earth, animals, and man – as they interface in today's agricultural systems.
At GoodFood World, our mission has always been to strengthen and support food businesses that are:
Socially just and responsible,
Strive to maintain conscientious stewardship of the environment, and
Contribute to the social and economic well being of the community.
---
Montana is rightfully called Big Sky Country, and it's not unusual to drive 3 or 4 hours to attend a meeting, visit friends, or join a field day to learn about ranching or farming. On a hot and smoky day in August, Anderson Ranch in the Tom Miner Basin, near Yellowstone National Park, hosted several dozen folks who came to learn more about resilient ranching.
The Resilience and Today's Ranch Field Day was sponsored by the Western Sustainability Exchange and the Tom Miner Basin Association, two organizations that work with ranchers and land owners, and local, state, and federal agencies to conserve Montana's open space, farming and ranching heritage, and wildlife habitat, and strengthen rural economies.
Ranching in the Rocky Mountain West is a complex operation, involving range management, soil health, plant diversity, livestock handling, and predator management. The day's workshops focused on soil health and carbon sequestration, low-stress livestock handling, avoiding conflicts with predators, and the value of range riding.
---
The bounty of the Gallatin Valley
Amaltheia Organic Dairy is more than an organic goat dairy and cheese maker and it's more than the home of delicious organic whey-fed pigs. Amaltheia is also home to Nate Brown's beautiful organic produce.
In a valley sadly being encroached on by developers throwing up cheaply made and expensively priced homes for Bozeman's growing population, Amaltheia proudly produces a full menu of protein and produce.
It is operations like Amaltheia, run by livestock raisers and cheese makers Mel and Sue Brown, and their son Nate Brown, produce farmer, who need to be honored, respected, and protected, for the hard work they do to deliver some of the best food in Montana.
Look at those root vegetables! Look at those peppers! You can do your part by shopping at your local farmers market. And while you're there, hug a farmer and thank them for your food!
---
We all like to imagine that the beef we eat came from a cow living a happy-go-lucky life, frolicking on lush green pastures until a gentle and painless end. Obviously the average American does NOT want to meet their dinner while he/she is still standing.
However, the idea that you could, if you wanted, meet the farmer who raised your dinner, is not so far fetched. It's just not so easy when you shop in any conventional big name supermarket. You'll find miles of plastic-wrapped Styrofoam trays full of bright red steaks, roasts, and ground beef, but you're not likely to see any labels identifying where it was born and raised.
Consideration for the animals and the consumers who eat them has been overtaken by the drive for profit. In response to the damaging impact of feedlot production, more and more farmers and ranchers are choosing to return to, and improve upon, traditional methods of raising cattle on grass.
---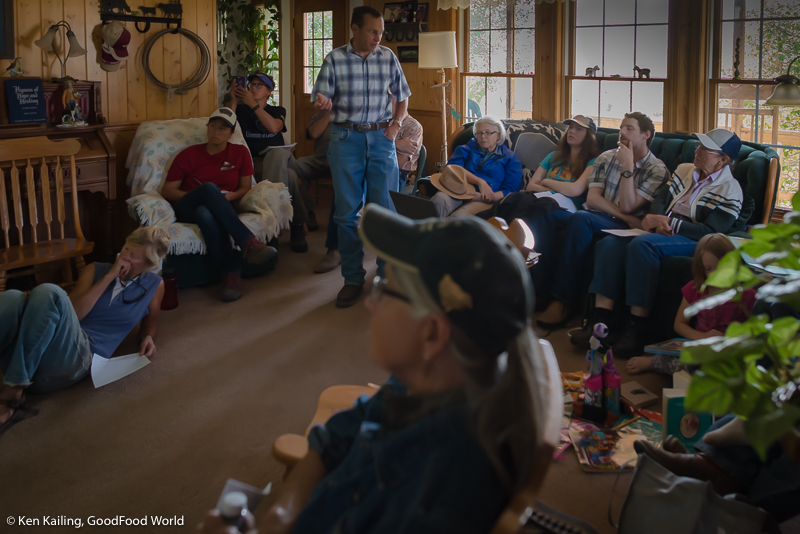 Enclosed by surrounding mountain ranges, where black cattle and white sheep graze in sunshine filtered through a slight haze of wildfire smoke, a community comes together to concentrate on healthy animals, healthy soil, and healthy families.
In small conference rooms, living rooms, and farmers' fields, there are ranchers teaching ranchers new techniques to manage – and reduce – parasite infestation in small ruminants. Dave Scott, NCAT Agriculture Specialist and owner of Montana Highland Lamb, led friends and neighbors through diagnostic systems to identify infected sheep and methods to help control parasites.