(Click on any picture to see a larger image.)
In October 2016, two Tolima coffee lots ended up in the top five at a country-wide coffee cupping festival, including first place, surprising judges and the public. The victory and recognition comes at critical point for coffee producers in the southern part of the department. Though geo-climatic conditions favor the production of specialty brews with unique flavors, coffee producers face obstacles in processing, accessing financial mechanisms, and finding new markets.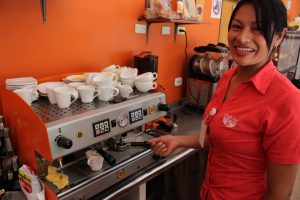 There are an estimated 24,000 coffee farmers in the nine municipalities in Colombia's Tolima province. Here, Tolima's largest coffee cooperative, CAFISUR (Cooperativa de Caficultores del Sur del Tolima), has worked for the past fifty years to fill gaps in the coffee value chain, building smallholder farmers' skills and knowledge and giving them a better chance at equitable prices.
Luis Eduardo Reynoso, a coffee farmer in the town of Risalda in the municipality of Chaparral, likes to say that coffee farmers in Tolima live and die by the rain. By that, he means that due to a lack of processing facilities, farmers depend on the sun's rays to dry coffee, and the region's mountainous topography means a lot of clouds when the sun is needed most.
"We barely saw the sun this year between the harvest months of April to June. The coffee was too wet and I had to sell earlier than I wanted to," he explains. To make matters worse, the dry season was hotter than normal, leading to an outbreak of the coffee beetle.
Reynoso belongs to a local producer association, has 30 hectares of Rainforest Alliance-certified coffee trees, and tries to sell his coffee to CAFISUR when he can. When CAFISUR cannot take on more wet coffee, and Reynosos needs to pay bills, he sells wet coffee to coffee dealers at a lower price.
"The need for liquidity makes farmers desperate and causes them to either harvest too soon or sell lots of coffee at lower than usual prices," explains the general manager of CAFISUR, Luis Ernesto Váquiro.
(Note: The following photos are of coffee farmers in the municipality of Chaparral, located in south-central Colombia in the Department of Tolima, who are having difficulties drying their coffee on time to meet market demands.)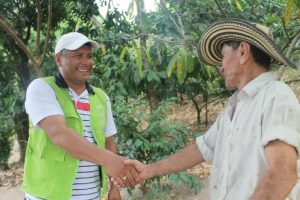 In 2016, USAID-funded Land and Rural Development Program began working with CAFISUR to find a solution to this problem so common in Southern Tolima. After a series of stakeholder meetings, the partners signed a public-private partnership worth US$9.15 million, which supports the installation of a coffee drying plant in Chaparral, the heart of Tolima coffee country. Under the partnership, Colombia's Rural Development Agency committed to invest US$600,000.
The drying plant will allow CAFISUR to purchase up an additional 3,500 metric tons (MT) of wet coffee from thousands of farmers in the region, and will allow the cooperative to double its purchasing—from 10,000 MT to 20,000 MT—over the next three years. The increased purchasing will put over US$7 million in the pockets of thousands of farmers.
"The drying plant will help them reduce post-harvest losses and maintain quality control of their coffee. These benefits will translate to higher revenue for farmers," explains CAFISUR's general manager. The installation of the processing plant is also expected to have a motivational effect on farmers, inspiring them to cultivate new areas and to replace old, less productive coffee trees.
Within the three years, CAFISUR expects the coffee drying plant to attract most of Southern Tolima's 24,000 coffee farmers, proving a better option than solar dryers or shipping wet coffee to other departments.
Over the last year, USAID's Land and Rural Development Program facilitated the implementation of five public-private partnerships in the coffee, cacao, honey, and dairy sectors. The cumulative value of these partnerships is over US$20 million, of which the public sector will invest more than half.
The facilitation of strategic partnerships forms part of USAID's approach to strengthening local governments' ability to better plan, formulate, and execute meaningful infrastructure and agriculture projects in coordination with the private sector. With the program's assistance, governments in six departments have mobilized over US$44 million for rural development and land administration activities since 2012.
[jj-ngg-jquery-slider gallery="Coffee in Columbia" width="650″ height="432″ center="1″ tags="Coffee" effect="fade" pausetime="4000″ controlnav="true" directionnav="true" order="sortorder" captionOpacity="0.60″ ]
Photo credits: Stivens Parra Gámez, Nicholas Parkinson
---
About Nicholas Parkinson (Nico Parco)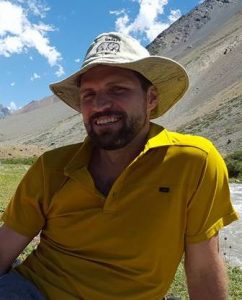 Nicholas is an NGO writer currently based in Bogota, Colombia and working on a large land tenure program that encourages the government to better serve millions of victims displaced by the violence.
Over the past six years, he has worked mainly on agriculture-focused projects in Ethiopia, Liberia, Uganda and Somalia, among others. He specializes in NGO documentation, communications, and PR, and teaches local writers how to create attention-grabbing stories for their NGOs.
On his weblog you can find stories from his immigrant life, some thoughts on development aid, and a strong dose of rock climbing and adventure.
Here is a link to Nicholas' GoodFood World articles and commentary.