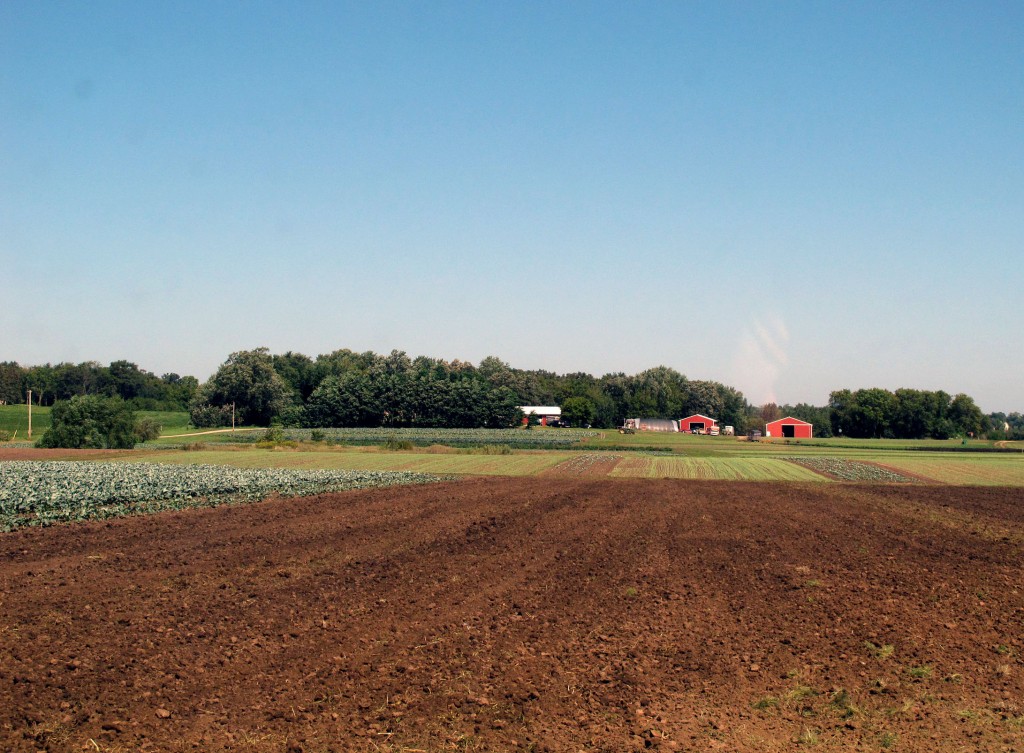 As we face climate change and continuing issues of food security, how will natural food markets and co-ops source healthy local food and provide a living wage to farm and retail workers?
In 2007, the Wedge Co-op, Minneapolis MN, believed the simple answer was to buy the Gardens of Eagan farm and secure a trusted supply chain. It was a watershed event for Atina and Martin Diffley, who had partnered for more than 30 years with the Wedge, Minneapolis's largest natural food co-op, as a produce supplier and were looking for a way to ease out of farming.
Now, today that farm will come to an end with the flourish of an auctioneer's gavel. In April 2015, the Wedge announced that it was planning to sell the farm at the end of the 2015 growing season and had several potential buyers in mind. No sale materialized and a "farm equipment and inventory liquidation" auction is in progress today.
The 125 acres on which the farm is located are just about 30 minutes from the metro Twin Cities area. Will they become the next developer's target for a commuter suburb?
What Happened?
As that dusty old cliché says, "Hindsight is 20/20," and it's clear now how idealism and a sense of mission failed to incorporate the third (and some would say, most important) leg of the "Triple Bottom Line" – profit. The other two are often described as "people" and "planet." Or, occasionally labeled: "Environment, Ethics, and Economics."
The Purchase By the Wedge Co-op
Idealism On the Side Of the Sellers
Atina and Martin, long time farmers, were approaching retirement and their children didn't want to go into farming. So what to do? Find a buyer who had the same ideals, mission, vision…
In 2007, the Diffleys wanted to find a non-profit or government organization to buy the farm; they did not want it sold to a private buyer for conventional farming or development.
Martin and Atina believed the Wedge Co-op would be the right buyer who shared their ideals and commitment.
The Diffleys would have the funds and support to create outreach, education, internship, and incubator programs in support of organic farming.
The Buyer's Rose-colored Glasses
The Wedge Co-op, first and foremost, did not want to lose a large long-term – and strategic – produce supplier. Then the Co-op envisioned expanding into educational food and farming programs.
The purchase of the farm would secure an indefinite supply of organic produce for the Co-op; at the time the Gardens of Eagan was supplying more than 285,000 pounds of produce annually.
Managing the farm would not be particularly difficult because they hired an experienced farmer and program developer to manage the business; "The farm will run exactly as it always has."
The farm would hold the financial assets, manage the farm production, and develop a robust series of programs for consumers and beginning and small organic farmers.
Cold Reality – The Sale By the Wedge Co-op
Seven years later, reality set in and the Co-op was faced with needing to invest more time and money into the farm. Was owning your own supply chain still the right decision?
Operating expenses are rising and expected to continue on an upward trend.
Improvements to make the farm more efficient and economically viable will take a significant investment.
The number of local organic farmers has grown and there are more sources for local produce.
Farming is not a core-competency of the Wedge Co-op. The organization is a very successful retail operation with a wholesale distribution subsidiary: Co-op Partners Warehouse, which sells to more than 300 retailers and restaurants.
An Alternate Reality – What COULD Have Happened
The acquisition and ultimate disposition of the Gardens of Eagan farm was driven by the idealism of both parties. The Diffleys were convinced that they did not want to hand their farm off to another farmer – conventional or organic – and really wanted to partner with a "non-private" buyer such as a non-profit or government entity.
The Wedge Co-op board of directors and management team – while looking at the opportunity to become a major educational arm for local organic food and farming – primarily wanted to keep a large volume, high-quality local producer from disappearing.
Under those conditions, they seem to have been perfect partners.
But what if…?
What if they had worked together to achieve a different ideal, a different business model that might have looked like this?
The Wedge and other area co-ops joined together to form an investment co-operative to support local and regional organic farms and food production.
The investment co-op provided grants, training, and administrative support to create a marketing co-op made up of organic farms to aggregate a wide variety of produce and other food products and market them to the Minneapolis/St. Paul metro area.
The investment co-operative provided assistance – in the form of loans, loan guarantees, trust funds, or other financial vehicles – to the buyers of the Gardens of Eagan farm to acquire the land, buildings, and equipment. Other buyers in the future could apply for similar assistance.
The investment co-operative secured "Letters of Intent" from buyers and chefs in the Minneapolis/St. Paul metro area to purchase food products meeting agreed-upon volumes, quality level, and prices. Such letters were used in conjunction with – or in lieu of – collateral for loans.
The marketing co-op established 3 "food hubs" in a ring around the metro area to aggregate, assure quality, and distribute food products under the its own brand. One of the hubs was at the Gardens of Eagan farm.
Cooperatives are the business models of the future – marketing cooperatives, buying cooperatives, as well as shared services. Co-ops have always flourished in times of change.
For example, look at the rural electric co-ops; they started because small rural communities had no electricity. In the 1970s and 1980s, during the farm crisis, many food co-ops were started in small communities because they were concerned about the sources of their food.
As food production, food access, and local food systems go through even more changes, the cooperative business model can support diversity, creativity, and a wide variety of small food-based businesses.
Our Advice
The merger of two businesses or acquisition of one by another – especially when there is food and farming involved – needs to take place with the clearest vision possible, avoiding epistemic closure(1) in all parties.  To allow idealism and enthusiasm to lead the final decision is risky at best and potentially disastrous at worst.
Careful analysis of all potential outcomes, participation of prudent investors and management, and detailed planning can reduce risk and lead to the creation of a successful new entity.
At GoodFood World we provide opportunity assessment, business analysis, and action planning for food-based businesses to:
Define and quantify a target market
Develop estimates of revenue potential
Position a product and/or a company
Identify opportunities for alliances and partnerships
Contact us here.
Additional Reading
Wedge Co-op to Sell Gardens of Eagan
Wedge Buys Gardens of Eagan
Turn Here Sweet Corn by Atina Diffley
Cooperatives – The Business Model of the Future
---
(1) Epistemic closure: A closed system of deduction, unaffected by empirical evidence; an extreme form of confirmation bias.
Image source: Sarah H/Flickr, used under Creative Commons License.