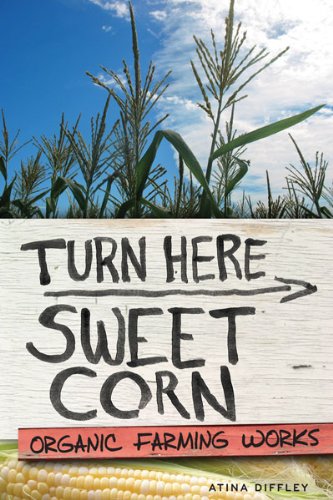 Turn Here Sweet Corn, Atina Diffley (University Of Minnesota Press, 2012)
Atina Diffley is the neighbor we didn't know we had! Her new book, Turn Here Sweet Corn, is heart-felt, heart-warming, heart-stopping, and in the end heart-soaring!
Her story of the challenges and rewards of organic farming at Gardens of Eagan is full of places and people we know, Wisconsin and Minnesota landscapes we've lived in and traveled through, and friends we've met along the way.
That said, whether you're from the upper Midwest, New England, California, or someplace in between, you'll love Turn Here Sweet Corn!
Ms. Diffley is clearly a poet speaking from her heart and yet she has a steel backbone when it comes to meeting the challenges of nature, changing land use, and encroachment by the world's most notorious polluters, Koch Industries.
Marion Nestle described Turn Here Sweet Corn as a "page turner," and I thought that was just a cliché. It simply isn't possible to lay this book down. Marion, I agree with you!
Although Atina Diffley no longer sports a "farmer tan" (pale forehead, tanned cheeks), I'm sure there is a memory of the dirt under her nails as she and her husband, Martin, continue to advise, mentor, educate, and support organic farmers everywhere.
In January 2008 the Wedge Community Co-op, Minneapolis MN, bought the Gardens of Eagan name and equipment, and began leasing the farmland for organic vegetable production. At the end of this year's growing season (2012), the Wedge Co-op will move the Gardens of Eagan to their own farmland. Learn more about Gardens of Eagan here.
Get a copy of this book and read it! ('Nuff said!)