(8/31: Final updates below.)
Wild fires and forest fires are rampant across the Northwest, south into California, and east into Montana. When you have friends farming on lands that are in the paths of these fires, all you can do is pray that they will be safe.
Farming is a hard business and with heat, drought, and fire, it's even harder. Know your farmers and thank them for your food today!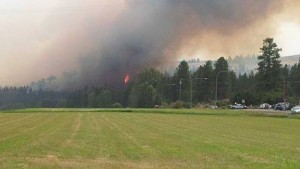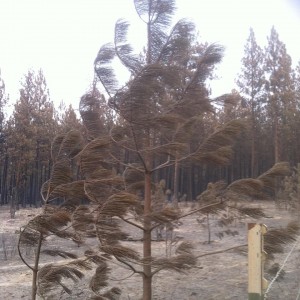 (Left: View from Crown S Ranch, Winthrop WA; Right: Aftermath at Pine Stump Farm, Omak WA.)
At GoodFood World, we're watching – and sharing information about – farmers in north central Washington. If you're a regular reader, you'll recognize these faces. The good news is that almost all have been unscathed – all except Pine Stump Farm, Omak.
Here's today's tally.
Bad News: Pine Stump Farm, Carey Hunter and Albert Roberts, Omak WA
From Carey and Albert's son :
(8/21, 3:30PM) A fire has swept up through the farm. As of right now Mom, Albert, and the animals are ok. 'Stans' house is burned down. It seems to still be active right now, with no crews to contain it (except Albert in the water truck).
(8/21, 7:45PM) UPDATE: Looks like another house on the farm was burned, "Paloma's Cabin" is gone. Still some hotspots out there, and heavy winds.
From Carey:
(8/23, 10:00AM) Thanks, everyone, for your thoughts and care. Very smoky here; we're still putting out spot fires that creep along in the duff. Got a generator as electricity looks to be out for 1-6 weeks, so can periodically get water to stock, keep freezers frozen, etc. We lost 100+ tons of hay to the fire gods.
(8/24, 7:30AM) Albert and new helper Brandon put out spot fires all day with the trusty ole water truck. Sure value that beast now. Got a generator, so am able to keep freezers frozen and fridges a decent temperature. So many fences down that livestock is walking all over the place, searching for pasture or non-blackened ground. Repaired a few easy stretches to keep cows west. Animals, while they survived, are stressed. . . and hungry. Doling out feed judiciously now. I learned railroad ties can burn. Thank you everyone for your caring.
(8/26, 7:15AM) It's going to take some time for the lovely pine forest to return to this area. Horses, goats, cattle, cats, and dogs… and Albert and I are all safe and our humble house is intact.
(8/31, 7:00AM) Beginning to recoup and reestablish a new normal. Albert was up for 3 nights doing fire watch and putting out spot fires. The smoke was very bad for his lungs.
Read more about Pine Stump Farm here:
Zen and the Art of Motorcycle Maintenance Meets Farmer Jane
Women Hold Up Half the Sky
Sort-of-Good News: Sunny Pine Farm, Carl Rapp and Tania Gonzalez Ortega, Twisp WA

Just this year Carl and Tania bought Sunny Pine Farm from Ed Welch (after his wife Vicky died) after operating it for Ed last year. Sunny Pine Farm is the only organic goat dairy in Washington state, and is well known for its chèvre, feta, and yogurt products.
On August 19, fire broke out on Twisp River Road in Twisp, WA, and quickly turned into a large raging forest fire. Sunny Pine Farm was under direct threat and had to evacuate over 100 goats and cows, including their rare Guernsey goat herd. This is the second year in a row that Tania and Carl Rapp have had to evacuate animals due to fires in the Methow.
Because the power was out for more than a week, milk could not be saved and production came to a complete halt. The farm was out of production for more 10 days, while Tania and Carl continued to pay the loyal employees who worked around the clock to evacuate animals, valuable equipment, and work to maintain the herd.
A hardship fund has been set up for Sunny Pine Farm to defray some of their expenses.
Read more about Sunny Pine Farm here:
Keeping Goats
Good News: Crown S Ranch, Jennifer Argraves and Louis Sukovaty, Winthrop WA
Last year, Crown S Ranch suffered some damages in a fire August 1, so Jennifer and Louis have been through this once already. My call to them on Wednesday, 8/19, was short: "We've been told we are being evacuated. I can't talk now."
From Jennifer:
(8/21, email) Currently, we are under a Level 3 evacuation with fires burning on three sides of us. Luckily, the winds are moving away from our farm.  Unfortunately, it is going toward our neighbors. We are safe. We have put up perimeter irrigation around the farm. All animals are safe within lush green irrigated pastures. 
Read more about Crown S Ranch here.
Good News: Booth Canyon Orchard, Stina Booth and John Richardson, Carleton WA
From Stina:
(8/21, 10:15PM) Ten big fires in the area, and 3 of those are within sight of the farm. However, we are OK. The orchards are really green, the house has a metal roof and we are watering like mad. The winds forecast for the next 36 hours will increase fire activity, and we are likely to loose power. But, we've done this before and we'll fire up the generator and keep watering,
(8/22, 11:00 AM) UPDATE: The generator is our friend; we can run irrigation, and plug in the freezer and hot water heater. Hot water AND ice when the power is out. Power is back on, which definitely takes the edge off.
Read more about Booth Canyon Orchard here:
It All Began With An Apple
Stina Booth, Booth Canyon Orchard (Video)
Good News: Larkhaven Farm, Clare Paris and Sam Howell, Tonasket WA
Clare sent us this message (8/21, 6:30PM):
We are fine. The evacuation related to a fire across the river and south. The whole county is just terrible with fire. There are some awful losses, some even in the family. It's not over and the winds are unpredictable, but we are okay so far.
Read more about Larkhaven Farm here:
A New Frontier: Farmstead Sheep Milk Cheese
Women Hold Up Half the Sky
Good News: River Valley Organics, George and Apple Otte, Tonasket WA
From Apple:
(8/21, 7:30PM) Our place is okay for now, but Okanogan county is burning and it's just insane!  Our two sons have been running harvest in the midst of it…
Read more about River Valley Organics here:
Good Apple Karma
Good News: Bluebird Grain Farm, Sam and Brooke Lucy, Winthrop WA
From Brooke:
(8/21, 2:25PM) Thank you all for your kind thoughts and support as we go through yet another evacuation due to wildfires. Power is out and we will not be conducting business until further notice. Blessings and gratitude to the amazing firefighting community.
(8/23, 10:00AM) Bluebird will resume business tomorrow. We'll have a new product to offer… smoked farro (just kidding).
Read more about Bluebird Grain Farm here:
Search and Rescue – Reclaiming Farmland and an Ancient Grain
On the Road: Emmer – An Ancient Grain
Updates will come as we hear more.