(Click on any image to see a larger version.)
Washington is full of fruit orchards and the state is the number one producer of apples in the US. In the spring, in every orchard every tree is frosted with tufts of white or pink-tinged blossoms; and from early summer until late fall they bear tons of brilliantly colored fruit.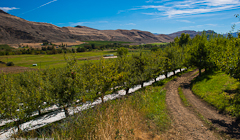 Take a drive north on Highway 97 and you will pass along the Columbia and Okanogan Rivers between tiers and tiers of orchards growing all kinds of fruit, from stone fruit – apricots, nectarines, and peaches – to apples, pears, and cherries, and the occasional quince. Just a few miles north of Tonasket WA you'll find River Valley Organics.
What's is it that makes River Valley Organics so special? It couldn't be size, since the entire orchard is only 18 acres (3 acres of cherries and 15 of pears and apples).
It couldn't be the varieties of plants, after all, Lapin cherries, Gala, Fuji, Honeycrisp and Cameo apples, and Bosc pears grow throughout central and north central Washington.
River Valley Organics is special because of a unique combination of karma and heart.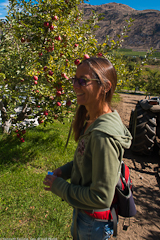 Apple Otte – to whom the name "Apple" became attached in the early 70s – would tell you directly that she and George are leftover hippies. He was born on the east coast and she on the west, and they met in Santa Cruz in the mid 70s.
With a couple of friends, George and Apple gave into their wanderlust and came to the Okanogan valley to pick apples. The karma part comes in when Apple explains that more than 30 years ago they had actually picked apples in the same fields where they now live. Did they stand there hand in hand and say, "Someday I'd like to live here…"?
Sorry, nothing that romantic ever happened. In fact, in another orchard, Apple had her epiphany. "I was up a ladder hanging on to a tree with one hand and picking with the other – I was never a good apple picker, I was too afraid of heights – when a group of little kids bookended by two adults came by on a tour. At that point I asked myself why am I picking apples for $1 an hour, when I could be doing that?"
It turned out the tour was from the local Head Start program, and Apple began volunteering with them. A stint in Oregon took Apple and George out of the state, and while there the Tonasket Head Start program called to let her know about a teacher opening. The Ottes came back to the valley and the rest – as they say – is history.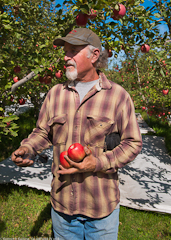 George worked in a number of orchards in the area until 1997 when he and Apple bought the very orchard they had picked in 20 years before. No, it wasn't organic, but it had been planted with a variety of trees including Red and Golden Delicious, a few Fujis, cherries, pears, and the occasional Jonathan. The season after Apple and George moved in, they began grafting new trees – more than 1800 of them – and converting the orchard to organic.
In the middle of the orchard is an old, old Jonathan, kept from destruction by the previous owner at his son's request and now nurtured as "Johnny" or "Grandpa John." The beloved tree is the oldest in the orchard and has been the scene of portraits for family occasions from graduations to grandchildren. Now Johnny has several smaller trees planted nearby to watch over.
This year has been a very good year for Grandpa John; the limbs are weighed down with masses of fruit. The tree is an "alternate bearing" tree, which means it bears a large amount of fruit on alternate years.
Working the farm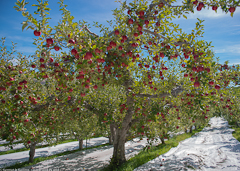 George and Apple sell to retailers ranging from the Port Townsend Food Co-op to Seattle's nine PCC Natural Markets. "Buyers from stores like PCC want highly-colored fruit. We have to sort out the less brightly colored fruit and sell it somewhere else," says George. "Our fruit not only has to be beautiful and taste good, it must be competitively priced. PCC has been very fair to us as farmers; they pay a fair but competitive price."
Apples are redder where they get more sunlight and, when left alone, the fruit on the top and outside of the tree is much more brilliantly colored than fruit from the lower and inside branches. The difference can be startling.
Rolling out yards of white cloth between the rows helps brighten the color and speeds up development of the fruit. The cloth reflects sunlight so the bottoms of the apples are as red as the tops and the fruit ripens 3 or 4 days faster than that on trees without the "color enhancer."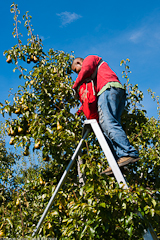 George and his crew pick for attractiveness and sweetness, waiting for the right balance of sugar and color. George constantly tests the apples with a refractometer to measure the level of sugar in the juice. The higher the count, the sweeter the apple. The pickers then carefully select the ripest, most attractive fruit leaving the rest to ripen further for another day of picking.
Sometimes a tree can be picked three or four times during the harvest. "My pickers can make up to $20 to $25 an hour. This is a real skilled job," says George. "We're color picking and make multiple passes on each tree." His wife will tell you that George is determined to pay the best wages he can because he was a picker and knows exactly how hard the job is.
Picking fruit of any kind, particularly apples and pears, takes a strong back and a gentle touch. Pears must be lifted up and pushed back against the stem so they separate properly. Honeycrisp apples – one of George's most popular varieties – almost drop off the trees when they are ripe. An experienced picker knows that he or she must be careful not to joggle a branch or apples may begin falling around them.
Winds over 25 miles an hour can quickly strip an entire tree, so conventional growers use a hormone treatment called "Stop Drop" that prevents the fruit from dropping off the tree. After treatment fruit will stay on the tree for as long as 3 weeks more. "I've picked apples treated with Stop Drop," says George. "It does such a good job of keeping the fruit on the tree that it can be darned hard to pick!"
Fallen fruit really disturbs him. Modern food safety rules prevent pickers and growers from gathering fruit off the ground for human consumption. If it hits the ground, it stays there. Shaking his head, George says, "Nearly a quarter of American children go to bed hungry, and here I have all this fruit I can't even give away. Years ago, we could glean the ground falls and sell them or use them for juice or cider. No longer…"
George and Apple's orchard is small enough – and lucky – that most of their workers stay year after year. This year a crew of 10 picked most of the cherries and the same 6 people have made up the apple/pear crew for the whole season. Daniel Dominguez and his brother Jesus have been with River Valley Organics between five and six years, so long that they're almost part of the family.
Apple Varieties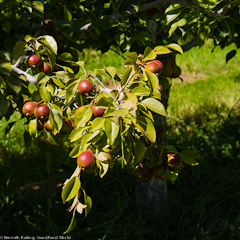 Most apples grown today – both organically and conventionally – are hybrids developed to produce consistent fruit. As hybrids, if you plant a seed from a ripe apple, the fruit you would get from the new tree would be very different from the apple you originally ate. That's why most apples come from grafted trees; the new branches will bear the hybrid fruit.
And to encourage the production of fruit, growers plant rows of "pollinators," trees that have prolific blossoms and attract bees. In the past, apple growers have not marketed the fruit from these "workhorses," eating what they wanted and leaving the rest to rot. George is now selling the apples from his Winter Banana pollinators and the pears off the Seckel pollinators.
Winter Bananas are a heritage apple variety from around 1875, and they are pale yellow with faint pink blush. The flavor is sweet and tart, with a definite banana aroma and very dense and crisp texture.
The Seckel pears are a childhood memory for George, "At bar mitzvas when I was growing up in New Jersey, there used to be bowls of Seckel pears on the tables. We called them sugar pears."
A Market for Every Cherry, Apple, and Pear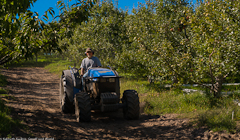 Small orchards like River Valley Organics can't afford to grow any crop that they can't sell. Apple will tell you, "We try to find homes for all the fruit we grow." She and George have developed multiple channels to sell their products; from limited farmstead sales and farmers markets to a variety of wholesale channels from packer/shippers, retail, CSA partners, and fruit processors.
In 2009, Washington's cherry crop was so large that the packers told the growers that if they had smaller cherries, not to pick them. That year George and Apple were selling their fruit through a packer, and the Ottes were told any undersized fruit (under an inch in diameter) would be simply discarded, just dumped.
Some quick thinking saved the 300 to 400 boxes that had already been picked. The Ottes and their staff pitted them and took them to Jerry Pipitone, Pipitone Farms, to dry them. By adding value to the cherries – packing them as dried fruit – River Valley Organics extended their product line and sold the entire crop to PCC Natural Markets.
Every fall a variety of late season apples are delivered in multiple shipments to Jubilee Biodynamic Farms for cider making during the farm's fall pumpkin season. Hayrides, farm tours, pumpkin tosses, and fresh apple cider add excitement to family visits to the farm.
Where to Buy River Valley Organics Fruit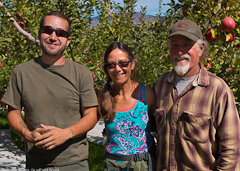 In Puget Sound you can find River Valley Organics cherries, apples, and pears front and center at any of the nine PCC Natural Markets. There are big photos of George and Apple hanging in all the produce sections.
In the first week of November, you might be lucky and shop at one of the PCC stores where the Ottes will be sharing samples of their terrific apples and pears. Directions and maps are here.
On the Olympic Peninsula side of the Sound, in historic Port Townsend, you'll also find the Otte's apples. The Port Townsend Food Co-op sells the very special Winter Bananas, as well as a selection of the farms other apples and pears. Directions and maps are here.
We all know apples are good for you! After all, Mom told us! So pick up a few to nibble on or to bake with and share a bit of karma with George and Apple.
And remember, organic apple producers like the Ottes are also good for Washington!