Miso and lamb chops – that combination of words, flavors, and images can bring one up short. When I hear "miso" I immediately think of sushi and a small bowl of broth. The thought of lamb chops never connects me to Japan and Japanese cuisine; however in Japan, lamb chops are as much of a special treat as they are here in the US. It turns out that miso, sesame, garlic, and ginger are a great combination to give a terrific flavor to the tender chops.
The next time you want to prepare a simple meal sure to impress the man or woman in your life, try this one. And, as always, get your meat from a farmer who raises organic pastured lamb, like Crown S Ranch. Sheep are ruminants, like cows, and have evolved to eat grass and other pasture plants, not grain like corn, soybeans, or barley.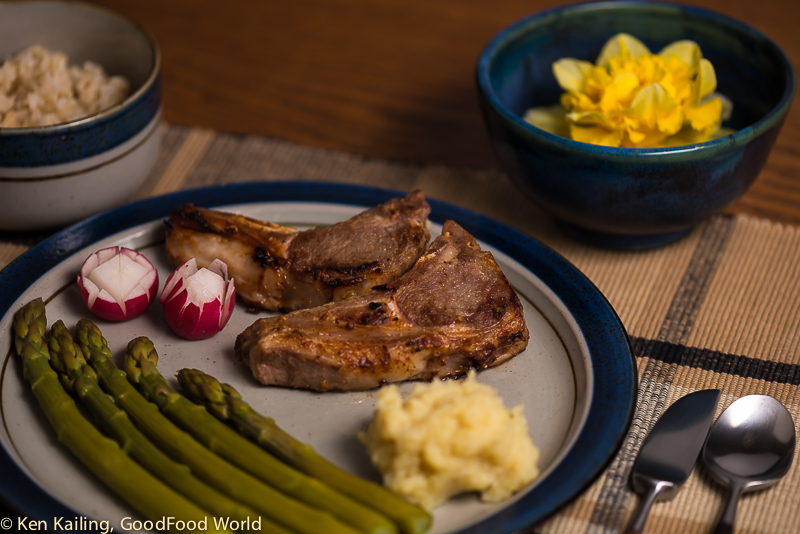 Ingredients (serves 2)
Lamb
4 organic, pasture-raised lamb chops
2 medium garlic cloves, finely minced
"Thumb-sized" piece of ginger, minced
1 tablespoon white miso paste
1 tablespoon roasted sesame oil
salt to taste
Honey Mashed Sweet Potatoes
2 medium sweet potatoes, peeled and cut into 1″ cubes
1 teaspoon honey
1/2 teaspoon powdered cumin
1 tablespoon butter, cut into small pieces
salt and freshly ground pepper to taste
Asparagus
8-10 medium fresh asparagus stalks
salt and freshly ground pepper to taste
Preparation (2 3/4 hours prep and cook time)
Mix the garlic, ginger, miso, and sesame oil in a small bowl until completely blended. If the paste is too thick, stir in a little warm water to thin it slightly.
Place the lamb chops in a flat bowl or casserole just big enough to hold them without crowding. Rub each with the miso paste to ensure they are fully coated.
Cover the bowl or casserole with plastic wrap or a lid and marinate for at least two hours in the refrigerator. Remove the chops 30 minutes before the time to start cooking them.
Place a large heavy frying pan over high heat and add several tablespoons of very lightly flavored oil to the pan.
When the oil is hot, reduce the heat to medium and add the chops. Cook for 3-5 minutes undisturbed on each side, or longer depending on the thickness of the meat.
While the lamb is marinating, prepare the sweet potatoes: in a large saucepan, add enough water to cover the potatoes by an inch or two.
Add the salt to the saucepan and bring co a boil. Boil until the potatoes have softened, 15-20 minutes.
Drain the water, add butter pieces, honey, cumin powder, salt, and pepper, and mash the potatoes in the saucepan with a masher or fork. Cover and set aside. You may do this ahead of time and reheat the potatoes to serve.
While the lamb chops are cooking, steam the asparagus for 5 minutes over boiling water until "crisp-tender." Season with salt and pepper.
Learn more about Crown S Ranch, Winthrop WA, here.
---
Adapted from
Miso Lamb Cutlets
, appearing on
The Spicy Pear
.