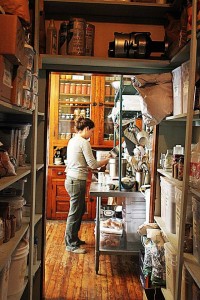 1:00pm. It's a slow day for me so I clocked out at noon, although I'm heading back in half an hour to pop some bread in the oven. I can hear dishes clanking downstairs and laughter coming from the dining room; it's the sound of our Friday afternoon lunch rush.
Out front Josh is grilling mushrooms and onions with cheese between slices of the sourdough bread I made earlier. Ian is waiting tables, probably recommending the sweet potato pie for dessert. Jes is in the back placing an order for bulk flour and beans from a regional supplier. Susanne is either making her veggie chili or cutting potatoes for fries, and some funky tunes are coming up from the dish pit in the far back, where Charlie must be working through a tub of dishes.
This has been our home for the past few months: SHIFT, Frostburg's first farm-to-table restaurant. It's the dream-child of my friend Jes, who spent all last summer renovating a building downtown with two upstairs apartments. The doors opened downstairs in November and we spent the next two months in a whirlwind, creating and recreating the menu, perfecting recipes and learning how to work efficiently in our tiny kitchen, all the while dealing with limited fridge space and an oven that wouldn't stop smoking.
But these past few weeks have felt somewhat calmer, more confident. The restaurant is settling into the community, and we're settling into our roles here at SHIFT. I make bread and desserts, crackers to go with the cheese plate, pastry to build the savory tarts, buns for the burgers and biscuits to accompany pot roasts and casseroles.
Last week we launched a Sunday brunch, adding cinnamon rolls and English muffins to my list of responsibilities. I'm given a lot of creative freedom and encouragement. I work from home. Sometimes I eat frosting for breakfast. It is a dream come true.
That being said, it's not a complete free-for-all. Although not officially established, there are definite standards in place here. At SHIFT we take homemade to heart. The house ketchup is not just our favorite brand; it's made weekly in the prep kitchen, as are all the other sauces. Orange juice is fresh-squeezed, pasta rolled by hand; we even take credit for yogurt and pickles.
I'm right at home with this philosophy. If you see fudge sauce or marshmallows on the dessert menu, you can bet they're made from-scratch. No food dyes, corn syrup or hydrogenated oils. Fruit is used when it's in season and bulk ingredients are organic.
No, the sugar's not local and neither is the chocolate; these are fundamental building blocks of dessert as we know it. I can't figure a way around that one, but considering everything else we do I'm comfortable with the compromise.
There's a downside to cooking this way, although it doesn't affect me so much as it does the chefs out front. They build the menu around whatever is available, and right now that means grains, meat, and root vegetables.
No slice of ripe tomato will accompany your burger, and leafy greens will not make an appearance on the menu until spring. What we can offer now is local cheese, homemade pickles, and fresh sprouts, hearty stews, and hot biscuits – comfort food for cold months. In the summertime we'll have delicious local tomatoes to offer and our friends will be paid a fair price for them.
Most of the food at SHIFT is cooked to order in the open kitchen out front, but the desserts are made in the back kitchen. Because they're subject to change throughout the week, we don't even list them on the regular menu. This, I believe, lends me an air of secrecy. I venture into the dining room only to write the daily selections on the dessert board, or to cross something off when we have run out. It's one of my favorite things to do.
I make a dramatic (so I like to imagine) entrance in the middle of service, cross out chocolate mousse (to sounds of disappointment) and then slowly (to build suspense) write out the new dessert, because of course I have a back up plan, and it's lemon cake.
For the most part, feedback has been incredibly positive. Brownies are the most popular – people jokingly ask if I spike them with illegal substances. I met one person who said he was a big fan of my work (it made me feel like an artist again, although I haven't made any art since college). Another person made it abundantly clear that they didn't like the crust on my pie, but praised the peanut butter filling.
I've learned to take criticism in perspective. Everybody has different tastes; even when we please the majority there will be a handful that remain unsatisfied. We only hope that they can also hold the experience in perspective. We are new at this. We work with what we have and sometimes we take risks.
How boring would it be if all I ever made was brownies? If the menu never changed? Every day we're learning something new in the kitchen at Shift. Every day I'm practicing to be a better baker.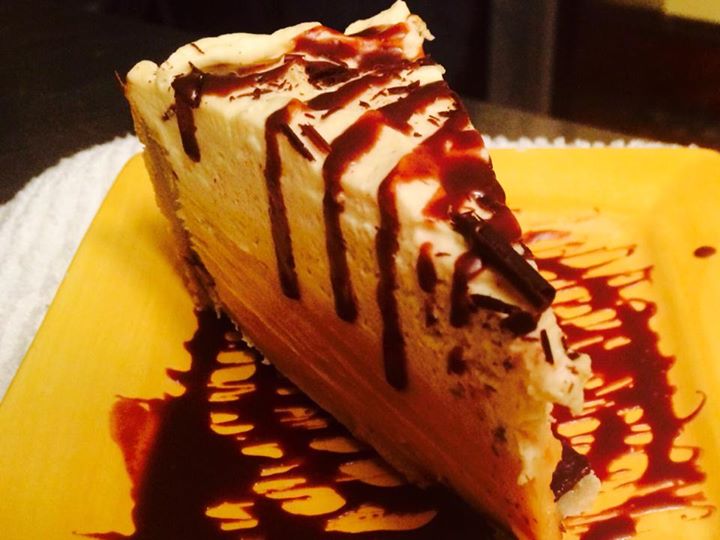 One day last week Jes brought some customers on a behind-the-scenes tour of SHIFT. Upon meeting me one woman exclaimed, "Oh, this is the little girl who makes all the desserts!" I thought, little? Coming from someone who looked around thirty, and having just turned twenty-seven myself, it didn't seem fair.
At the time I felt offended, but now I think I missed the point. That derogatory snippet was attached to another more important label, one I'm proud to be stuck with. She stuck it on me with that aha! attitude, like it wasn't the first time I'd come up in conversation, even though we'd never met.
When I look at it that way, I feel like the Cinderella to anyone who's ever eaten my desserts and enjoyed them. Yes, that's my shoe. I'm the mystery girl who makes the desserts!
What does it mean to be known in Frostburg, Maryland? To this girl, it means the world. I'm fortunate to be sharing my craft with a community who cares. To be getting their valuable feedback. And when I receive the occasional criticism, I won't dwell on it for too long. There's bread to be baked.