Where our food comes from and how it's made is critically important to more and more consumers, especially as the distance between the farm and our plate gets longer and longer. What happened?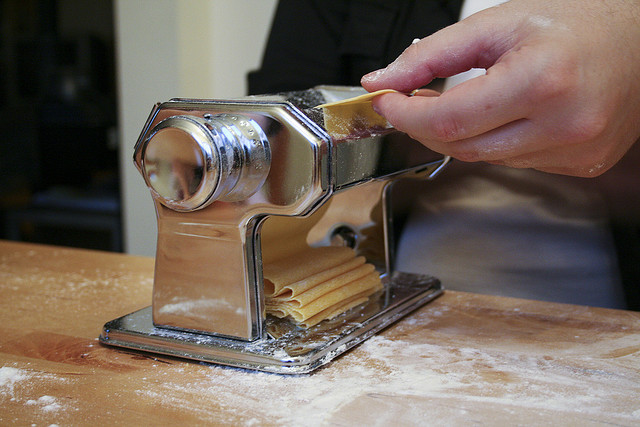 When he was a child, George Pasquale, owner of Seattle's Essential Baking, was surrounded by cooking and baking (read more in Essential Baking: Seattle's Biggest Small Bakery). His quintessential (and large!) Italian-American family gathered every weekend to make food for the coming week – for the whole family.
"Fresh pasta hung drying over the backs of the sofa and chairs and lay curled on the beds, pots of sauces simmered on the stove, and piles of fresh fish were cleaned and frozen. And Mama always baked bread for the family."
Whether you had a mother and aunts who cooked and baked all weekend or not, more women – and men – ask themselves, "Why would I make noodles when I can pop into my neighborhood grocery and get them for less than $2 a pound?"
And that question has a logical answer: Because if I make them, they are fresh, and I know exactly what goes into them. Those are the same reasons that George's mother made her noodles.
The noodles we had for dinner last night were made with organic flour from Fairhaven Organic Flour Mill – and I know the miller – and organic eggs from Crown S Ranch – I also know the farmers' children who gathered the eggs.
I dusted off the pasta machine that had been hiding tucked away in the basement, but you really only need a rolling pin and a sharp knife to make really great noodles. The following recipe comes from my 1965 copy of The Settlement Cookbook.
Ingredients:
2 cups flour
1/2 tsp salt
2 eggs, well beaten
2 tbs warm water
Sift flour and salt onto a pastry board, make a well in the center and add eggs and water.
Work the flour into the egg mixture, adding more water if necessary to make a stiff but malleable dough.
My flour takes up more water and I recommend adding as much as 4 tbs if you are using whole wheat or stone ground unbleached white flour. And this dough should be stiff!
Knead on the board until smooth. Divide dough in to half or quarters and let it rest for 30 minutes, covered.
Roll out as thin as possible and cut into any desired shapes.
Spread noodles on the board and let them dry well before using. Or as George's mother did, drape them over clean dish towels hung from the backs of chairs.
If you use the noodles fresh – not dried – they will cook very quickly. You can also freeze them after they are partially dried.
---
Photo credit – pasta machine: imipolexg (used with permission under Creative Commons license)
Get a copy of The Settlement Cookbook here.