January 2005
It was looking like a good part of the year would be spent on putting the final touches on the previous years' landscaping activities. I was finding that the old saying, "The hurrieder I go, the behinder I get," certainly applied to me! I wasn't moving as fast as before!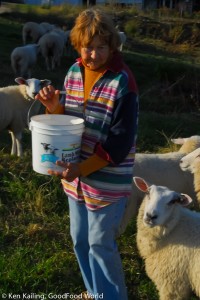 The sheep flock had been constantly shrinking due to the demand for my ewe lambs. It had reached the point where they were sold a year prior to their being born! This was good, as it was keeping my ewe flock small and manageable, but I was thinking I needed to keep back a few ewe lambs in the coming spring, or I would soon be out of business!
Early in the year, I was at the Natural Resource Conservation Service (NRCS) discussing Senator Tom Harkin's new conservation plan, 'The Conservation Security Program," as I hoped to get my young cropland renter interested in the plan. Then it was time to lay in all the lambing supplies, round up all the lambing pens, and get the barn ready for shearing day, soon to be followed by lambing..
The first lambs arrived in mid-March. We had a bumper crop of beautiful "Hi-5" lambs, and again our flock lambing average rose a few more percentage points. We were then at 220% lambs saved per ewe! It was partly due to my having only mature ewes lambing, as yearling ewes would have mostly twins and a few singles, whereas my old girls were turning out all twins and triplets… no singles!
The last lambs were born on April 5, and by the last week of the month the ewes and lambs were out on pasture, starting another rotational grazing year!
My veggie garden was also smaller than it had been in previous years, but still kept us well supplied through the season, and kept me canning tomatoes, tomato juice, salsa, and spaghetti sauce until I ran out of canning jars.
The flower gardens however, were getting bigger, and hopefully, better! After all the landscaping that followed the addition of the double garage, I now had retaining walls everywhere, it seemed, and more space for flowers and shrubs in the back yard, along with a lovely brick patio, and flagstone terrace. I was kept busy bringing order to the chaos that ensued after moving all those perennials during garage construction.
During summer we lost a dear friend and neighbor, Don Klauke , to brain cancer. Years earlier, Don had purchased ewe lambs from me to start a sheep flock, and several years after that we had purchased our wonderful sheep guardian dog, Sheba, from him. Don and his wife Mary were great assets to our community in their work with the National Catholic Rural Life Conference, and also as members of our local sheep organization, where they were always willing to lend a hand to any undertaking.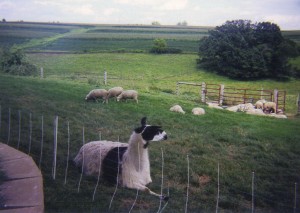 It was a very hot and dry year, and later in the summer we found our llama, Frisco, dead on pasture. He was getting on in years, but I think it was mostly the heat that did him in. We would surely miss him. Despite our shaky beginning, he had been a great guard animal for the sheep for years. We would need to get a replacement for him before the start of the next Springs' grazing season, as with all the coyotes around I would not want to be without a guard animal. Sheba was going on 14, getting quite arthritic and deaf, so she had been pretty much retired.
Tar Baby, our two-year old Black Lab, with enough energy for ten dogs, kept us entertained with his antics. While the garage construction was going on, he kept the carpenters on their toes by running off with their electric cords, saw blades, full bottles of pop, or anything else he could find.
Being a retriever, he brought all this loot to me, and I would find it on the patio in front of the sun room door. Likewise, when I was working in the garden, and laid a tool down for a minute, when I turned around it was gone, and of course, he had taken it to the house and laid it in front of the patio door. Or if I took my gloves off in the barn and laid them on a feed bin, they would disappear, and of course I would find them laying in front of the patio door.
He made lots of extra steps for me, for sure! But his real claim to fame was his ball playing expertise. He would take on any and all, even on the hottest of days, and chase balls as long as there was someone to throw them. He might, after a long ball fetching session on a very hot day, lay down and rest in the shade of a shrub for a minute, but only a minute, then he was off again, playing ball!
In October, Lisa and I made a trip to the Upper Peninsula of Michigan to visit our old friend and neighbor, Carol Steele, who had moved there some years back to live in an old mining community, enjoy the canoeing on Lake Superior, hiking, and especially the winter skiing!
The fall colors were in full display while we were there, and Carol took us driving on the myriad old mining roads, where there was another waterfall and another gorgeous display of color around every curve. We had a wonderful time, and came home with a carload of perennials, foxgloves, lupines, and scads of flower seeds to add to our gardens.
Chris and Lisa were busy at their respective jobs. Lisa at Blue Cross, where she had recently been moved up to an appraiser position, and Chris at a better computer tech job closer to home. Sean and I spent a wonderful Thanksgiving Day with them and Chris' family, at Burnsville, feasting not only on two turkeys. but also pork roast, and all the trimmings.
As winter set in Sean was winding up his last fencing job, so he could get his skid loader home to do some snow removal. That turned out to be the week of the Big Snow, followed by the Deep Freeze! So by the time the storm was over, he had his work cut out for him!
Now that winter had was here in earnest, Sheba was spending most of her time sleeping in the garage on the heated floor, but still, if the weather was not too terribly cold, she would lay out on the front retaining wall at night, and bark at the coyotes, just to let them know she was still here, but she did not venture out to challenge them anymore. She had been a wonderful dog, and earned her rest and comfort.
At Christmas time we were actually still enjoying the last fresh tomatoes from our garden, which I had picked green when the first killing frost was about to descend on the garden.
I was looking forward to the New Year, as in January, 2006, my sheep flock would be certified as a USDA "Scrapie Free Flock" after 5 years in the program, and one of the first few flocks to be certified in MN, which gave added value to my breeding stock!