(Click on any image for a larger view.)
2001 – Continued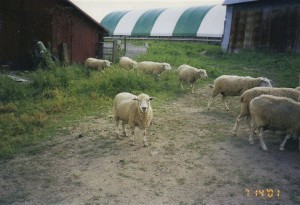 February: Despite all the carefully laid plans made previously, events conspired to change them. Fortunately, the changes were mostly to my benefit!
In mid-February, the day before shearing occurred, someone purchased most of the bred ewe lambs, which lightened my work load considerably. Then in early March, another buyer took the remaining bred ewe lambs!
Now I had only the mature ewes to lamb out, and the deck was cleared for the arrival of the new crop of lambs… which was imminent!  Life suddenly became much simpler without the prospect of lambing out a second group of ewes hanging over my head.
In retrospect, I think we would have been hard pressed to manage two flocks, and still accomplish all the final arrangements for the Family Reunion in August. So, the unplanned changes were certainly beneficial!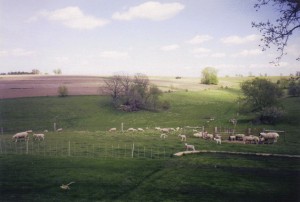 The lambing started in early March, and progressed extremely well. Our aging ewe flock had been shrinking a bit over the years, which was alright as I was in my mid-seventies, and needed to slow down somewhat. However, our lambing average was steadily increasing, now running nearly 220%, so we continued to have a lot of lambs because of the multiple births.
Of course, that meant pulling off one lamb from every set of triplets and adding it to the bottle lamb pen, but our bottle lamb pens were set up with multiple self-feeding milk buckets, so the task took up much less of my time.
The lambs were weaned in June, a month earlier than usual. Following that, I sent 9 of my oldest ewes to market, leaving me with just 41 ewes and the l00+ lambs. Then, in July the load was further lessened  when Joe Austin bought the male feeder lambs and trucked them to his farm. Rotating only 41 ewes through the paddocks meant spending considerably less time moving fences. The new crop of 50+ ewe lambs would be grazing in the Orchard Pasture, where they would be out of the way during the reunion, but still be accessible for viewing.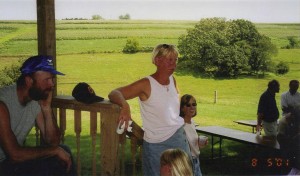 Finally, everything was pretty much complete, and on Friday, Aug 3, a host of Huffeys from all over the country converged at Beaver Creek State Park, just a couple miles from our farm. This was the 15th Huffey Reunion, held every 3 years, and it was our turn to attempt to keep 112 people fed and entertained for 3 days! Quite a feat to accomplish, considering that our small branch of the family tree consisted of only the "wee three"… Lisa, Sean, and I. But we proved equal to the task!
Beautiful Beaver Creed Park has a very nice Shelter Building with plenty of table and chairs, a huge stone fireplace, and all the amenities, which made serving meals there relatively easy except for transporting the food. However, we kept meals fairly simple. Breakfast was fruit, juice, rolls, donuts, coffee and milk.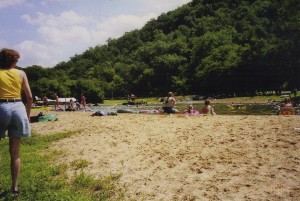 Following breakfast, due to prior arrangement with area businesses, people could choose from many types of activity. There was, of course, hiking on the Park's trails, or canoeing on the Root River, golfing at a local golf course, biking on the nearby State Bike Trail, fishing in Beaver Creek's famous trout steam, or going on a trail ride at a riding stable on a farm adjacent to ours… this was a huge hit with the younger family members! Those not keen on adventures could just enjoy the beauty of the park or remain at the Shelter and visit to their hearts' content.
Lunch at the Shelter for those who remained, or returned to eat, was Foot Long Subs from the local Subway, watermelon, desert bars, milk and coffee.
In the afternoon, those at the Shelter got a treat, Sean led a caravan to tour our local Historic Water Powered Grain Mill, the oldest in the State, and still operating. The owner, Ivan Krugmire, actually put the mill in operation for the visitors and ground grain. The tour was greatly enjoyed by everyone who got to participate!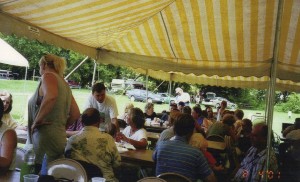 By evening the adventurous souls had returned to the park, tired and hungry! Lisa and I made a mad dash home in the afternoon, and prepared a huge roaster of BBQ for supper, to go with potato salad from Maggie's Dugout in Eitzen, desert bars, coffee and milk.
Saturday, August 4th, family members gathered in the morning at a resort near Lonnig's Landing on the Upper Iowa River. There people could go tubing and canoeing on the river, relax on the beach, swim in the large open area pool, play volley ball, badminton, and various games. Large tents had been set up with tables and chairs, and meals, catered by local businesses, were served there. Most notably, I remember the supper of grilled pork chops, scalloped potatoes, hot rolls, sweet corn grilled in the husk, and served dripping with butter. Mmmm!
However in the afternoon, while others pursued their various activities, rabid Scrabble Fans were engaged in the hotly contested Huffey Scrabble Tournament in one of the tents. The battle went on all afternoon, and by day's end would result in victory for one individual who outplayed all comers, and would take home the coveted "Huffey Cup" trophy to be proudly displayed until the next reunion, when it would again be contested for!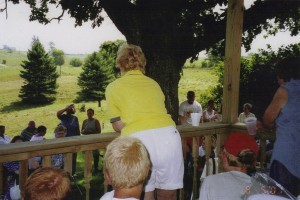 Day two of the reunion ended with everyone happy, tired, and ready for a quiet day at the farm on Sunday!
Sunday, August 5th, we were up early to get chores done before people started arriving for a simple breakfast of fruit, rolls, coffee and milk served on our new 24′ x 8′ deck. Sean and his buddy and co-worker, Mark, had commandeered picnic tables and benches from the Caledonia Haulers and scattered them on the lawn below the deck, in the shade of the giant oak tree. There everyone could eat, visit, share stories, take family pictures, etc. Those with a little energy remaining could check out the big barn, and generally explore, watch the grazing lambs, or other quiet pursuits.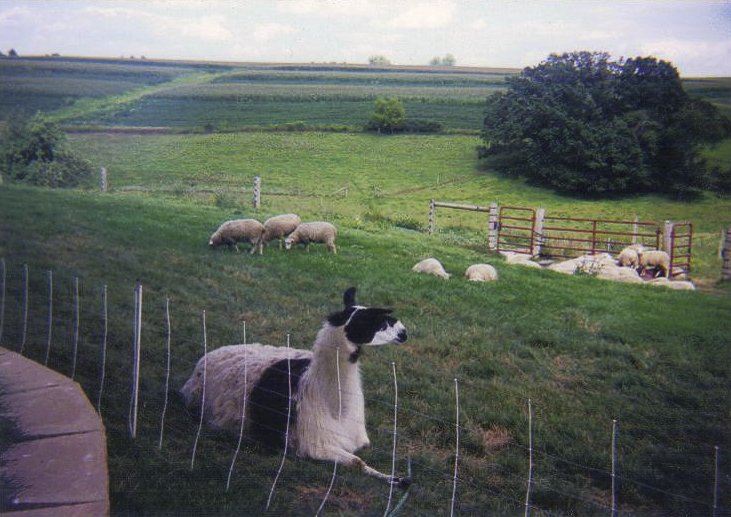 However, one good sized group, led by my nephew Lindy Brown, hiked out to the ewe paddocks to see the sheep-guarding llama at work. Frisco obliged by confronting them at the fence line, and keeping a watchful eye on them to make sure they were up to no harm.
Our neighbor, Duane Ernster, who had the riding stable, stopped by during the morning to say he would be glad to give more trail rides, and of course, all the youngsters were begging to go, so a detail was formed to take them to the stable for a couple hours of riding, to their great delight, but they had to return by noon for lunch.
A lunch of salads, sandwiches, deserts, coffee and milk was served from the deck, and we made good use of the borrowed tables and chairs from the Haulers.
Sheba, our Anatolian Shepherd Guard Dog amazed us that day! She, who never allowed a strange dog on our property, was suddenly confronted with people bringing their pets along to the farm.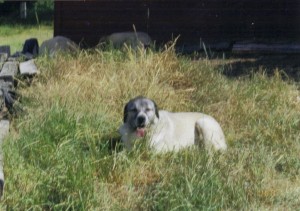 We had not really given this any thought beforehand, but luckily, Lisa was beside Sheba on the sidewalk when the first dog, a toy poodle on a leash, arrived.
Lisa spoke quietly and calmly to Sheba, reassuring her that it was okay, just this once to let a dog in the yard. Sheba seemed to understand, and outside of one low growl when she first saw the poodle, she  stood quietly by Lisa's side as the little poodle on its leash, danced toward her on its' hind legs, and stood her ground as the little dog touched noses with her.
Lisa was holding her breath, as was I, watching from a distance! Sheba seemed to understand that this was out of the ordinary, and later, when someone came with a large retriever, and still later someone with two retrievers arrived, Sheba pretty much ignored them, and just laid quietly on the deck, enjoying being petted by the mobs of children that kept going in and out of the house
In late afternoon a meeting was held to determine who would host the next reunion. It fell to the Vernon Huffey family to host the next one in 2004, and it would be in Omaha, NE., where Vernon's daughter LaDon and her husband, Bill, reside.
Once that matter was settled, people slowly began saying their goodbyes until the next reunion, and slowly, a few at a time, leaving. When the last guests had left, Lisa, Sean, and I were exhausted, but happy! We had actually fed and entertained 112 people for three days, and lived to tell about it!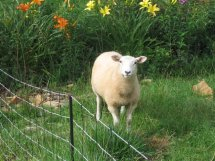 Once our lives had somewhat returned to normal, sales of the current crop of ewe and ram lambs began, and during the Fall we sold 20 ewe lambs, and 6 ran lambs,
On September 9, a professor of Agro-forestry from Iowa State University, at Ames, and 15 of her students were here on a tour of our pine and hardwood plantings. They were thrilled when the big "trophy" buck and several other deer jumped up out of the wildlife planting! Cameras were very busy making use of the great photo opportunity!
On October, 9, the ram was turned out with the ewe flock to start a New Sheep Year!
We had a fantastic Fall season! In early December we were enjoying temperatures in the sixties and no snow yet! Lisa became engaged to Chris, and they were planning to marry soon. She was still working at her job at Mayo Clinic, which she loved.  She planned to commute from Burnsville to Rochester once they are married, for awhile at least.
I was struggling to learn the computer and signed up for a computer class at Community Ed near Christmas time. As you might guess, my computer was the only one in the class which refused to function properly.  I, of course, thought it was me, but the instructor couldn't get it to work either. Consequently, I didn't get much out of that class!
But all was not lost, as a friend who bought ewe lambs from me gave me computer lessons, in return for a price break on the lambs! The good old barter system is alive and well!