2001
January: The year got off to a sad start with the passing of my dear friend, Cyril. It was the old Marine's last battle.
We had kept each other company for nearly five years, and I would surely miss him. But, I was at peace, and thankful for the time we had together.
Not everyone gets to have a second romance later in life, and it was a nice time… lots of travels and experiences to recall. Our last big adventure was a week long train trip through the Rockies the previous winter, how beautiful, and what fun!
Late in the month Sean came down with a serious case of gout, and lost a week's work. He was far too young to be burdened with such a painful affliction. His Dad had suffered with it also, but not until his later years, so now I had concerns about Sean's future health.
A year had passed since I had enrolled the sheep flock in the USDA Scrapie Program. Dr. J. Honstad, with APHIS (USDA Animal and Plant Health Inspection Service), came to inspect our flock. All was going well, and he was pleased with our tattooing results.
Then it was time to line up the annual sheep shearing. The date was set for Feb. 17, however, I had to bring the sheep into the barn on Feb. 10, as a big winter storm with heavy snow was headed our way.If the sheep were brought into the barn covered with snow they would not dry out enough to be sheared. This meant extra feeding chores, with mature ewes in the upper barn, and the young ewes in the lower barn, but it could not be avoided.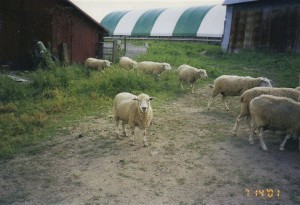 Shearing day, and the Ryans – Dannie and his sons Nathan and Mike – arrived on time as always, despite a long drive and snowy roads. They were all excellent shearers and made shearing day, which was always stressful, a little less so when you knew you had competent and caring shearers.
Once shearing was accomplished the two groups of sheep would remain in the barn until the mature ewes began lambing, then the young ewes would be moved to the South end of the granary, so the newly lambed mothers and lambs could be moved to lambing jugs in the lower barn. Enough time would have elapsed since shearing for the young ewes to grow back some fleece to protect them from the cold, as the South end of the granary was open. The prevailing winds would be Northwesterly, even so the granary was cold, but by the time those ewes began to lamb the temperatures would have warmed considerably.
After shearing, lambing supplies were checked over and anything lacking was ordered so we would be ready for the onslaught of lambing out 50 mature ewes and 32 yearling ewes. Lambing would start a bit earlier than usual in order to allow for both groups to finish lambing, get to pasture, and have two pasture rotations done by late June. The entire flock would be treated for parasites and the lambs weaned in early July, so everyone would be on new pastures and all would be peaceful by the first weekend in August. Just in time for us to host the huge 3-day Family Reunion!
That was the plan, but as we all know, "There's many a slip twixt the cup and the lip!" My mind went back to an earlier lambing in 1993, when…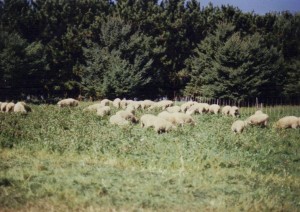 The first lams had come, but it was not a happy lambing… triplets, but born dead. They were not to term, probably three weeks early and too tiny to be viable. Something had gone wrong in the process, and I, the shepherd, wonder it it was something I could have prevented.
There are viral diseases which cause spontaneous abortions, some in late term like this, others cause early term abortions. There are vaccines to prevent the various types, and if a flock has a history of abortions, it is wise to administer the proper vaccine prior to breeding time.
Since I kept a "closed flock," except for purchasing a new ram occasionally, and being extra cautious about that, there was slight risk of an abortion storm. If your flock is not carrying a virus you don't vaccinate, or you will introduce the virus and then have to re-vaccinate annually. I had not purchased a new ram in the past two years, so I discounted the possibility of an abortion storm, but was keeping a watchful eye as lambing time approached.
The thought crossed my mind that there was a full moon the night before the abortion occurred. This was no ordinary full moon! It was at a point closer to the earth than it had ever been. It was an awesome sight, a huge full moon, and the world awash in brilliant moonlight, so bright it was like midday, but with an altogether different silvery quality.
It was mystical! I stood taking in the scene for a long time, knowing that it was an experience I would never forget! Full moons did seem to exert some sort of force on animals, and possibly people too, as there were times when the animals act in inexplicable ways, and we said, "It must be the full moon."
There was a damper put on the awaited lambing when the first event, the aborted triplets, ended in disaster, and I fervently hoped I was not in for a disastrous season! But the pessimism was soon dispelled and I would awake each morning with a sense of heightened awareness, "Will there be lambs today?"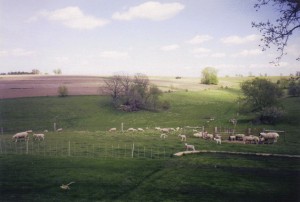 And I would be out of bed, pulling on my clothes and heading to the barn with ears attuned to hear those first little bleats of the lambs and the soft mutterings of the ewes as they "talks" to their babies. No matter how many lambings you have been through, it is always the same thrill!
Despite the inauspicious beginning, the lambing season went very well with few complications, until the last day. Thirty ewes had already lambed, and there were only three ewes remaining to lamb. As I opened the barn door, I was presented with the sight of all three ewes in the process of lambing at the same time, and in the same area.
Not a good thing! With the multiple births the lambs can easily get mixed up and separated from their mother. If an overly maternal ewe licks off a lamb that is not her own, very likely the lamb's actual mother will no longer recognize its scent and it will be disowned. So I quickly set about sorting out just who belonged to whom. Fortunately it was not as daunting a task as had first appeared.
Number 1 ewe was just done lambing, and cleaning her last born lamb. She had quadruplets, but one small lamb was born dead… Number 2 ewe was in labor but had no lambs yet, and was obviously in trouble… Number 3 ewe was licking off one lamb and no doubt was going to have another, as she would periodically stop the cleaning process, paw frantically, lie down and strain for awhile, then get up and go back to licking off the lamb.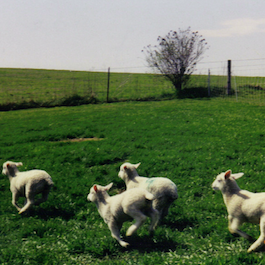 The Number 2 ewe was my first priority. She had probably been in labor for quite some time, but wasn't making any progress and appeared tired. I could see a lamb's nose, but no feet, so I assumed it was a lamb presented with the front legs turned back. I shed my jacket, lubricated my hand and forearm with OB Lube, and proceeded to investigate the situation.
I found two feet quite readily, but unhappily they were the hind feet of a second lamb which was coming backward. When two lambs are being born simultaneously the usual procedure is to attempt to push one back into the birth canal far enough to enable the pulling of the other lamb. However, in this case there was no pushing them back, as the head of the first lamb was swollen from the trauma and pressure exerted by the second lamb, and with the front legs turned back, there was no room to maneuver. I had no choice but to pull the backward lamb.
I worked as fast as I dared, fearful that the umbilical cord would break before I could get the lamb's hips and rib cage through the pelvic arch, and the lamb would begin breathing and drown. At last I had the hips freed, then pulled carefully until the rib cage was also through the pelvis, and I could then draw him quickly but gently to safety.
Once I had him out, I hurriedly cleaned the mucus from his nose and mouth, grasped both hind legs and swung him vigorously to and fro until he gasped and began breathing on his own. Next, I turned to the other lamb, and now managed to find the turned back front legs, bring the feet forward and deliver the lamb, but it was dead. The trauma of the long labor and complication of the second lamb coming simultaneously had been too much. The third lamb was on the way, and was soon presented normally and delivered alive.
Now I still had to examine the Number 3 ewe. She still was making no progress with her second lamb and was tiring. This was a large lamb, much bigger than her first, and the labor had gone one too long, by the time I was able to deliver the lamb it was dead.
A rather depressing day, with three lambs dead. Still, we had six live lambs from three ewes, the lambing was over in just two weeks' time. Eith the exception of the early abortion,  we ended with a 216% lamb crop saved… just about twice the national average!
But that was 1993, and happily no such trauma occurred in 2001. In fact, everything worked out pretty much according to plan without too many glitches. However, we were still pushed to the max to get everything set for the big-3 day Family Reunion August 3rd, 4th, and 5th.