2000
January: Early in the month there were some trips to Mayo Clinic with Cyril. Due to his worsening health he was undergoing tests. This, at least, gave us a chance to meet Lisa for lunch and have a fun time before dropping Cyril off at the Clinic. Lisa and I spent some time shopping and "girl talking," until we picked Cyril up at the Clinic. Lisa returned to work, and Cyril and I headed back to Caledonia. The Clinic found that part of the problems were due to a faulty wire in Cyril's defibrillator, and he had to return for surgery, in which they put in a new one. The end result was a very sore chest, but improved over-all health.
My previous year's doubts about getting the kitchen renovating done in 1999 proved to be true, but by mid-January the refinishing of the old kitchen floor was taking place. The previous owners had covered the wood floor with a very ugly linoleum, which led us to believe that there must be a pretty bad floor underneath. So we in turn covered the linoleum with kitchen carpeting, which was at least warmer underfoot!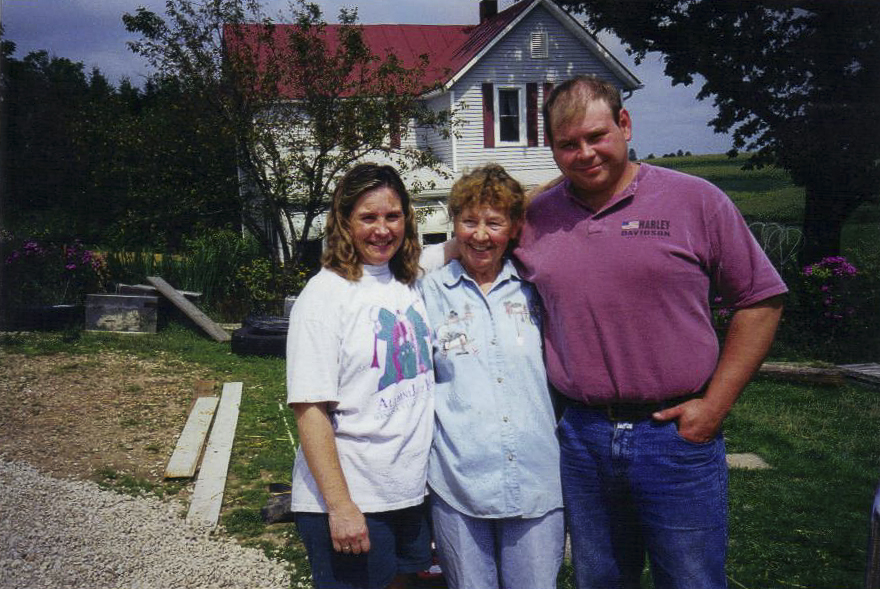 When we stripped away these coverings, we found perfectly good fir flooring, just like what was in the rest of the house. It only needed refinishing, and when that was accomplished the electrician and the plumber cane and worked their magic, and a few days later the new kitchen cabinets were delivered. The carpenters returned and while they installed the new cabinets, someone else was finishing up the tiling of the utility room floor. Ah, progress at last!
Later in the month, the annual SE MN Shepherd's Holiday was held in Austin, MN. One of the highlights for us, was that I had purchased two books of raffle tickets on a hand made wool quilt, and gave one book to each of my kids. Lo and behold! Sean was the lucky winner, amid much joshing about the fact that he was not even married yet, and did not need a quilt, etc. It was a very beautiful quilt, which fit in very well in his new bedroom!
Lisa's luck was a bit different, She had a close call when returning to Rochester from the Twin Cities. Her Subaru's transmission went out on I-52 which was pretty scary, but luckily she was able to get off onto an exit before it died completely. Definitely not a fun experience, but it could have been much worse!
Once the house renovation was complete, I was then busy getting my antique hutch and a nice old writing desk/bookcase refinished, a special old door stripped and refinished for Sean's bedroom, along with all the kitchen chairs. And of course, there were myriad shopping trips to get new furniture for Sean's bedroom, and the new enlarged living room. The wallet was definitely getting thinner!
Near the end of January we finally got a break from the intense cold, and the temperature rose to the upper '20's. Sundance, Lisa's horse, got a touch of Spring Fever, wandered away from the other critters feeding at the hay bales, through the orchard to the back of the house yard, where he could reach over the fence and began tearing down my bird feeders in an attempt to get some of the cracked corn and sunflower seeds. Retribution quickly followed, and he was moved to the bottom pasture by himself. Of course, it followed that I was wading through snow drifts to bring hay to him every day… some battles you just can't win!
Sis, Merle, and I took a few days in early February to visit daughter/niece Sandy in Milwaukee, enjoying many hard fought games of Scrabble, taking in some movies, and generally having a great time! Upon my return, Sean left for a 4 day snowmobiling trip to Mercer, WI, returning on a Friday. Lisa came from Rochester for the weekend, so we all had a fun weekend together!
Lambing of the mature ewes began in early April, and they were just finishing up when the young ewes started, so it was an intense six weeks. In the midst of it, I got a notice from the Root River Soil & Water Conservation Office to pick up the wildlife trees I had ordered earlier in the winter. When did I think I was going to have time to plant them, I wondered. However, in due time they did get planted.
By the end of lambing I was thankful to be done climbing in and out of lambing jugs doing tags, tails, testicles, and tattoos… Yes, tattoos! This was the year I began the process of my flock becoming a "Certified Scrapie Free Flock," which was being facilitated through the USDA APHIS program. All the ewes had to have permanent ID's, and ear tags could be lost from time to time… hence, the tattoos.
It was certainly not a fun job, either for the sheep or the tattooer, but it did provide a permanent ID. It did not take much time before I invested in a metal "Head Gate," which made the tattooing a bit easier, but still not pleasant! In a few years a fool proof ear tag was developed for the Scrapie Program, which was a big improvement!
Detailed records of every sheep had to be kept, and APHIS vets visited for regular inspections. At the end of 5 years, with no incidence of Scrapie in the flock, it would be certified a Scrapie Free Flock, however, regular inspections would still be conducted.
By mid-May all the sheep were on pasture except for 7 bottle lambs, all triplets, but they were down to 2 feedings a day and would soon be weaned and join the rest of the flock on pasture. Thankfully, we were getting some much needed rain after a prolonged dry spell during which the ground had become hard as a brick, and it would quite a lot of rain to restore soil moisture.
The wildlife shrubs which arrived and needed planting in the midst of a hectic lambing season, and the drought left me wondering why in the world I had ordered all the shrubs and garden plants now waiting to be put in the ground… but, who knew we were going to have a drought?
We had a "house warming" party one evening in May, even though the house was still in a state of disorder. Nobody seemed to care and we all enjoyed food and drink in the "new" old house, and had a fine time!
Sadly, in mid summer, we lost our beloved Dex, the Border Collie. It had been 15 years since Sean got off the school bus and found the frightened little puppy on our sheep guard at the end of the driveway, and carried him to the house. He had turned out to be a wonderful, smart dog, a valued helper, and cherished pet, and we would all miss him. He suffered a stroke one hot day, and when I saw that he had completely lost his balance and could not see, I called our good vet John, who came out and put Dex to sleep peacefully as he laid on the grass beside me with his head in my lap.
Now that all the construction and remodeling process was over, the clean up remained! So the clean up detail got busy picking up odd bits of lumber, insulation, tar paper, left over cement blocks, all the things that go with building construction… Recycling what we could, burning what we could, storing things that might be useful sometime, first steps in preparation for the Family Reunion which we will hosting next year. Lisa and I were running hither and yon all summer lining up fun places and events to keep everyone busy, entertained, and fed for 3 days! We expect around 100 people to attend.
Our breeding stock sales were strong throughout the year, those along with the feeder lamb sales brought in just under $11,000, and we retained several ewe lambs to add to the flock.