(Click on any image to get a larger view)
The Business of Bread and Baking
KNEADING CONFERENCE WEST,
September 12-14, 2013
Click here to attend the Kneading Conference "virtually."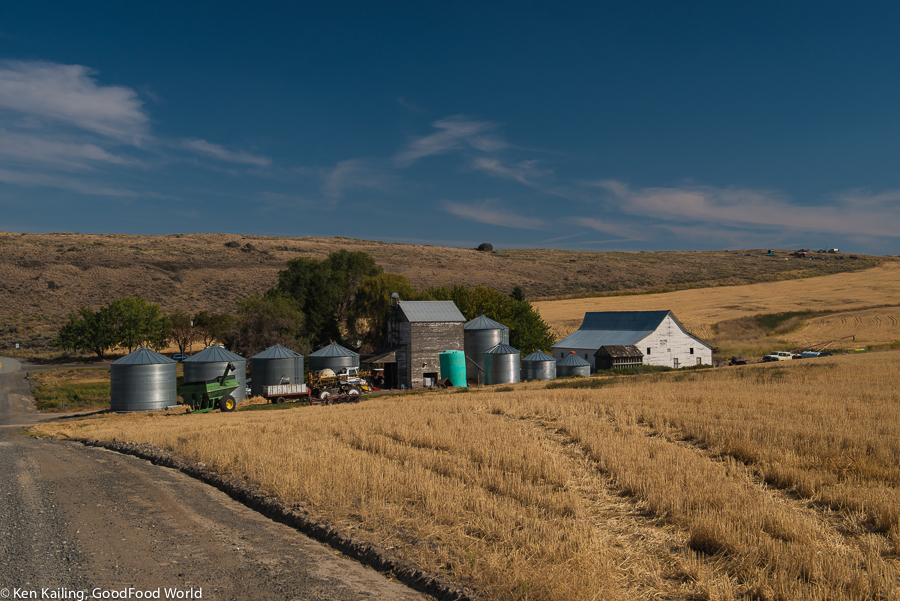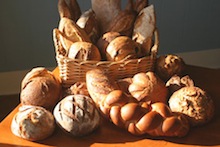 Walk the aisles of any supermarket and what are your bread choices? "Plastic-bagged bread" ranging from Wonder Bread (just returning to the shelf after Hostess' bankruptcy) to "healthy" breads like Franz' Holsum Hearth breads (a Puget Sound brand) fill up the racks. And off to the side (or even sometimes down in front) you'll find a small selection of artisan breads in brown paper bags.
Whether it's the urge to start a small bakery to sell a better loaf to the community or just a wish to make and eat a better loaf of bread than that available at the grocery store, the poor quality and poor nutritional state of our daily bread sends hundreds to gatherings like the Kneading Conference West to learn more.
Bread is big business in Puget Sound and there are artisan and craft bakeries of all sizes throughout the region. From the "big guys" like Essential Baking and Grand Central Baking to mid-sized bakeries like Macrina Bakery and Columbia City Bakery. From small ones like Bread Farm and Tall Grass Bakery to micro bakeries selling only at farmers markets, like Preston Hill Bakery, a one-man show offering wood-fired oven-baked bread.
So you want to start a bakery – or start baking professionally? It's time to get advice, insights, and information from those who have "been there, done that." Kneading Conference West – fondly called The Bread Conference – is the ideal place to start (or continue) your education.
Begin at the Beginning
In the mid-1800s, most of the country's wheat came from the eastern half of the US, though the Pacific Coast states were major producers. Today, production has moved east from the Pacific Coast and west from the Midwest and eastern states to the central and northern Great Plains. The hard wheat (bread wheat) growers in Washington virtually disappeared, and now most of the production in the state is soft white wheat, nearly all of which is exported.
And as the bread wheat growers vanished, the millers followed them. In the late 19th century, there were more than 22,500 gristmills in the US. As railroad networks grew, it became easier to ship grain to mills and flour to cities; today there are only about 200 flour mills spread across the entire country, most in the eastern half. Three milling companies – Cargill, ADM (Archer Daniels Midland), and ConAgra – control more than half of all milling capacity in the US.
Dr. Steven Jones, at Washington State University's Mount Vernon Northwest Research and Extension Center, is on a mission to reconnect growers, millers, and bakers in a new network. As part of his effort, Dr. Jones surveyed 73 commercial bakers in Puget Sound and found a potential market for 3.5 million pounds of locally or regionally grown wheat per year. Where will that wheat come from?
While it is possible to grow hard wheat that will thrive on the wetter west side of Washington – and Jones has lined up a number of farmers growing the grain – there is simply not enough available farmland west of the Cascades to grow grain for the 4.2 million people living in Puget Sound. But the north central part of the state has the right climate for bread wheat; in the Methow Valley, Sam Lucy, Bluebird Grains, grows hard red wheat, rye, and emmer.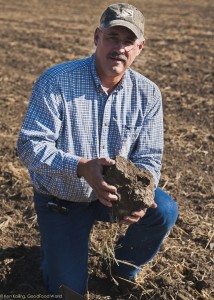 Then drive due east into western Montana and you will find "dryland farmers" sitting on top of thousands of acres of rich, black soil on Montana's "Hi-Line," some of it 20 to 50 feet deep. Challenged by the vagaries of weather – too much rain when you don't want it, too little when you do – Daryl Lasilla, Great Falls MT, grows organic lentils, buckwheat, winter wheat, barley, and spelt on his 1000-acre spread. Not far away, Casey Bailey farms 4,600 acres with his father near Fort Benton MT, raising organic KAMUT®, winter wheat, lentils, and hull-less barley. It's growers like these that will help fill the flour bins in Puget Sound.
Kneading Conference West brought together organic farmers growing grain as part of their crop rotation, small millers who grind the grain to flour, and skilled artisan bakers turning out dense, nutrient-rich breads. The event worked to connect the links in the "good bread" supply chain to help bakers find sources. Grain growers like Nash Huber, Sequim WA; Dave Hedlin, La Conner WA; Henning Sehmsdorf, Lopez Island WA; and Thor Oeschsner, Newfield NY, discussed wheat varieties and land races, the challenges of growing good bread-producing wheat, and the difficulty of finding millers to process it.
While Kevin Christenson, Fairhaven Flour Mill, Burlington WA, and Tom Hunton, Camas Country Mill, Eugene OR, are the primary small millers in western Washington and Oregon and serve small regional growers, Thor Oeschsner built his own mill to process his grain in upstate New York. Will more growers choose to mill their own grain like Bluebird Grains, Winthrop WA, has for a number of years? If so, Jack Jenkins, Country Living Grain Mills, offers mills ranging from moderate-sized commercial gristmills capable of grinding from 500 to 800 pounds of grain per hour down to kitchen-counter-sized models.
Taking Back Our Bread
Heavy, rich, and nutritious bread was once a daily staple; today commercial "industrialized" bread is produced in fully automated factories and is full of chemical additives and preservatives, contains too much salt, and has too little nutritive value.
As early as the mid-19th century, professional bakers were attempting to speed up the production of bread. Even the fastest traditional methods could take up to 24 hours to produce a finished loaf. By the early 1950s, American factory bakeries were mass-producing bread and bakers discovered that the addition of certain chemicals and enzymes – bread "improvers" – to the dough could shorten the process to two hours. Bread improvers boosted the amount of enzymes that develop the flavor and strengthen the gluten artificially, giving the bread a better structure and retaining more of the gas produced by the yeast.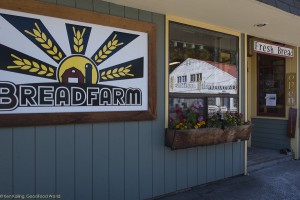 In contrast, artisan and craft bakeries regularly make breads requiring a day or even two to complete the process from flour to finished loaf. Henning Sehmsdorf, baker on S&S Homestead Farm, needs four days for his sourdough rye, including 48 hours to ferment the sponge and kneaded dough. This is not quick bread!
Bakeries like Macrina, Bread Farm, and Tall Grass, all incorporate wild yeast levains (starters) that require regular feeding and care, much like a baby. Not too hot, not too cold, consistent and regular feedings!
Bakery Business: Selling Your Bread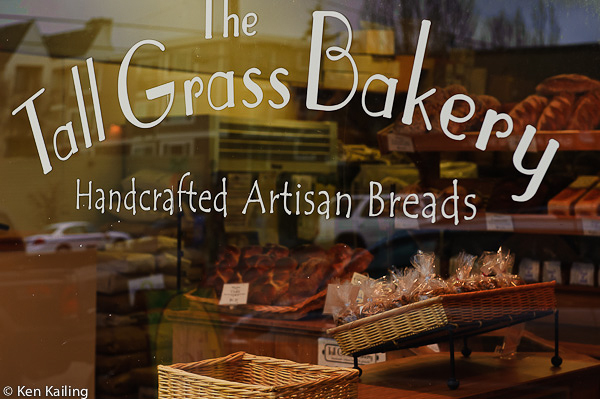 Bakeries, like other food production and processing businesses, sell their products through several sales channels: direct, retail, wholesale, or a combination of two or more. And the larger the baking operation the more likely a wholesale sales channel will be present. For example, Essential Baking, Grand Central Baking, Macrina Bakery, Columbia City Bakery, Bread Farm, and Tall Grass Bakery all have retail counters or cafés while also selling bread to supermarkets, restaurants, and institutional food service.
On the other hand, Alex Williams at Preston Hill Bakery, Issaquah WA, a micro bakery, sells only at farmers markets. And in Tucson AZ, Don Guerra's Barrio Bread sells only through a Community Supported Bakery (CSB).
Wholesale OR retail, wholesale AND retail – what works best? There are advantages and disadvantages to combining wholesale and retail.
Consistent – and sometimes sizable – wholesale orders may balance the irregularity of retail sales.
It is possible to sell and distribute more volume to wholesale customers without additional sales staff.
Production flows may vary: wholesale customers may have different product, quantity, or packaging requirements from retail customers.
Wholesale may require delivery, and damaged or missing products necessitate multiple deliveries.
Very small bakeries may find it difficult to divide staff time between retail counters and wholesale production/packing.
Wholesale prices will be lower than retail prices – generally two-thirds of retail.
Unless you develop different product lines for wholesale customers from retail customers you may be creating your own competition.
Selling direct at farmers markets has a different set of advantages and disadvantages:
Direct sales at farmers markets require someone (owner or staff) to transport product to the market site and spend 5 to 7 hours on-site setting up, selling, and taking down.
The farmers market will charge a space fee and/or take a commission on sales at the market.
Sales may vary with the season and the weather; it may be hard to predict the inventory you will need. And you will need to manage excess inventory that you have not sold.
Sales at farmers markets are limited to market days – both an advantage and a disadvantage.
Farmers markets are excellent test markets, offering the means to test new products, new sizes, new packaging, and other variables.
A community supported bakery (CSB) – a relatively new sales channel – offers some unique benefits and challenges:
Customers pay either at the beginning of a period (usually a number of weeks) and receive product on a set schedule or they preorder and prepay for each delivery.
There is no inventory to maintain because everything produced is pre-sold.
There are lower overhead costs because there is no retail location or time requirement at a farmers market.
A CSB allows for testing of new products, new sizes, and other variables.
A CSB establishes a much closer relationship between the baker and his customer than other sales channels because there is regular and constant communication.
A CSB may limit brand recognition outside the members or subscribers.
The Kneading Conference West offered a variety of workshops, panels, and presentations geared to new and established bakers, including:
The Science of Bread Baking
Essential Equipment for Start-ups and Expansion
Creating Signature Breads
The Scoop on Braiding Challah
Flour, Flavor, and Functionality
Several daylong sessions were designed specifically for commercial and professional bakers, complete with hands' on experiences and notes/handouts to incorporate in a business system.
Past But Not Over
When 300 people whose sole purpose is to create and share beautiful, delicious food come together to break bread in an orchard where the mist is settling, the sun is rising, and apples are hanging heavy on the trees, it is easy to understand why the traditional way to carry a loaf of bread was to cradle it in the crook of the left arm against the heart. Bread is more than just something to eat; it is a living food best made of newly ground flour, wild yeast, a bit of salt, and fresh water.
Spend three days with grain growers, millers, and bakers, and you will learn that whether you are an experienced professional or an awkward, confused home baker, the living creatures in your dough – those yeastie beasties – will humble and enthrall you.
We encourage you to feed your starter, heat up your oven, put on your apron, and bake to your heart's content. And when the chance comes to sign up for the 2014 Kneading West Conference is announced, do it immediately. Don't miss the opportunity!