Before Liberia's civil war, Augustine Tamba's farm had a water pump, a sprinkler system, and a reliable well. Neighbors worked for Tamba to grow rice, cassava, corn and vegetables in the lowland farm outside of the town of Johnsonville in Montserrado County, Liberia. Tamba had market outlets in Paynesville—20 kilometers away—as well as Monrovia, the country's capital.
Before starting the farm in 1982, Tamba worked as a bank manager in a small town nearby. After a brief stint, he returned to agriculture, "the soil is Liberia's only bank…the bank of life," as he explains.
During the war, Tamba's farm laborers either migrated to other countries or became entangled in the bloody conflict. In addition, the market for Tamaba's produce disappeared when Liberia's entire economic and social system came to a halt.
[jj-ngg-jquery-slider gallery="Tamba" width="640″ center="1″ tags="Tamba" effect="fade" pausetime="4000″ controlnav="true" directionnav="true" order="sortorder" captionOpacity="0.80″ ]
Throughout the 14 year war—from 1989 to 2003—Augustine Tamba could barely maintain the farm and only kept up a small plot to feed his family of 20 children. Since 2003, Tamba has set out to increase development on the farm, however, Liberia's lack of financial services make it nearly impossible for Tamba to invest in new technology, better seed varieties and agriculture inputs.
Liberia is one of the most food-insecure countries in Africa. In 2007, less than 10% of the country's rural population had regular access to food, and Liberian farmers grew an estimated less than half the amount of the staple (rice) needed to meet the requirements of the country's population. Currently, the vast majority of the country's 3.5 million people survive on subsistence farming and live on less than $1 dollar per day.
The USAID Food and Enterprise Development (FED) Program began supporting Tamba in early 2013 and enabled him to establish the Gustam Agriculture Community Project. The USAID FED Program began assisting the farm by providing in-kind and technical support in the way of tools, improved rice seed varieties and technical expertise through local partner West Africa Initiative. There are currently 35 members of the community project, each working to move the upcoming rice harvest.
"They have seen all the laborers here and know we work hard. This is now a trial to see how well we can farm the new rice and then come up with options for getting it into the hands of buyers," explains Tamba. In April 2013, the 35 members of the Gustam Agriculture Community Project planted 8 of the 24 hectares with the new varieties of rice and have already begun harvesting between an estimated 10 to 15 tons of rice in August 2013.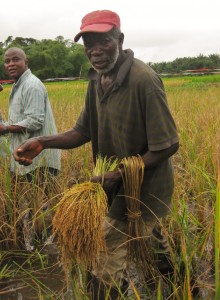 "Very few rice farmers in Liberia are producing more than one ton of rice these days," says Tamba.
In 2012, before expansion, Tamba's farm yielded 2.5 tons of the local rice variety.  "We couldn't sell it, couldn't store it. There are no buyers," Tamba explains. Without the means to properly process and store the unsold rice, Tamba's 2012 harvest will most likely rot in a corner of his cement house, sitting on a hill above the rice paddies.
USAID Food and Enterprise Development Program officers are working to avoid another rotting harvest and have begun measuring the success of the crop against the farm's business plan to provide further assistance with processing, storage and distribution. Currently, Tamba's 20 year old son—who studies business at a local college—is in charge of the farm's business plan.  The USAID FED Program plans to give the farm basic training on accounting and inventory and introduce Tamba and group members to business and marketing strategies key to discovering new market linkages and opportunities.
"This farm is not too far from the main road making it easier to move. In addition, with this amount of quality rice, buyers from Monrovia will even drive to the farm to pick it up. Customers in hotels and restaurants would not bother to drive out here for five bags of rice. Two hundred bags of rice is a different story," explains Eric Yeasu, USAID Program's Enterprise Development Officer.
USAID's Food and Enterprise Development Program is introducing improved technology such as the use of improved varieties, irrigation and water management, mechanization, better post-harvest handling and storage, and integrated soil fertility management among Liberia's small and medium scale farms. The Program aims to reduce hunger in Liberia and promote food security for Liberians through increased agricultural productivity and profitability in rice, cassava, vegetables and goats value chains. It is implemented in six counties: Bong, Nimba, Lofa, Grand Bassa, Margibi and Montserrado.
The United States – as the largest donor and closest ally – is supporting the Liberian priorities to build sustainable local capacity, make a difference in people's lives, and move towards a shared vision of self-sufficiency and prosperity. USAID's Food and Enterprise Development Program is Liberia's largest Feed the Future Initiative project, promoting a move away from subsistence and increasing food security by working with public and private bodies, including the Government of Liberia, private sector organizations, local NGOs and other key stakeholders.
Photos: Nicholas Parkinson