1998
In mid-January I took advantage, while Sean was feeding the critters on the big hay bales, to take a month's vacation in Las Vegas with Cyril and family. It was great, in January, to be swimming daily in the Condo pool, taking in a few shows, visiting flea markets, and enjoying all the good food! But, by mid February I was ready to go home and get the barn ready for the annual sheep shearing on the first day of March.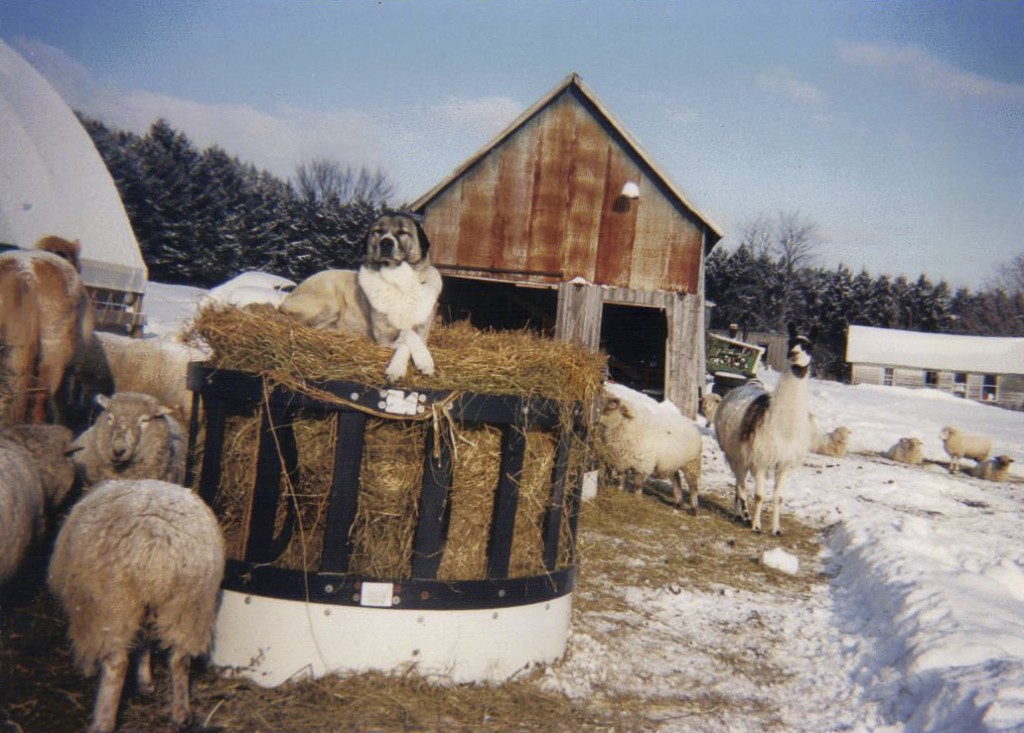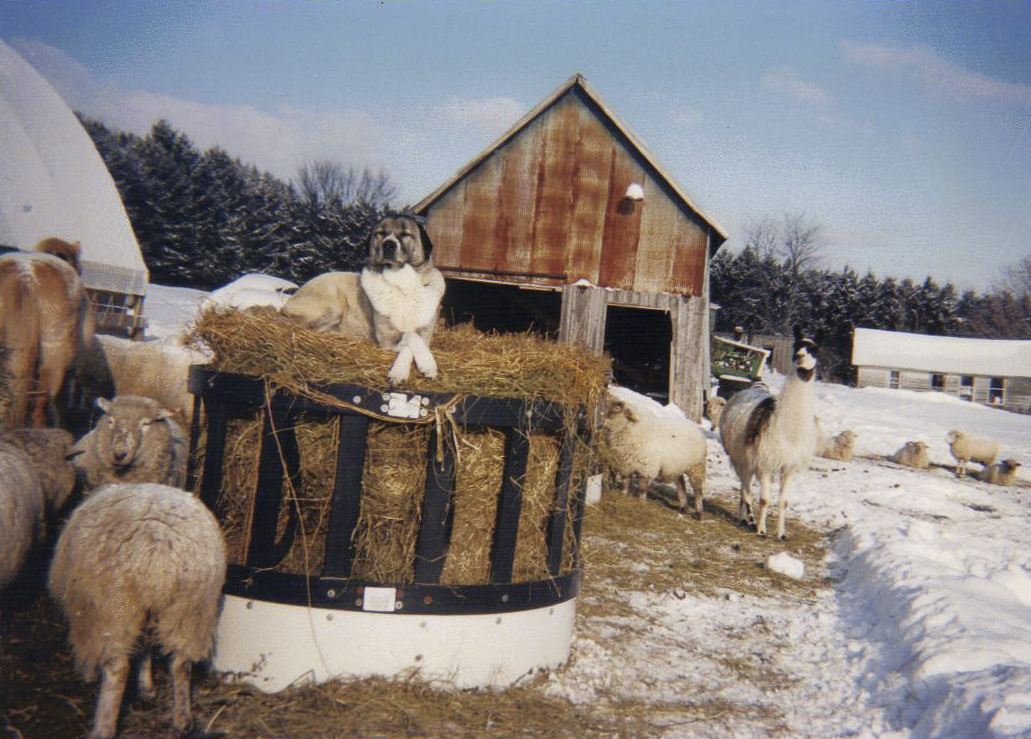 Later in March, my garden season was underway in the sun room as I had started tomato and pepper plants in flats and they now needed to be transplanted into 50 new pots. I was not planning to have 50 tomato and pepper plants in my garden, I was going to share with my three sisters who lived nearby. It was enjoyable to be able to grow things in the midst of winter!
Lambing started toward the end of March, and since I had sold all our ewe lambs the previous fall, I was only lambing out the mature ewes this spring. Quite a change! And much easier on me! The lambing went very well, with few problems, and the ewes outdid themselves with a lambing average of 206%! Ewes and lambs went to pasture toward the end of April to start off the grazing season, one of my favorite times of the year.
The long awaited start of the house renovation and addition began in May, with the removal of two huge Norway Spruce trees near the house. They were in the area where the new basement would be located, and beyond that the new drain field was to be installed, so the trees had to go. After the drain field was completed things pretty much came to a stand still, which was the result of just about everyone having too much work that year.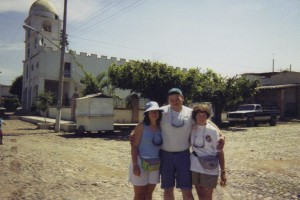 It was certainly trying our patience, but probably was one of those "blessings in disguise" one hears about, as it did allow us to get away for the Family Reunion Cruise in July. If our house had been in the midst of the renovation at that time, it would have been difficult for us to leave.
Since it was not, Lisa, Sean, and I flew to Los Angeles, and spent a week cruising the Mexican Peninsula with family members and having a great time. Not every one could make it, as for those who are crop farmers, this is a particularly busy time of year and it is not possible to be away. Those of us who could make the cruise certainly have lots of great memories!
As the time to sell the feeder lambs neared, Sean and his friend Dennis approached me with the idea that they might buy the feeders this year. I really tried to dissuade them, as feeder prices were high at the time, and I feared that prices could drop by the time the lambs were ready for market.
However, they wanted to try it. Dennis' uncle had a nice lot near Eitzen with a covered shed for feeding and Sean could build a Hi-Tensile fence around the lot, so they bought the lambs and moved them down to the lot.
Shortly thereafter, Russia's failing economy caused them to cease buying lamb pelts. Russia was the main outlet for U.S. lamb pelts, so that caused our lamb prices to drop about $20 per hundred-weight. On top of that blow, a flood of lamb imports from New Zealand dropped lamb prices another $10 per hundred-weight.
It was looking like Sean and Dennis would be lucky to break even! I was really feeling terrible about the situation, then suddenly, I recalled something about Agri Processors at Postville, IA, and thought I'd heard they sometimes purchased lambs for the Jewish trade.
I thought it was worth a try, so I put in a call to them and eventually was able to talk to their buyer. He seemed a little disinterested, until he found out we were raising the Texel breed. It turned out that he had planned to start a sheep flock himself, and had traveled to Europe studying different breeds.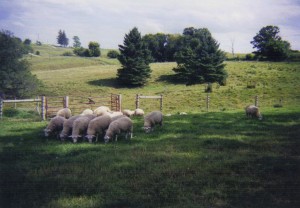 He was very impressed with the Texels and would have proceeded to acquire breeding stock. He also raised buffalo and learned that raising both buffalo and sheep on the same ranch would not work out… something to do with the health of the buffalo being affected.
At any rate, he was definitely interested in buying our lambs! He wanted l20 – 130 lb. lambs, not fat, and would buy them on a "grade & yield" basis for those that graded "choice" or "prime." If they also graded "kosher," they would receive a premium. Any lambs that graded only "good" would bring regular market price.
This was great for us, as what they wanted was exactly the type of lambs we had been raising! They were slaughtering about 500 lambs per week, but only those that graded Kosher would go to the Jewish trade.
Sean and Dennis borrowed my lamb scale and weighed lambs regularly, and in mid-October, when 1/2 of the 53 lambs weighed in the 120 -130 lb. range, they took a load of 27 lambs down to Postville, IA. The lambs went over the scale at a 126 and 1/2 lb. average… perfect!
The buyer invited us to come down the following morning to see how the carcasses graded. We thought this was a great opportunity to learn more about the grading process, so the next morning Sean and I went. It was a really interesting experience! They had 5 or 6 rabbis there inspecting, as well as the USDA inspector.
We lucked out, all but one of the 27 lambs graded "choice" or "prime," only one graded "good." All but one lamb graded "kosher" and got a premium. The yield was 52%… excellent! The lambs brought about $10 per hundred-weight above the traditional markets, and even better, there were no commission or yardage charges, and they definitely wanted the rest of our lambs!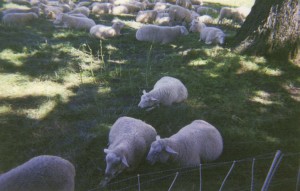 The opportunity to see the grading process provided us with another bit of evidence that we had been on the right track. We were, at that time, castrating our feeder lambs so they could go into a feed lot where there were also ewe lambs without causing pandemonium, as would happen with intact males. However, we had been selling "cryptorchids," or intact male lambs to locker lamb customers for years, and getting rave reviews from customers. Since these lambs were originally thought to be going into our usual feeder buyers lot of mixed lambs, they were supposedly castrated.
I, being the one who did the job by putting an elastrator band on the scrotum when the lambs were small, must confess that every now and then a lamb would slip one testicle back up into the body cavity, and would then be a "cryptorchid" and produce testosterone. I told Sean and Dennis that there were, I thought, 2 or 3 such lambs in the group. "Ha!" they said, "there's not only 2 or 3, there's 5!" They were of course, the largest lambs, due no doubt to the presence of testosterone.
When we viewed the line up of our lamb carcasses, those largest lambs had graded "prime," dispelling the packers' theory that intact males produced and inferior carcass. The truth is that they have more muscles, and their pelts do not come off as easily, so they slow things down on the "kill" floor. Tat costs the packer money, so they put a penalty on intact males. I asked Agri Processors' buyer about whether they had a policy on intact male lambs, and he said that as long as they graded well, they had no penalty on intact males.
The second half of the lambs were ready for market about 2 weeks later, and again the results were the same, so as it turned out, Sean and Dennis did very well with their experiment with feeder lambs.  However, Sean had a full time mechanic's job with the Caledonia Haulers, plus his Hi-tensile Fence business, and Dennis was farming full time with an uncle, so they decided "once was enough" in the feeder lamb business. But they were glad they had done well, and valued the experience.
After the false start in the spring when the septic system was installed, it seemed everyone had more work than they knew what to do with, and it was a case of "take a number and wait," so to speak. It was about the end of October when we finally got the basement dug! Then another month later they got the footings put in, and near the end of November we were waiting for the block layers.
We had a mild week and thankfully, the block layers came and got the block work done. We were hoping that winter, which had been waiting in the wings, would hold off and the carpenters could come and get the shell up as soon a s the block layers were done, but no such luck! The best they could do was tarp the basement, and Sean put a "nipco" heater down there to help dry things, and he was racing the clock to get the outside blocks water proofed as winter was closing down in earnest on December 7.
At that point, I left for Las Vegas and another vacation, coming home at Christmas Time.