Here is another recipe to continue my whole wheat craze. Ever since I made a really decent loaf of wheat bread, I'm convinced that I can phase white flour out of my recipes, making them whole wheat or at least very nearly so. It used to be that the biggest flour bin in our pantry was reserved for all-purpose white flour, but I've since switched it around so that whole wheat is in the largest bin, followed by wheat pastry and all-purpose white.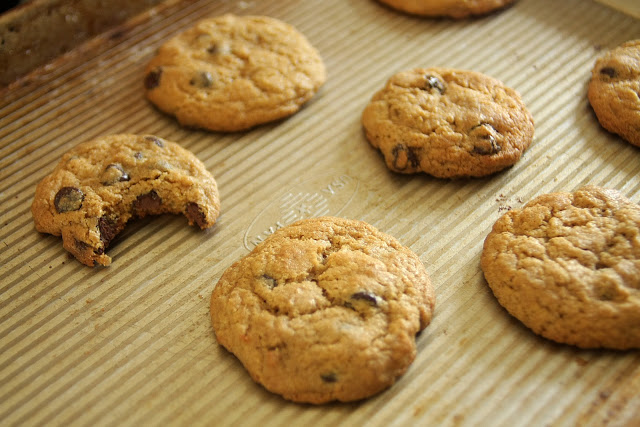 I use the whole wheat for our everyday bread (good for sandwiches and toast) but the wheat pastry flour isn't meant for yeasted breads – I use it in cookies, brownies and quick breads. Let's not talk about cakes just yet. I'm not ready to go there with wheat flour.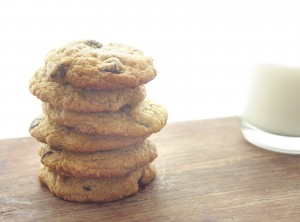 But I was so pleasantly surprised by these cookies! Because the best chocolate chip cookies are, in my opinion, soft and chewy even after they're completely cooled and even the day after that (if you keep them in a bag or closed container). These were delicious hot from the oven, but they also withstood the test of time.
I think I ate about seven of them the next day. In a row… I'm not proud. But I don't feel quite so bad about it as I might if they were made from refined flour. That doesn't mean these cookies are health food! They still contain copious amounts of sugar and butter. If you're not OK with that, turn back now.
This recipe is from a cookbook called Good to the Grain by Kim Boyce. It is a marvelous book about – you guessed it – baking with whole grains. I only made a few adjustments. What I learned in my bread-making adventures tells me that wheat flour does better when it's totally saturated and when its given a little time to soak, which softens it up. So I melted the butter before mixing, which worked beautifully. (Have you ever had a batch of cookie dough that's so thick you have to practically beat it with your fist in order to incorporate all the flour? Cold butter does that sometimes.)
Then let the batter chill in the fridge for a few hours. Chilling cookie dough is usually a good idea if you like your cookies soft and chewy in the middle. It also makes it easier to work with when you're using your hands to make balls of dough. If you must have a cookie straightaway, then go ahead and bake a few but I suggest holding off with the rest of the dough – chill it, bake it later and compare your results.
I also used wheat pastry flour in place of whole wheat flour, because it has less protein and is a little softer, making fore more delicate baked goods. And instead of 2 cups of sugar, just 1 1/2 cups.
Whole Wheat Chocolate Chip Cookies, adapted from Good to the Grain
3 cups wheat pastry flour
1 1/2 teaspoons baking powder
1 teaspoon baking soda
1 teaspoon salt
2 sticks unsalted butter
1 1/2 cups brown sugar
2 eggs
2 teaspoons vanilla extract
1 generous cup of chocolate chips
Melt the butter in a small saucepan on medium low. Set aside; meanwhile, stir the dry ingredients together in a medium bowl. Crack the eggs into another larger bowl, then beat in the vanilla and incorporate the sugar. Pour the melted butter into the wet ingredients, stirring to incorporate. Then add the flour mixture a little at a time, stirring with a fork or a wooden spoon until all the flour is moistened and the dough comes together. Finally mix in the chocolate chips.
Cover the bowl with plastic wrap and stick it in the fridge for at least one hour or up to a week. Then drop by rounded spoonfuls onto a cookie sheet and bake at 350˚F for about 15 minutes, depending on how large your cookies are and how soft or crispy you like them to be. Store leftovers in an airtight container.