It's Spring and we've got strawberries! Well, actually we have strawberry flowers!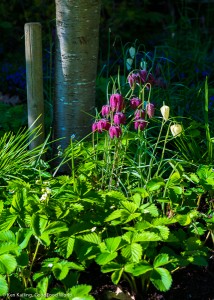 Fragaria vesca – the wild woodland strawberries native to the Pacific Northwest – are starting to bloom! Those lovely tiny white flowers (generally 1/2″ to 5/8″ across) begin blooming here in early to mid-April and soon produce sweet little fruit. Fruit that is often no bigger than the nail on your little finger.
Wild strawberries were a large part of the diet of Native Americans and they were eaten raw, dried, or even cooked; some tribes used the plant leaves to make tea. Strawberries were used to treat indigestion and the leaves were mixed with some kind of fat to make a poultice for burns and sores. (Read more about strawberries as medicine in The Wild Strawberry: a Sacred Purifier.)
Strawberries, especially the woodland strawberry, have been cultivated for thousands of years and archeologists discovered that humans ate strawberries during the Stone Age. The first indication of cultivation was in ancient Persia, today known as Iran. In the early 17th Century, the modern garden strawberry replaced the wild strawberry, and the succulent little berries have faded into the background.
Strawberries in Disguise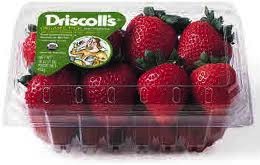 Every spring we're seduced into buying one – just one – box of strawberries at the supermarket. They always look so beautiful: large berries, bright red, the leaves still attached and fresh… I imagine all kinds of wonderful treats made with them but first I just want to slice them up with a little honey and have them with yogurt. Silly me!
Open the plastic clamshell that displays those berries in all their voluptuousness; like Botticelli's Venus on the seashell. Hold that little beauty in your palm – OK, stop salivating! Make that first slice right through the center… Oops… when did ripe strawberries have white centers? Where's that wonderful strawberry smell? And the taste? Cardboard has more taste!
Major commercial strawberry production in California began in the early 1850s but did not expand until around 1900, when refrigerated railroad cars enabled growers to transport the berries over long distances. Today strawberries are grown on more than 45,000 acres and the US is the world's top producer of strawberries.
Weeds, insect pests, and disease can make commercial production of strawberries challenging; to prevent crop loss growers apply a variety of pesticides: herbicides, insecticides, and fungicides. It's that use of pesticides that gives strawberries the #3 post on the Environmental Working Group's Dirty Dozen list of fruits and vegetables. As many as 13 different pesticides were detected on a single sample of strawberries. (Read more in Product Profile: Fresh Strawberries.)
Seattle's First Strawberry Farmers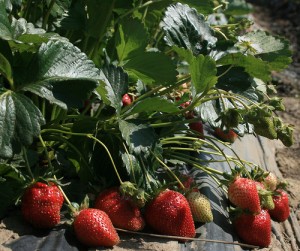 For thousands of years Puget Sound was home to the wild strawberry and the source of commercial strawberries since the early 20th Century. In Bellevue (directly across Lake Washington from central Seattle), in the Skagit River Valley (north of Seattle), and on Bainbridge Island, located in Puget Sound. It was Japanese-American immigrants that pioneered the first strawberry farms.
The first Japanese (Issei or first-generation immigrants) who arrived in the area in the late 19th century cleared the land by removing the huge stumps that remained from the logging of the old-growth forest and dragging away rocks and boulders left by glaciers. Because they were only allowed to lease the land and not own it, they often had to move and clear more land when their leases were up.
Even though these farmers had put so much effort into the land they leased, the Alien Land Law of 1920 prevented Japanese immigrants from not only owning land, but even leasing it. They had to wait until American-born family members were old enough to buy or lease land.
Many families started over again and again only to be forcibly relocated and sent to internment camps during World War II. More than 120,000 Japanese Americans – most of whom were American citizens – were shipped to relocation camps for as long as four years. The massive relocation uprooted families and devastated close-knit communities in Bellevue and on Bainbridge Island.
When we eat local strawberries here in Puget Sound, we are reminded of all those farmers who worked so hard to build a successful industry. (Get the whole story in Seattle's First Strawberry Farmers.)
Going Wild
Wild strawberries are an easy plant to grow – tuck them in, water them a little, and soon they will give you the daintiest, sweetest strawberries you've ever tasted. Plant them near your door and grab a handful for your breakfast cereal!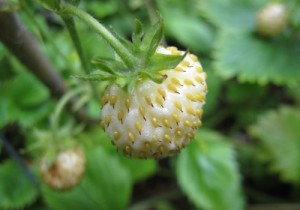 Arthur Lee Jacobson, Puget Sound's edible plant expert, provides us with today's comments on growing the Wild Strawberry (Fragaria vesca).
The original strawberry plant, so named in Europe, is a small ground cover that spreads mostly via runners and secondarily by seeds. Its berries are typically red, sweet, and prized highly as food.
In the 1700s some variants of it became known that offered larger berries and were everbearing; that is, instead of ripening a crop mainly in May and June, they kept producing until November or later. Some of these everbearing or "alpine" strawberries also formed clumps alone, with no runners.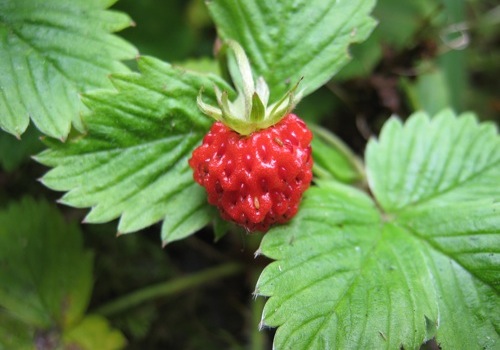 North America has a native race or variety of Fragaria vesca, called Americana. And where I live in Seattle, the most common native variety has been named Bracteata. It is exclusively runner-bearing, May to early July ripening, sweet-tasting, and red-fruited.
In contrast, its European cousins, that are naturalized in Seattle now, can be white-berried or red-berried, with or without runners, spring-early summer ripening or perpetual-bearing, and taste sweet or bland. Also the European berries can be much larger than the American natives, and longer than wide. In brief, the Europeans are far more diverse and useful in gardens. There are many named cultivars.
Learn more from Arthur Lee about growing wild strawberries here.)
Getting Your "Strawberry Starts"
It's getting late in this part of the country to plant your strawberries, but in the East and upper Midwest where winter seems to be hanging on, you might just be able to make it and still get them in the ground.
Here is our favorite "west coast" source: Raintree Nursery, Morton WA.
While you may want to look for "alpine strawberries," which is one of the common names of Fragaria vesca, good old fashioned everbearing strawberries will give you all the goodness you could ask for!
Give them lots of sun, compost, and love – and enjoy!