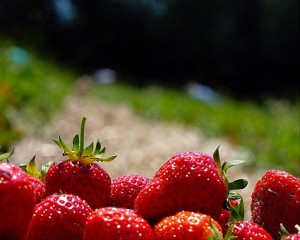 We've already slipped into the second half of July and we should be through the strawberry season. This year is different!
Here in Puget Sound we're in the middle of the coolest, wettest summer we've seen in a long time and that has really slowed down the berry crop.
The bad news: the strawberry season was late; the good news: the strawberry season is late. We're still getting berries!
Now before you folks east of the Cascades – or in the heart of the Midwest – look down your noses at those of us tucked in the furthest corner of the continental US; we actually DO know a few things about strawberries!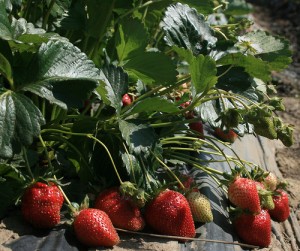 Strawberries have been grown in Puget Sound since the early 20th century, in Bellevue (directly across Lake Washington from central Seattle), in the Skagit River Valley (north of Seattle), and on Bainbridge Island, located in Puget Sound. It was Japanese-American immigrants that pioneered the first strawberry farms.
The first Japanese (Issei or first-generation immigrants) who arrived in the area in the late 19th century cleared the land by removing the huge stumps that remained from the logging of the old-growth forest and dragging away rocks and boulders left by glaciers. Because they were only allowed to lease the land and not own it, they often had to move and clear more land when their leases were up.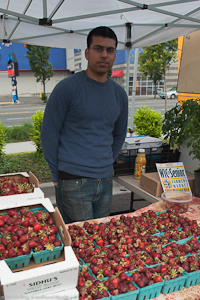 Even though these farmers had put so much effort into the land they leased, the Alien Land Law of 1920 prevented Japanese immigrants from not only owning land, but even leasing it. They had to wait until American-born family members were old enough to buy or lease land.
Many families started over again and again only to be forcibly relocated and sent to internment camps during World War II. More than 120,000 Japanese Americans – most of whom were American citizens – were shipped to relocation camps for as long as four years.
The massive relocation uprooted families and devastated close-knit communities in Bellevue and on Bainbridge Island. When we eat local strawberries here in Puget Sound, we are reminded of all those farmers who worked so hard to build a successful industry.
New immigrants are again moving into the area and growing berries. The Sidhu family, from India, has a long, rich farming history. Generations of the family have been farmers both in India and the US. Read more about Sidhu Farms, Puyallup WA.
________________________________________
Read more:
Strawberry Days, David Neiwert (Palgrave Macmillan, 2005)
How the Japanese-American community covered Bainbridge with strawberries, Collin Tong, International Examiner, Volume 38 No. 12
Behind the Bellevue Strawberry Festival, Selected Cultural and Historical Geographies of the Greater Seattle Area
Photo credits: top left, Iguanasan; middle right, mhall209, used with permission under Creative Commons license.