(Click on any image to see a larger version.)
1991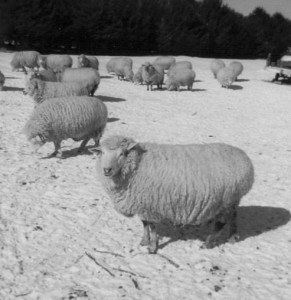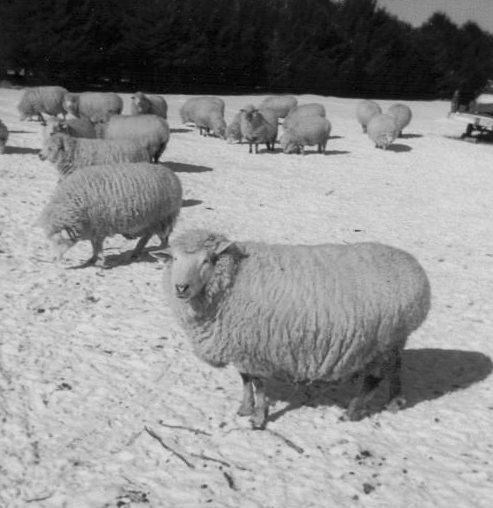 April: Knee deep in lambing! It was going well, and toward the end of the month Big Mumbo, now in her 10th year, finally lambed, and had a single ram lamb! I was relieved! She had done more than enough, and deserved to have things a bit easier for once. Big Jumbo though, had her usual set of triplets! It was hard to see these two special sheep growing old.
As though lambing season wasn't enough to occupy my time, I got involved in organizing and putting on a local Leg of Lamb Dinner for nearly 200 people. The previous fall, about 20 sheep producers from our area formed a small, loosely knit group we called "Bluff Country Lamb and Wool." This was mostly due to our Root River Soil and Water District's new Director acquiring a bunch of sheep, which he knew nothing about,and needed to learn something about how to care for them.
Presto! Bluff Country Lamb and Wool was organized to help educate him, before he succeeded in killing his whole flock! We held regular educational meetings, sharing our collective knowledge with the newcomer, and eventually decided we should do something to introduce lamb consumption to people in our area. An occurrence which was sadly lacking overall, although I had my devotees who purchased lambs annually.
Of course, the old promoter in me came out, and I opened my big mouth and suggested we put on a Leg of Lamb Dinner. No one thought we could pull it off, let alone afford the legs of lamb… our treasury was almost non-existent. However, I had made some contacts and learned a few tricks during my years with SEMSPA. I said I was pretty sure I could get the lamb, if not free, then at least at a greatly reduced price, if I contacted Iowa Lamb at Hawarden, IA, and told them we wanted to do a lamb dinner to promote lamb consumption in our area. One skeptic scoffed at that premise, but the consensus of the group was to give it a try.
So presently, I put in a call to Bill Brennan the President of Iowa Lamb. I told him that we were a very small sheep organization in Caledonia, MN, and that we wanted to promote lamb consumption in our area by serving a leg of lamb dinner in the community, but that we did not have much money, and could he help us out with it ? I also told him that I had worked in promotion for several years with the South East Minnesota Sheep Association. Without hesitation, he asked how much lamb I needed. I said I thought we could sell 200 tickets. I'm not sure exactly what he said, but it was something like, "Well then, you'll need 12 double legs, trotters off."  then, "When do you need it and where do you want it delivered?"
I had already checked out a locker at St. Ansgar, IA, that had a great reputation for preparing and serving leg of lamb dinners. They cooked the lamb legs in their smoke house, and they delivered the hot, ready to serve lamb, gravy, and mashed potatoes to your destination, and helped set up and serve it. Lovely people to work with! So, I gave Bill Brennan the name and address of the locker. He not only gave us the lamb for free, he also trucked it up to the St. Ansgar Locker for free!
Now, we had to sell tickets! Sean and I went to work. We knew a lot of people who ate lamb… locker lamb customers, and others, members of South East Minnesota Sheep Producers, and South East Minnesota Sustainable Farming Association, relatives, and friends. We had no trouble selling 100 tickets, and the rest of our crew had sold another 91 tickets, and would probably sell a few more. We were in good shape!
The night of the dinner arrived, it was being held at our City Auditorium, which had a nice kitchen for serving, lots of tables and chairs, and all the other necessities. The locker brought the lamb, mashed potatoes, and wonderful lamb gravy. I had spent the previous night and most of that day preparing 3 large roasters of home baked beans, and also prepared mint and currant meat sauces. We had delicious cole slaw from Maggies Dugout, a very good local eatery, and fresh rolls from the local bakery, butter, milk, and ice cream from the local milk delivery service. Several of our members baked desert bars to go with the ice cream, and of course we served lots of coffee.
Our dinner was a smashing success! After paying the St. Ansgar Locker, the rent for the City Auditorium, and the other expenses, we cleared about $700. Not bad for a bunch of neophytes! We decided we should make it an annual affair! However, all this activity, along with the lambing season, left me exhilarated, but exhausted!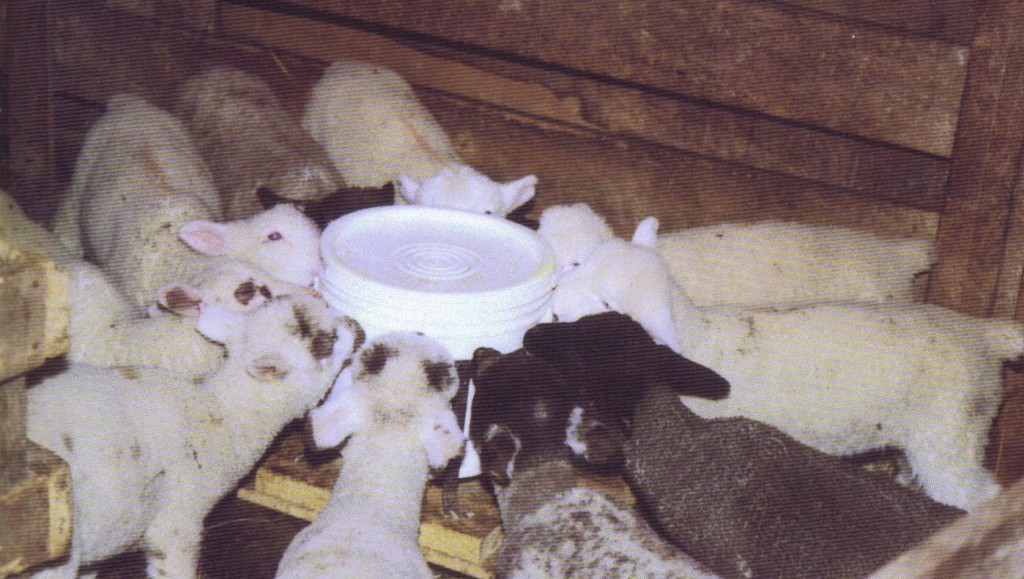 May: It was an extremely wet spring. Pastures and hay were lush and far ahead of schedule, but I was sick of moving fences in the rain every day. We had a "slug" of bottle lambs too from all the multiple births. Fortunately, several people came to buy bottle lambs, and with our milk bucket brigade system working well, it wasn't so bad. This system consisted of several 5 gallon pails with holes cut for lamb nipples near the top of the bucket, plastic tubes inside the bucket were attached to the nipples, the right amount of lamb milk replacer was emptied into the bucket, and the lambs sucked the milk up the tubes in short order. Much better than trying to bottle feed lambs individually. Of course, they started out on a bottle, and had to be trained to use the buckets, but they learned quickly.
My old bones were longing for some warm sunshine, and I was also getting anxious to start gardening, but it was far too wet. My sunroom was bursting with tomato, pepper, and celery plants, plus geraniums, dahlias, and other flowers. It was great to have green things growing through the winter, but now I wanted to get them in the ground!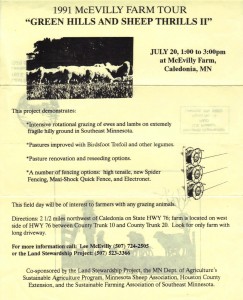 Sean was graduating from Western Wisconsin Technical College this month, and hoping to be employed full time, rather than part time. Since the economy was slow, that was doubtful. However, with our second Sustainable Ag Field Day coming up in July, there would be plenty of projects to complete on the farm, so he would be busy. We were still getting requests for information on pastures, controlled grazing systems, and electric fencing as a result of last year's field day. There was a great deal of interest in rotational grazing.
June: Near the middle of the month, I went out to move fences one morning and found our Big Mumbo dead on the pasture. It was such a shock! The end of an era! Her lamb was one of the last born, and was not quite 6 weeks old, a little young to be weaned and just be on pasture. I decided to add him to the bottle lambs' pen, where he could get started on creep feed, as well as having access to the lamb pasture above the barn, so he would keep growing. I am sure Big Mumbo approved.
Later in the month, Sean and I were mowing grass under the new perimeter fence around the 9-acre pasture on the ridge. This pasture had not been grazed, being Birdsfoot trefoil it could be stockpiled for later grazing. Since it was not grazed the electric fence was not on, and as a consequence the grass under the fence did not get burned back and was lush and green. If it was not trimmed back it would, when the electricity was turned on, cause the fence to lose a lot of its power. So, we had been working our way around the field and were nearly done – just a few yards to go.
My part of this job was to hold up the bottom fence wire so Sean could back the mower under it and cut the grass. I could do this because Hi-tensile wire stretches, then when released, springs back to its original shape. So, I was holding up the wire, he backed under it and cut the grass, then pulled the tractor ahead to position the mower for the next cut. As he pulled ahead, the tread of the tractor tire caught the wire and the wire stretched further and further and the tension grew.
I was yelling at Sean, but of course he could not hear me over the tractor engine. I was terrified the wire would break and in springing back might hit Sean and do terrible damage. Of course, I had not had the sense to let go of the wire, and as Sean, who was still unaware of all this, began backing up to the next stretch of fence, the wire came off the tread where it had been caught and sprang back and caught my left hand between the little finger and the ring finger, cutting a huge gash between them.
The pain was terrible! I was jumping around and holding onto the wounded hand with my right hand, and blood was spurting all over. Sean had not seen any of this, but suddenly he saw me jumping around, saw the blood, stopped the tractor and came running to find out what had happened. We had to get to the house, but we were on the far side of the windbreak, and had to climb over the outer fence around it, and then its inner fence, to get to the house, which was a pretty difficult thing to do with the injured hand.
When we got to the house we washed the hand under running water so we could see how much damage there was. We figured it needed stitches, but how could it be stitched when moving the fingers apart opened up the huge gash between them? We decided the best thing we could do was thoroughly disinfect the wound, then leaving the fingers closed together, bind up the whole hand in a huge bandage. That is what we did, and it worked!
I had to wear a bandage for a long while, but the wound slowly healed, and only left a very neat scar on both fingers. I had come perilously close to losing two fingers!