Food Lovers' Guide to Montana, Seabring Davis (Morris Book Publishing, 2010)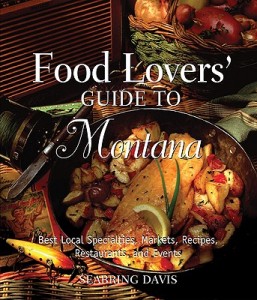 "Let's be honest. No one has ever called Montana a gourmet food destination. It's far from the trendy world of haute cuisine, black-tie affairs, and fancy culinary techniques. Part of that is because Montana is not easy to get to: it's far north – up near Canada. And there aren't a lot of people here – less than a million. And this is a very big state for so few people – which makes it hard to keep a restaurant open."
Well now, that introduction to the book is pretty blunt, but we've discovered through several "drive abouts" in the state that some darned nice people are raising some darned good food. Most of it you have to make yourself, though…
Get a copy of the book, take your own drive about through Montana, and don't miss these folks featured in the Food Lovers' Guide to Montana (we've visited them all):
Amaltheia Organic Dairy, Belgrade
Community Food Co-op, Bozeman
Real Food Market, Helena
Good Food Store, Missoula
Missoula Community Food Co-op, Missoula
Timeless Foods, Conrad
B Bar Ranch, Big Timber
Big Timber Meats, Big Timber
Ferry Creek Ranch, Livingston
Get your copy here. Indie Bound will connect you with an independent bookstore on the street or online where you can buy this book.
A very big "Thank you!" to Kate Hilmer, our Good Food on a Budget Correspondent, for sending us a copy!