Les Halles, L'Album du Coeur de Paris, Jacques Prévert (Heinz Moos Verlag, 1963)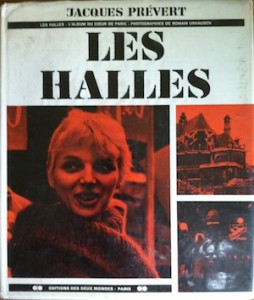 Imagine: It's 4:30 in the morning; trucks are pulling up to unload fresh fruits, vegetables, meat, cheese, flowers, and more. Chefs and wholesalers make deals with a handshake and crates of produce and other food products are loaded into vans and lorries for delivery. While the rest of the world sleeps, the wholesale market is awake and doing business.
Markets where the commerce around food takes place are thousands of years old. Every small town or village had its "market day(s)" when farmers brought their goods to market to sell to shopkeepers, chefs, and consumers. Food sales weren't broken down into "wholesale" and "retail" categories; food was sold in various quantities for various uses.
Every large city had its central market. One of the most famous is Les Halles in Paris, which was first covered to create shelters for merchants in 1183. Nearly 700 years later (1873), Les Halles was christened the "Belly of Paris" by novelist Émile Zola.
And in 1963 and 1964, almost a century after the publication of Zola's book, your co-publisher Ken Kailing helped unload crates of produce in that same market in exchange for food and an occasional bottle of wine.
Sadly the traditional Les Halles was dismantled in 1971 and moved to the edge of the city, to the Paris suburb of Rungis. In Prévert's book you will see photos of the market as it looked in the early 1960s.
Copies are available on Abebooks here.