(Click on any of the images to see a larger version.)
It's 4:30 in the morning; trucks are pulling up to unload fresh fruits, vegetables, meat, cheese, flowers, and more. Chefs and wholesalers make deals with a handshake and crates of produce and other food products are loaded into vans and lorries for delivery. While the rest of the world sleeps, the wholesale market is awake and doing business.
Markets where the commerce around food takes place are thousands of years old. Every small town or village had its "market day(s)" when farmers brought their goods to market to sell to shopkeepers, chefs, and consumers. Food sales weren't broken down into "wholesale" and "retail" categories; food was sold in various quantities for various uses.
Every large city had its central market. One of the most famous is Les Halles in Paris, which was first covered to create shelters for merchants in 1183. Nearly 700 years later (1873), Les Halles was christened the "Belly of Paris" by novelist Émile Zola.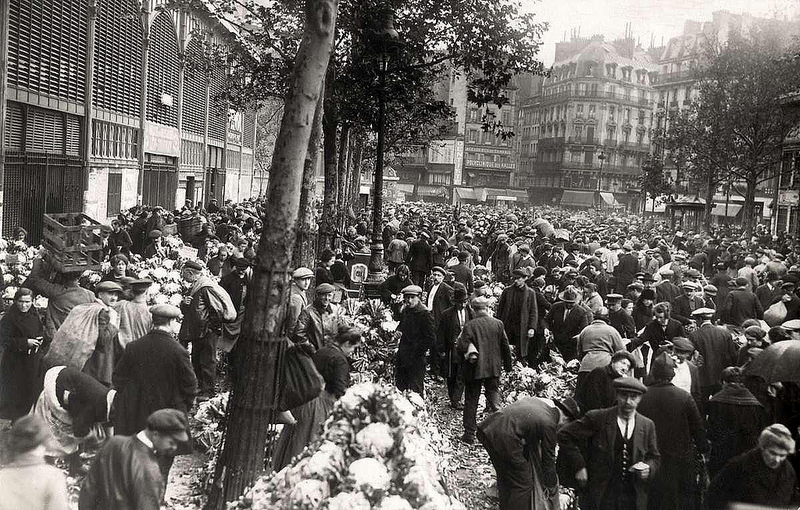 And in 1963 and 1964, almost a century after the publication of Zola's book, your co-publisher Ken Kailing helped unload crates of produce in that same market in exchange for food and an occasional bottle of wine. Sadly the traditional Les Halles was dismantled in 1971 and moved to the edge of the city, to the Paris suburb of Rungis.
Here in the US, similar markets – not nearly so aged or romantic – have existed across the country since the beginning. Some of the oldest wholesale markets can be found in New York City, Boston, or Philadelphia. Chicago and Detroit have their wholesale or terminal markets, as do San Francisco and Los Angeles.
Whether you're from California, the Midwest, or the East Coast, the phrase "terminal market" or wholesale produce market brings to mind images of early morning trucks, boxes, trolleys and lots of bustling activity.
Seattle, on the other hand, is lacking such an exciting destination and has never really had one. The closest is Pike Market, a loose assemblage of commercial retailers sourcing from around the world, which serves more as a tourist attraction than a local food market.
Wholesale Market or "Food Hub?"
Today the selling of food – whether whole, processed, or prepared to eat – takes place in very clearly defined locations, each with its own distribution, packaging, and pricing vernacular. The wholesaling of produce, for instance, has gotten more and more complicated.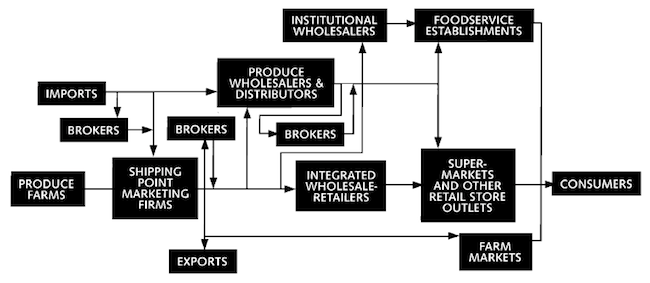 In an effort to bring back a connection between small local producers and their wholesale customers, particularly by urban and land use planners, the concept of a "food hub" has been introduced. Or some would say, "re-introduced."
A recent publication, Food Hubs – Central Puget Sound Food System Assessment (2011), attempted to define a food hub:
A Food Hub is a place that brings together a wide spectrum of land uses, design strategies, and programs focused on food to increase access, visibility, and the experience of sustainable urban and regional food systems within a city.
The researchers concluded that, "A coordinated system that increases the efficiency of food distribution is a necessary element in ongoing efforts to maintain the viability of small and mid-scale agriculture in the central Puget Sound region. Food hubs are opportunities to make agriculture in the region more economically sustainable."
Connecting Growers and Buyers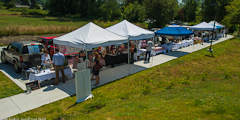 So where do farmers and food processors find places to directly connect to chefs, retailers, and institutional buyers in Puget Sound? While the definition, structure, and implementation of "food hubs" continue to be discussed by numerous forms of government agencies, non-governmental agencies (NGOs), and non-profit organizations, farmers and buyers are finding ways to move past the discussion and make the connections they need.
Wholesale markets are popping up in an attempt to directly link growers and buyers. At a recent B2B Local Food Showcase sponsored by the Puget Sound Food Network, a project of the Northwest Agriculture Business Center (NABC), and 21 Acres Center for Local and Sustainable Living, more than 20 small producers or groups of producers reached out to potential retail and food service customers.
The companies represented ranged from established farms and dairies with long-time wholesale networks to companies less than a year old and just beginning to wholesale their products. All of them viewed the Showcase and the concept of food hubs in general as great networking tools. While this particular group was not necessarily looking for distribution centers, storage facilities, and licensed kitchens, they were clearly looking for ways to leverage their sales and marketing efforts.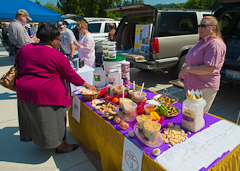 Kelly Johns, King's Gourmet, has a deep background in food processing and distribution. In the last year she has developed a line of chopped garlic, onion, shallot and ginger, as well as pureed vegetables and spreads like pesto and aioli.
Because Kelly is already connected to several regional distributors, she sees the wholesale markets as the means to introduce buyers to her products, and then direct them to the distributors for ordering. In any conversation with a potential buyer, she asks, "Who is your broad line distributor?" because she has agreements with most in the region.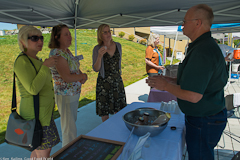 Twin Brook Creamery's Larry Stap is also linked with an established distribution network and sells his milk to more than 100 retail outlets from the Canadian border on the north to Olympia WA on the south. Twin Brook milks 200 cows and is just one of a few dairies that bottle their milk in glass bottles.
Larry was using the B2B Showcase as an opportunity to introduce his "no additives, no artificial flavors" chocolate milk made with pure Jersey milk, cane syrup, and Dutch chocolate powder.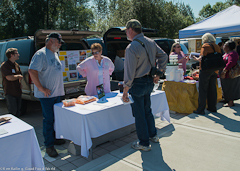 Pioneer Farm Produce, managed by Dale and Liz Sherman, offers just one product – heirloom Sugar Hubbard squash; in fact, the Shermans grow the only commercial crop of Sugar Hubbard in the country. Dale and his crew save seeds, plant, harvest, store, cut, package, and market their squash and control every step of the process. They process their organic squash in their own WSDA licensed facility.
Dale and Liz will tell you that it's challenging to do it all yourself. "We're packaging poor," Dale puts it. "We have huge amounts of money tied up in bags, boxes, cartons, and labels." At the same time, it's nearly impossible for a third party, whether a distributor or broker, to speak as passionately about something as plain and simple as squash.
The farmers and processors that proudly displayed their products at the Food Showcase – to a man (or woman, as it were) – viewed opportunities like these as a way to establish and build networks. Whether they sell direct or through brokers or distributors, it is the face-to-face communication that makes those networks successful.
The Venue – 21 Acres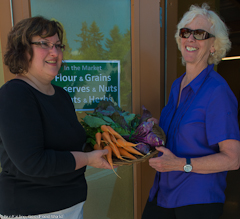 21 Acres Center for Local Food and Sustainable Living is a perfect example of a food hub in action. The "campus" includes 18 acres zoned for agriculture and has space for an organic/transitional vegetable and fruit farm, community garden plots, an orchard, and an apiary.
The new "green" building houses a commercial kitchen, classrooms, produce cleaning and storage facilities, and a farmstead market. The "culinary incubator" and rental space makes it possible for small value-added producers to prepare a wide range of food products in a clean, modern facility with all necessary tools and equipment.
While none of the suppliers at the Showcase indicated they were looking for cleaning and storage space or a commercial kitchen – as offered by 21 Acres – mostly because of the distance from their farms and processing plants, all were seeking new and innovative ways to connect with potential buyers.
21 Acres will likely be most effective not as a long-distance food hub, but as a locally oriented educational facility that supports local producers through classes, workshops, and training programs.
What better way to build a market for local products than to teach people how to prepare and enjoy them? 21 Acres is ideally structured and suited for such education, information, and community building to give support to regional farmers and small processors.
Food Hub or Marketing Opportunities?
The concept of complex food hubs, complete with washing, cooling, and storage facilities for produce; commercial kitchens; and loading docks and trucking services, has won the hearts and minds of many regional planners and food policy "wonks." And they are the perfect solution in the eyes of a wide number of non-profit/non-governmental organizations (NGOs).
A question that we should be asking is this: Are these centers intended to be a fully functioning food education and marketing service that farmers need or are they being created as a development stimulant and tourist attraction?
After all, Granville Island in Vancouver was planned as a local tourist attraction and local food market, and seems to be successful at both. While there is always the challenge of combining a local community attraction into a strong food distribution center, perhaps there is a future where Pike Market gets local again and returns to its past as a place of connection for buyers and sellers.
But at the bottom of all the discussion, is this really what small local producers need?
It appears that sophisticated – and expensive – food hubs are way more than most local producers require. They simply want connections, introductions, and contacts. Might not a simpler solution like a dynamic list of buyers, categorized by type of institution or organization, be more practical? Coupling contact information with a list of products wanted/needed, approximate cost range, and a calendar of needs could be a simple – and inexpensive – solution.
The NABC's Puget Sound Food Network offers a service for both food and floral producers that includes business listings, product offerings and requests, and a very complete "Farm to Institution" program to connect producers to schools, health care facilities, and government agencies.
The FoodHub is an online marketplace open to commercial buyers, independent producers, regional distributors, plus industry suppliers, farmers' market managers, trade associations and non-profits, in California, Oregon, Washington, Idaho, Montana and Alaska. Also providing a business/service directory and For Sale/Wanted service, the FoodHub focuses on making connections between buyer and seller simpler, faster and more effective.
Sometimes the best solution is the simplest!