1981 (continued)
Early June – Our farrier, Jack, came to trim  hooves on Sundance and the two ponies; an annual ordeal, when it came to Sundance. The ponies were very well behaved, but Sundance managed to be a problem each and every time. Jack, however, had a lot of patience, and calmly kept at the trimming until the job was done.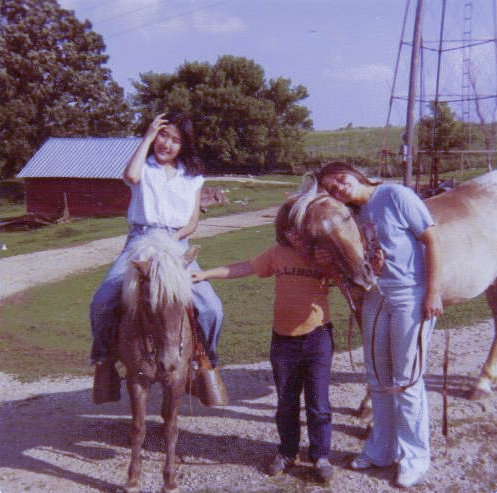 Jack was also an accomplished "Bee Keeper," and when I expressed an interest in this art, he offered to teach me the basics of raising bees. I jumped at the chance, as raising honey bees would fit right in with my farm plan for sheep, rotational grazing, and Birds-foot Trefoil pastures. Trefoil blossoms can only be pollinated by honey bees, or smaller bees. Bumble bees are too large to work the small blossoms.  With increasing acreage devoted to Birds-foot Trefoil pastures, honey bees would ensure good seed crops by pollinating the small yellow blossoms. They would also be a boon for our fruit orchard, plus the honey produced would be an added bonus!
I was soon down at Jack's place, learning the fundamentals of keeping bees. Once I had mastered the basics, I was ready to "work" the bees.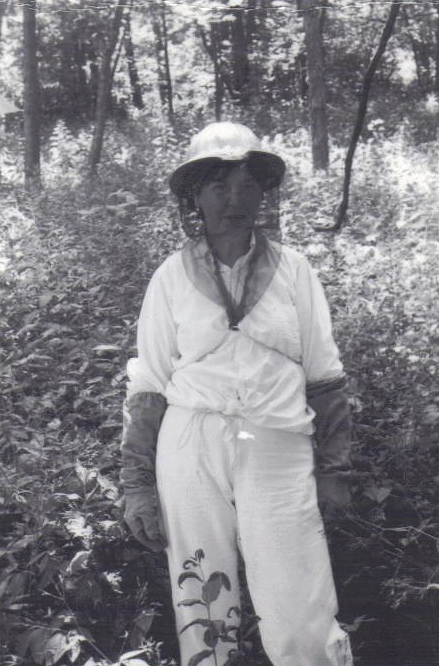 Garbed in white pants and shirt,  helmet and veil, wearing long gauntlet gloves and wielding a "smoker" to calm the bees, I began opening hives and discovering the wonders within. It was fascinating to me, and I  was hooked in no time at all. When Jack felt I had progressed enough, he set me to building a "hive body," with frames and comb where the bees could raise broods, and "honey supers" with frames and comb where the bees would store the surplus nectar they gathered.
When I had everything put together and set up, Jack divided one of his hives and gave me bees and a queen to start my hive. Not much time passed before I could walk into a trefoil pasture in bloom and find it abuzz with honey bees gathering pollen and nectar, and thereby pollinating the blossoms so they would produce seed. A most wonderful process, I became a confirmed bee keeper for the next dozen or so years.
June 22, SEMSPA's first Lamb Tele-Auction of the year was held. Most of our 125 member families were enthusiastic participants in the auctions, and consequently, we were able to put loads together more frequently. This auction brought a high bid of $71.75 per hundred weight (cwt), which was $3.00 cwt above St. Paul's price that day. We were elated!
Our lamb auctions were attracting a lot of bidders across the country because of the high quality of our lambs. We were holding our weights to a 115 lb. average, and the graders, who inspected the lots of lambs being consigned, were strict  No one was allowed to ship an overweight  lamb or slip in a poorly doing runt. It was paying off in some very competitive bidding on our lambs. By joining with producers from WI and IA, we were putting together  400 head loads every two weeks, and were now known as the Corn Belt Lamb Tele-Auction.
Mid-August
Since I had again been nominated for the Silver Bell Award, Dr. Bob Jordan from the UM came down to evaluate my sheep operation and see what progress I had made. He was especially impressed with the barn renovation. Being a thrifty Scotsman, he approved of my "thinking outside the box" which allowed feeding and housing twice as many sheep in the same amount of barn space, and without making the overall size of the barn bigger. He was also pleased with the quality of the Birds-foot Trefoil pastures, and with the introduction of 1/4 Finn blood into my flock's blood lines. He stated he was looking for innovation and he found it here!
September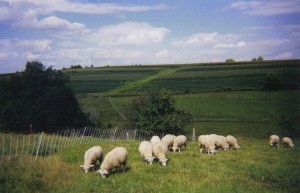 I was delivering 5 lambs a week to my locker at Hesper, IA, to be processed for my growing list of freezer lamb customers and was recovering the lamb pelts for tanning. Fifteen lambs went for freezer lambs, 20 ewe lambs were sold to start a new flock for a young couple from LaCrescent, MN, and 4 ram lambs were sold to individual producers. We kept 19 ewe lambs for our flock. The remaining 37 ram lambs were sold  on the Tele-Auction.
November
I received notification that I had been selected to receive the Silver Bell Award and it would be presented the following year at Pipestone Technical College, during the Annual Meeting of the MN Lamb and Wool Producers Association. I was pretty thrilled at this outcome, to say the least!
December
SEMSPA's 3rd Annual Meeting was held at the Friedell Building, Rochester, with a morning session of speakers, then a luncheon of Lamb Curry, served by Bernard's Cottage Shops. Following lunch, election of officers for t he next 3 years was held. After 3 years as Secretary/Treasurer, I declined to run again, and volunteered to start a Lamb and Wool Promotion Committee. My request for volunteers to serve on the new committee was met by 12 couples and 3 individual members! Very heartening! And a nice end to a good year!