January, 1980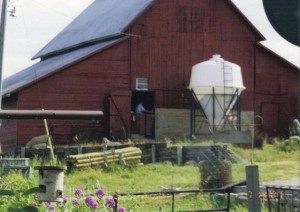 Southeast MN Sheep Producers' efforts to establish a Lamb Tele-Auction continued. Largely due to our President, John Larick's connections to the Iowa Sheep Producers, we recruited two excellent speakers from that group, and on February 26, had a very productive meeting on the preliminary steps needed to get things rolling on the Tele-Auction.
At the end of February, the lambing season was about to get underway. It was going to be a lengthy one, as the 48 mature ewes would lamb first, and about the time they were finishing, the ewe lambs would start lambing.
At breeding time the previous fall, either by a stroke of luck, (or genius), I had made a late decision to move two mature ewes, "Bluebird" and "Forward," out of the mature ewe group, and in with the ewe lambs and the 1/2 Finn-Targhee ram lamb. Both of these ewes were very prolific, but Bluebird was especially so. However, she was also a hard luck sheep.
She was the ewe that, during the years before we had good barn doors, lambed outside the barn in sub-zero weather, and for two successive years had frozen lambs.  The first year it was twin ewe lambs, the next, triplet ewe lambs. Since she had the propensity to produce multiple ewe lambs, I decided I should breed her to the new 1/2 Finn-Targhee ram lamb in the hope of getting some very prolific ewe lambs from the cross.
All through March the mature ewes were lambing.  They produced 78 lambs, of which only two were lost. A good lambing! Then during April, 12 of the 14 ewe lambs gave birth, all had single lambs, none were lost. Forward had also lambed, twins, a ram and a ewe. Finally, at the end of April, the last ewe, Bluebird, had a beautiful pair of twin ewes, which became #145, and #146.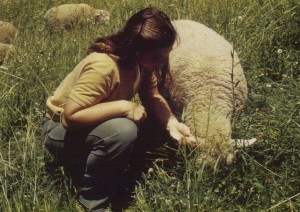 In future years these two Columbia/Corriedale/Finn/Targhee ewes, which were only 1/4 Finn, became the highest producing ewes ever in my flock.  #146 consistently gave birth to triplets, and #145 alternated between quintuplets, (5 sets), quadruplets, (2 sets), triplets, (1 set).  She singled her first year and her tenth year – a total of 38 lambs. A Super Sheep!
The previous year I had my nephew, who rented my crop land, double disc the native grass pasture that lay directly below the crop land. It had, in fact, originally been part of the crop land, but I felt it was too steep and put it into pasture. After the discing, I hand-seeded it with 6 lbs per acre of birdsfoot trefoil and 2 lbs. per acre of red clover.
The pasture was lightly grazed by lambs later that summer. This year it would be a lamb pasture, post-weaning.  It was a lovely pasture, and my life-long love affair with birdsfoot trefoil was on! Also the old alfalfa/bromegrass pasture, which had caused us so much trouble with bloat in the earlier years, was reseeded to birdsfoot trefoil that spring.
Now, I was on a search to find portable electric fencing, which I knew existed both in New Zealand and England, but not in the U.S. At last, Hugh Kramer, who was one of SEMSPA's Board of Directors, got an entrepreneur, who had spent time in England and had started a fledgling fencing company down in Iowa, to come and give a presentation at one of SEMSPA's  meetings.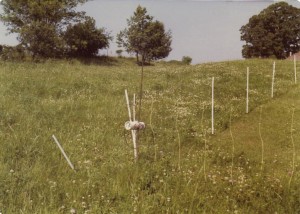 I did not waste any time before getting some of that fence! Those first fences were rudimentary, but they improved rapidly. We had a lot to learn about fencing, rotational grazing, paddocks, etc., but this was a start.
That entrepreneur became the well known "Premier Sheep Supply" at Washington, IA, and Hugh Kramer later became the owner of "K-Fence," a fencing supply company at Zumbro Falls, MN. My son Sean, who in addition to his regular job as a Diesel Mechanic at Caledonia Haulers, is also a fencing contractor, and a dealer for K-Fence.
May, 1980
Rochester's Agri News came out to the farm, did an interview, and ran a very nice article on my sheep enterprise. They also made reference to the new area sheep organization, SEMSPA, in the article.
This generated a lot of mail from people wanting to know more about "locker lambs," tanning lamb pelts, and other things mentioned in the article. It also garnered some new members for SEMSPA, that hadn't heard about it before, and brought me some people interested in breeding stock.
May 23, SEMSPA sent several members, including me, to a Tele-Auction lamb grading school at the Don Gooder farm near Cresco, IA. This included the grading of live lambs, as well as viewing carcasses as part of the grading.  Tom Wickersham of Iowa State Univ.was leading this learning experience. We were going to need several people who knew how to grade lambs for our Tele-Auction.
July 8, SEMSPA held its Annual Lamb BAR-BQ, and a lamb grading seminar for members at the Fairgrounds in Rochester. There was a large group in attendance, as people were anxious to participate in the up coming Tele-Auctions, and eager to learn about the grading process and the rules for committing lambs to the Tele-Auction.
Also in July, I attended a 3-day short course on various topics relating to sheep raising at Pipestone, MN.  Lots of great speakers with a plentitude of knowledge to share. A very rewarding experience!
July 28,  SENSPA's 1st Lamb Tele-Auction took place. We joined with another group of Wisconsin Sheep Producers to put together a 400 head semi-load of lambs. Bidders from all over the country were bidding on these lambs. We received a price which was more than $2.00 per hundredweight over South St. Paul's price that day.
September 22, the 2nd SEMSPA Tele-Auction was held, and again our lambs generated a lot of bidding between buyers. We received an excellent price on our lambs. It was great to be able to market my lambs through the T-A.
I had to deliver them to Chatfield, our collection point, which was a distance of 50 miles, but much closer than Austin or South St. Paul, and the price was far better. I continued to sell some  of the lambs as locker lambs, and to sell excess ewe lambs to other breeders, as they were much in demand.
SEMSPA's Annual Meeting was held December 13, 1980, at the Holiday Inn, South, Rochester, with 90 members in attendance. Dr. Dave Blahna of the Dodge Veterinary Clinic gave a morning presentation, and Tom Wickersham, Sheep Extension Specialist, IA State Univ., was our afternoon speaker.
Between sessions a delicious Leg of Lamb Buffet Dinner was served to members by the Holiday Inn Staff. It was a very enjoyable day, with lots of camaraderie, and everyone went home happy!
My county agent had again nominated me for the Silver Bell Award this year. Results will be announced later.