September, 1978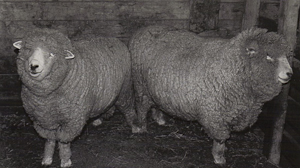 Along with the sale of five freezer lambs that fall, I also sold twenty ewe lambs to an Iowa producer, and retained seven ewe lambs to add to our flock of forty two mature ewes. Two rams, Big Mac and Little Mac, were being used. Big Mac would be put in with the mature ewes in Mid-September, for at least two estrus cycles. Little Mac would be used to breed the ewe lambs a month or so later. Lambing would start in Mid-February, 1979.
That fall I was nominated for the MN State Sheep Award, "The Silver Bell," by our County Ag Agent. I protested that I was not ready for that honor, and asked him to wait a couple years, but he went ahead with it anyway. I did not win the Silver Bell Award that year, but surprisingly, I finished in the top quarter of contestants!
In due time, Professor Bob Jordan, Animal Scientist at University of Minnesota, came down to look over my flock, facilities, management, etc. My facilities were, of course, sadly lacking, with the barn so badly in need of repairs and restoration. Dr. Jordan thought I had a very good flock, my 170% lambing average was quite exemplary, and my pasture system well laid out. However, he advised me to introduce some Finn, (Finnish Landrace), bloodline into my Columbia/Corriedale ewes, to reduce the incidence of pendulous udders, which was somewhat of a problem.
Enough of a problem, that one day, my daughter, looking in the barn door, began laughing hysterically at the sight of an older ewe wearing a bra made from an old sheet with two holes cut in it for her teats to protrude,, and then pulled up and tied around her neck in order to raise her udder high enough so her twin lambs could find the teats. One lamb had adapted to finding the nipple and nursing on his knees, but the other could not, and I was spending too much time helping him nurse. The bra worked!
I, at that time, did not think highly of the Finn Sheep, a very prolific breed that often lambed in litters of five or six lambs, but they were small boned, with poor carcasses, and scanty wool. So I was not very amenable to that suggestion, but said I would think it over.
December, 1978
I had long been wishing for some sort of sheep group where people could meet and learn from each others' experiences. Finally, in early December, Dr.'s. Jordan and Harley Hanke, both Animal Scientists at the UM, scheduled a meeting in Rochester to assess whether there was enough interest in the area to warrant starting a Southeast Minnesota Sheep organization. You know I was at that meeting! There was an excellent turnout and a great deal of interest, so a date for an organizational meeting was set for Feb. 28, 1979.
Toward the end of the year, Howard, and his helper Steve, the two men who had put in the new foundation for our house the past Summer, agreed to would work on my barn the following spring, but I got them to put new doors on the main barn that fall, so the next lambing would be much improved!
February, 1979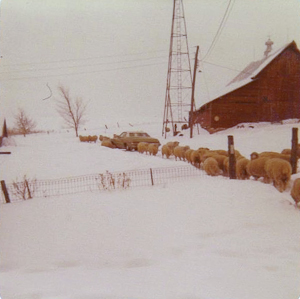 The first group of ewes began lambing February 9, by the 12th we had ten lambs alive and well. No problems… except that Mrs. Miniver, the last one to lamb, had been so busy trying to steal Hannah's new born twin rams, that she couldn't take time to have her own. She held off as long as possible, but she finally had to give up trying to clean Hannah's lambs, laid down, grunted and strained a couple times and out popped a lamb. I think she was quite surprised.
By February 21, we had 24 lambs, and things were going along so well, the only problem was that all the ewes began lambing in the north end of the lower barn, in what became known as "the lambing corner," and things got a bit confusing if three were lambing at one time, but we got it all sorted out. At least they were in where it was dry and relatively warm, and not out lambing in snow drifts in sub-zero weather.
February 22 was a quiet day, no lambings, time to catch up a bit on lamb shots, tails and testicles, records, etc. Howard, our "soon-to-be barn remodeler," had been working in the house in the afternoon retiling the bathroom, and finished quite late in the evening.
It had begun raining very hard, with thunder and lightning, and when he was ready to leave his car would not start, he was going to try to "hitch" a ride, and I said, "not in this weather, you won't!" so the kids and I loaded up and took him to La Crescent. It was a really horrid night!
When we got home, and I went back to the barn, we lambed all night non-stop. It must have been the atmospheric pressure! Twelve ewes lambed, I never left the barn all night, and by morning of the 23rd, there had been another 23 lambs born, including a set of triplets.
By February 27, this first group of ewes had finished lambing, and we had only lost one lamb which was born dead. The afterbirth came when the lamb, a tiny one, was born and was wrapped around the lamb. It was a very difficult birth, and it was quite amazing that the second lamb, which was large, was born alright.
We had a short respite before the second group of ewes started lambing, which was good as it made it possible for me to attend the organizational meeting for the new sheep group.
The organizational meeting of the newly formed S.E.MN Sheep Producers Association was held in Rochester on February 28, and was facilitated by the Area Extension Agent, Merv Freeman, and the County Extension Agent, John Redomg.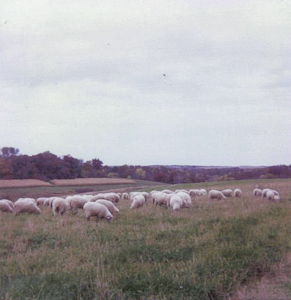 I went to the meeting to listen, and learn, and was happily involved in voting for nominees for President, and Vice President. Then came the nominations for Secretary/Treasurer, and to my utter amazement and disbelief, someone placed my name in nomination.  (It turned out to be a member of our local Farm Service Agency 's staff).
I felt a brief sense of relief when someone placed the name of a well known purebred breeder from just north of Rochester, in nomination. We were the only two nominees, and I was sure everyone would vote for this gentleman, since nearly everyone seemed to know him. So, the vote was held, and it ended in a tie!
The two nominees left the room while another vote was held, and I crossed my fingers and hoped fervently that he would win. I was a shy person at that time, and the thought of having to get up in front of a large group of people was absolutely terrifying to me. But, after the second ballot, it was announced, to my dismay, that I had won and there was nothing to do but grin and bear it!
My daughter, who had come to the meeting with me, claims that she cast the deciding vote! Whatever, it was probably the best thing that could have happened to me, although I surely didn't think so at the time! It forced me to come out of my shell, and after awhile I began to like it, and soon they couldn't shut me up!