January, 1978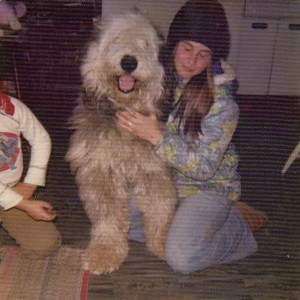 The year did not start off well, we were going to have to find a new home for Bob, the Old English Sheep Dog. My attempts to mollify his aggressive behavior toward the sheep were a total failure. The defining moment came when he broke his heavy chain, and was chasing ewes through deep snow drifts in late January. This was just unacceptable, the ewes were due to start lambing in late February. One of them, "BoPeep," died as a result. Bob had to go!
We placed an ad in the La Crosse, WI, paper and it was answered almost immediately by a Wisconsin dairy farmer, whose Old English Sheep Dog had just been run over and killed. His four children, but especially his youngest daughter, were devastated, so our ad gave him hope that he could replace their dog. I told him why we were giving up the dog, and he replied that would not be a problem for them, as they had cattle. He was coming over immediately to look at the dog. So we brought Bob into the house, brushed out his coat so he looked presentable, and waited. When the prospective new owner arrived, he was just delighted, as Bob looked exactly like the dog they had lost.
He had brought his eight-year-old daughter along, but had not told her the reason they were making this trip, just in case the dog did not turn out to be what he hoped for. The little girl was waiting in the car, so we put Bob on his leash and took him out. As soon as  the car door was opened, he jumped right into the arms of a very happy little girl! It was obviously a match made in Heaven! So things ended on a good note, and to say that we were relieved would be an understatement, although we did regret that Bob had not worked out for us.
Lambing began in late February. I was wearing a rib binder and still healing from torn rib cartilage sustained earlier while ear tagging a yearling ewe that had lost her previous tag, and she did not take kindly to the event! So I was not really up for the rigors of the lambing season, but nevertheless, here it was!
The weather was bitterly cold, and I still had no reliable barn doors. I had tried desperately to get some work done on the barn during Summer and Fall, but the economy was very good, and everyone seemed to be building new houses, garages, sheds, barns, etc. No one had time to spend on fixing up an old barn, so once again I was faced with trying to block doorways as best I could. I hung some tarps over them to blunt the force of the wind, but that was not very effective.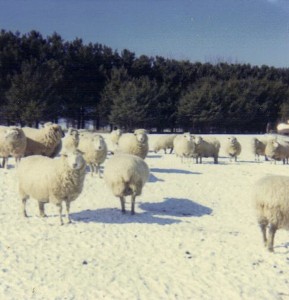 I got through the first week fairly well, but was having to be in the barn all day and most of the night to save lambs. There had been a big round hay bale placed south of the barn, along the line fence, to feed the sheep in late fall.
Now the ewes were escaping the crowded barn to lamb in the remains of the hay, but it was a totally unprotected from the elements, and I had to be constantly on watch. To add to my woes, Jerry had gone to visit relatives in CA, Lisa was gone on a protracted band trip, and Sean, apparently worried about being in the house alone at night, began sleep walking. I came to the house in the middle of the night and heard bumping noises coming from upstairs. I found Sean in his bedroom closet banging around in his sleep. Another night I found him coming down the stairs, sound asleep. So I was really concerned that he might just walk outside into the cold and wander off. I didn't know what to expect, I just knew I needed to be in two places at once.
On March 3, on an 11:00 p.m. barn check, Melissa had just had twins, but she and the lambs were in the back end of the lower barn and all seemed to be well, so I just put a lambing pen around them and went back to the house. At 2:30 a.m. I made another barn check, all was quiet and I returned to the house. I should have gone out on one more barn check during the night, but I was so concerned about Sean's sleep walking I didn't go back until 7::00 a.m. I found Hannah over by the hay pile with twin ram lambs, both dead. They were big strong lambs, but there was an icy wind blowing out of the South, and they were too far from shelter.
The next night I came out on a 2:00 a.m. check, and Bluebird had lambed outside and had a set of triplets, all dead from exposure. It was a losing battle! The following morning, after feeding the ewes their hay and grain in the manger, and attending to all the ewes in lambing pens, giving the lambs their shots, doing their tails, and eartagging, and milking out Melissa's one huge engorged teat, I decided to go to the house and get a bottle and feed one of her lambs some of the milk, as the lamb was having a hard time nursing from the huge teat.
Luckily I came back out with the bottle, or I would have missed Blue Skies lambing over in the hay pile. She had just dropped a lamb and was starting to clean it, and I caught the lamb's movement as it tried to rise, otherwise I probably would have gone back to the house. But I moved her and her lamb into the barn and put a pen around them, and shortly, she had another beautiful fluffy lamb. Once in awhile, you win one!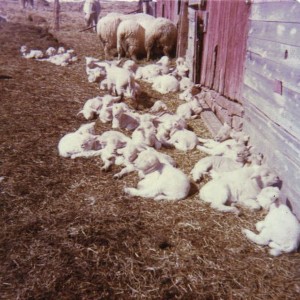 By March 9, we had added 15 more lambs without losing any of them, and by March 15 another 17 ewes had lambed a total of 32 lambs, but 2 of those had died, and one ewe, Heloise, died of pneumonia a week after lambing… All hard losses, but one has to go on. We had a pen of 5 bottle lambs, 2 were from sets of triplets, where I always remove one lamb, another from a ewe who lost half her udder to mastitis, and Heloise's twins. Mixing their formula from lamb milk replacer, and feeding them several times each day was another time consuming chore in the midst of these busy days.
Finally we had a week of fairly decent weather, which helped, but by March 18 an icy cold South wind was blowing so hard one could barely stand up in it. Coming to the barn at 6:30 a.m., I found Raindrops outside the barn with twins; the ewe lamb was dead, and the ram lamb nearly so, but with still a spark of life left. I rushed into the barn with him, his eyes glazed, staring sightless, body ice cold and rigid, mouth clamped tightly shut. When you pried it open and thrust a finger in, the mouth was like an ice cube. I quickly rigged up two heat lamps over him, and rubbed him vigorously with towels to help dry him and get some circulation going, but about the only response was a spasmodic "death kick."
After a half hour or so of rubbing and being under the glow of the heat lamps he began to show a little life, trying to lift his head a bit. I went outside and tried to bring the mother in, which was no mean feat. By this time she was frantically nervous and very suspicious of me, as I had carried off the one lamb. Using her dead ewe lamb, I twice coaxed her into the barn, only to have her run off again.
She was a big ewe, and with my torn cartilage I was not up to wrestling her into the barn. Finally, with patience and a bit of luck, I maneuvered her into the pen where her ram lamb was. Once she began to nuzzle and lick the lamb, it slowly began to take an interest in living. I dashed to the house and thawed out some frozen colostrum from the freezer, took it back to the barn and slowly administered it to the lamb with an eye dropper. In about half an hour, he struggled to his feet, and with some assistance from me, got a good drink of warm nourishing milk from his mother. Another battle was won!
By the end of March, 71 lambs had been born, but we had lost 9 of those. It had been the "Lambing from Hell," not one I would look back on very fondly! But, there had been a few bright spots too. I sold the 5 bottle lambs at about 5 weeks of age for $50 each. We had 57 lambs remaining, 29 ewes and 28 rams; our flock would grow a little more, and I would live to fight another day!