February, 1977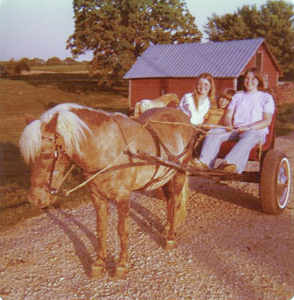 I had bred for early lambs, so by the end of February lambing was done. I wanted to hit the early July market, as in recent years that had been the best market. There would be a slightly over 100 head of ewes and lambs on pasture. There would have been more, but I sold 25 of last years' ewe lambs to another sheep producer, and only retained 3 for our flock.
We were growing too fast for our facilities and it made managing very difficult. For instance, there were no reliable doors on the barn, and barricade them as I might, as the barn grew more crowded during lambing, ewes would manage to get outside and lamb. It was a very cold winter, and we lost quite a few lambs because of this. The barn was badly in need of remodeling!
When Bruce was here shearing, he invited us to come and spend the day at his farm. He is an avid collector of Indian artifacts, and had two log cabins filled with them, and wanted us to see them.
One Sunday, our family, along with Aunt Merle and Uncle Buddy, went up to visit. When Uncle Buddy was young he had actually lived on the farm next to Bruce's folks. He  recalled that he often went there and played with a small steam engine that belonged to Abner, Bruce's father. He especially enjoyed visiting with Abner again, and we all were amazed at the artifacts.
It was a marvelous collection, something really worth seeing! Some years later, Bruce was offered quite a large amount of money for his collection by the Smithsonian Institution, but he refused the offer. The artifacts meant more to him than money. A rare quality!
In late spring I had taken Tatters to the Veterinary Hospital in La Crosse, when I noticed she had some mammary tumors. The vets thought they were benign tumors, however about a month later I saw that they were growing, and I took her back.
The vets now determined they were cancerous tumors, and suggested I put her down that day, as they said she would not live long. I told them I could not do it so quickly, I needed time to say goodbye, so I took her home. She was feeling good, and she was by my side all the time we were herding sheep in the alfalfa pasture, keeping them in a relatively small area, then taking them out. The process had to be repeated a few hours later, very time consuming but better than losing sheep to bloat.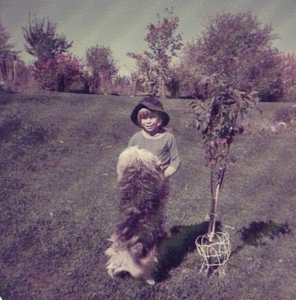 One day, during a herding session, I suddenly noticed that Tatters was not by my side. I looked around and saw her in the tall alfalfa beyond where the sheep were. She was jumping up to look over the top of the alfalfa as though trying to find something.
Then I realized she was trying to find me. She had gotten away from my side, and now was lost. Then I knew she was losing her sight, and the time was getting short. Soon she began to lose her appetite, and it was time to have her put to sleep before she had to suffer further. We went back to the hospital, and I held her as they gave her a sedative, and then when she was asleep, the final shot to stop her heart.
I drove home in tears, and we buried her under the big mulberry tree at the top of the backyard flower garden, not far far from the other pets we had lost. Now Brindy was our only dog.
Mid-summer and we were down to one dog… but, not for long! Jerry was an avid "want ad" reader, and he saw an ad for an Old English Sheepdog in our area. I had always wanted one of those!
So we made a phone call, he was still available, so the kids and I jumped in the car and went to see him. He came bounding out to meet us, and was such a big lovable clown, that we knew we were going to buy him…. but first, I asked if he was good with stock, as we had sheep.
The dogs owners said that as a matter of fact, they had sheep also, and assured us that he was very good with them. So we bought him. It didn't occur to me at the time, that we hadn't seen any sheep around.
So, we took him home with us, and no sooner did we open the car door, than he leaped out and took after the sheep that were grazing around the barnyard, and chased them clear around the barn twice. The lean to machine shed on the upper side of the barn had a couple boards missing on the South end, and the sheep saw this as an opportunity to escape this raving maniac, and started pouring through the opening.
Meanwhile, Lisa was at the open door at the other end of the shed, thinking she would grab that dog when he came through… but, maybe not! …the first sheep through knocked her over, and was followed by the mob of terrified sheep and a huge madly barking dog!
Now we knew why we hadn't seen any sheep at that place, they were no doubt locked safely in the barn until the dog was gone!
What was I thinking? That was the beginning of a long struggle to try and teach Bob that he was a "guardian dog," not a "herding dog!" But in the meantime, he could never be let loose, and had to be restrained by a very big strong chain.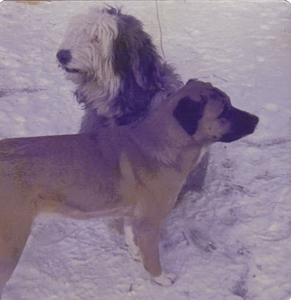 We had a friend from the "cities," who owned a small farm near us, where their family spent time in the summer.
For several years he had been purchasing 5 ewe lambs to add a picturesque look to his place for the summer, in the fall he would sell them. He also had several horses and a pony, which looked very much like our pony, and like him, had a very nice disposition.
The problem was, the horses were beating up on the small pony, and our friend felt very sorry for him, so he asked me if I would take him… and for $50 he would throw in a pony cart and harness.
So of course, I agreed, and the pony, cart and harness were trucked up to our farm. He fit right in, and all the neighborhood kids were having a grand time driving in and out the driveway in the pony cart.
There was just one drawback, the cart had no brake. Going out the driveway was not a problem, but as they started back in, they had to come down the quite steep hill at the far end, so a couple kids had to run behind the cart and hold it back so it didn't run into the pony and injure him. That didn't spoil their fun, as there were always plenty of extra kids to take their turn holding back the cart!.
In late summer we had concrete sheepguards installed at each end of the driveway. The sheep would not cross them, and it was a great improvement! No more opening and closing heavy gates every time we wanted to go somewhere, and the sheep stayed where we wanted them to be.  However, there was one consequence we had not counted on!
Late one night a man drove in and asked if we had a horse. I said that we had a horse and two ponies. He said he came over the rise near our driveway, and there was a bay horse in his headlights coming toward him at full gallop! Amazingly, they did not collide, but he wanted to tell us, in case it was our horse.
Sundance is not a bay horse, more of a coppery palomino, but nevertheless we had to go and check this out. Sean and I were the only ones home, so it was up to us! We took a flashlight and grain bucket, and went out to search in the darkness.
We found the two ponies in the bottom pasture, but no Sundance! So we knew he was out on the road somewhere, and we had to come up with a plan. With the aid of the grain bucket, we led the two ponies through the gate at the front end of the alfalfa pasture, and then up toward the far end where there was a gate between the pasture and the cropland above it.
We could now hear Sundance above us,snorting and whinnying to the ponies, so we figured he was anxious to get back with them, but we had a very difficult gate to deal with. It was a barbed wire gate with several vertical wood posts in it, so it was heavy, and had a really tight bail that hooked over the end post to open and close it.
It was took all the strength I had to open and close that gate, and I had to handle the bucket and manage to get Sundance through the gate and into the pasture without the ponies getting out through the gate… they were all a little crazy wanting the grain of course. So six year old Sean was going to have to open and close the gate.
In a very calm and matter of fact manner, I told him he would have to open and close the gate. I did not tell him how hard it would be, just that he had to do it. Bless the boy! He somehow did it! We had Sundance back with the ponies… Mission accomplished!
We think Sundance must have tried walking across the sheepguard at the end of the drive, and when he found he had no footing and couldn't turn to go back, he just leaped and wound up across it and then on the highway. He never did this again, so it must have been a pretty traumatic experience for him! It certainly was for Sean and I!