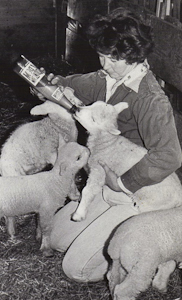 May, 1978
At last, a beautiful spring, the ewes and lambs were out on pasture, and life was good once more! The kids were counting the days until school would be out, and so was I, as it would mean I would not have to attend to two ponies and a horse every morning, along with my other chores.
We had lovely pastures, and it was a temptation to just turn everything loose in them! Unfortunately, our ponies were prone to founder, and our sheep to bloat. The ponies and horse had to be staked out, moved, and watered twice a day. Lisa did the evening stint, but I was stuck with mornings until school let out.
One of our triplet bottle lambs, Merrylegs, became quite the celebrity! I had brought her to school to visit Sean's 2nd Grade Classroom, and had diapered her in Newborn Pampers, with masking tape suspenders. She was a huge hit!
When our visit there was over, we came out into the hallway, and there were all the other elementary teachers asking us to come to their rooms. So she toured the whole elementary school.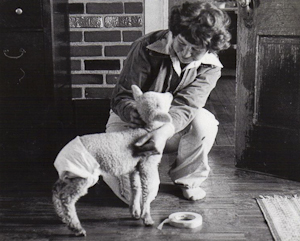 Next, she was invited to come back for the Kindergarten Roundup, a little later on. Her fame must have spread, like wildfire, as soon a reporter from the Winona News called for an interview, came out, was totally charmed, took lots of pictures of Merrylegs, and wrote an article about her.
Following publication of the article, we were besieged by calls from people, mostly kids, wanting to buy her. Of course we couldn't sell her, she was such a "Special Sheep!"
Lisa had been very involved with her band music programs all year, along with weekly organ lessons in La Crosse, WI. Near the end of the school year, the Concert Band traveled to Milwaukee, WI, where they gave a concert at Solomon-Juneau High School, then spent the night at the homes of Milwaukee band members.
The following week, the Milwaukee students came here and gave a concert at our High School, then spent two nights here, and along with our band, marched in the annual "Sittende Mai" Parade in our neighboring town of Spring Grove. Sittende Mai is Norwegian for "Sixteenth of May," Norwegian Independence Day, and Spring Grove, being a very Norwegian Community, celebrates it with enthusiasm!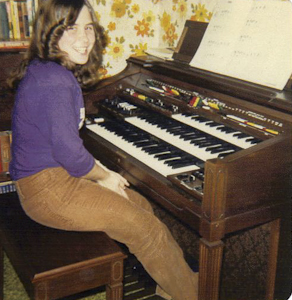 While the Milwaukee Band was here, we had a very lovely girl staying with us. She couldn't have fit in better, as she was an animal lover, and especially fond of horses. It kept life interesting, always having young people about, so next we had Sean's classmates out on a Field Day, they had a great time exploring the farm.
A couple mothers came along as chaperones, which was good, as we were in the middle of putting a new rock foundation under our old house. It was quite an extensive undertaking, and we did not need any kids falling into the excavation! Happily, the afternoon passed without any untoward incidents, and everyone went home, tired and happy.
By late May the sheep had finished the first rotation through the grass/legume pastures and were moving into the "dreaded alfalfa pasture." They were fed some dry feed every morning before they were turned into it, and then watched closely during the first week or so. Thankfully, we did not have any bloating problems during this grazing.
June, and finally, school was out, and shortly thereafter, Lisa obtained her driver's license! Now, I was relieved of most of my chauffeur duties, and it was great to have her making trips for groceries, running errands, and freeing me up to get things done at home. It was especially helpful, since it was such a very busy summer!
Along with the two men working on the house foundation for a good part of the summer, we had relatives from California visiting for several weeks, so I had a good-sized crew to feed every day.
The gardens had gone in early, and were providing quite a lot of fresh lettuce, radishes, green onions and herbs. Along with the new peas and asparagus from our long established bed, it all helped with the meal planning.
In the fall, I began selling male lambs to people who wanted a lamb for their freezer.