The Organic Food Handbook, Ken Roseboro (Basic Health Publications, 2007)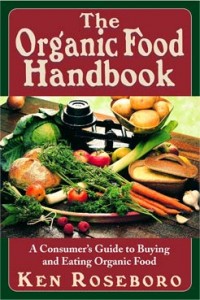 More and more people are eating organic food because they want a healthier and safer alternative to "conventional" food. They want food produced without toxic pesticides, antibiotics, hormones, and genetic engineering. They want food that sustains both human health and the environment.
The Organic Food Handbook written by Ken Roseboro examines this important trend and provides a concise, simple guide to buying and eating organic food:
What organic food is, and how it is produced
How conventional food poses threats to human health and the environment
Why organic is a healthier, safer choice
How organic certification ensures that organic food is produced to the highest standards
How research is demonstrating the benefits of organic food on human health and the environment
Why "local" organic is even better than organic.
Where to buy organic food at the most economical prices
Click on the cover to buy this book.