Late March, 1973
It was indeed a long winter, and before I was ready for it, along came spring. It was icy, and I was lambing on crutches, so safe to say, it was not one of my happier lambing seasons! The previous fall, not knowing I was going to break a leg in January, I had turned the ram out with the ewes in October. This was to get the lambs on the ground early, and have the flock on pasture by late April in order to keep up with the flush of grass that comes in spring.
It was good planning at the time, but of course as it turned out, I was wishing I was lambing later, when the snow and ice were a thing of the past! Nevertheless, we had a pretty successful lambing, even though stressful, and counted our blessings.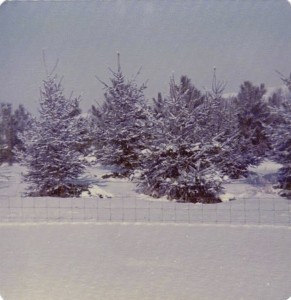 Next, of course, came gardening season, and although I managed to get the gardens in, they were not kept up as well as usual, but we did have fresh vegetables to eat, and enough for some canning and freezing for winter. The orchard, however, was very productive, so we had lots of fresh fruit, and plenty to put away for later. Another planting that was doing extremely well was the young windbreak. It had a long way to grow before it would be tall enough to give us good protection from the northwest winds of winter, but it was promising!
At this point things were not going well at the KLM manufacturing plant. Three people in charge were at least one too many. Jerry had started it all with his Caledonia Welding Shop a dozen years earlier, then it became MacLoc several years later when he took in a brother-in-law, Bill Lockhart, as a partner. It then became KLM, when the third partner moved his business from Kenosha, WI, to Minnesota. Jerry had become increasingly frustrated with the way the business was going, and was drinking too much, which did not help matters any. He finally sold out his share to the other two, retaining his welding equipment.
In early summer he started a barge repair business on the Mississippi River at Alma, WI. He had two crews working, some of whom he had trained to weld at KLM, now they were working for him again. The business thrived all summer. In fall, some time before the barge season would end for the winter, Jerry and one helper were bailing out a barge which had taken on a lot of water. The weather was cold and raw, and it was a wet job. Jerry developed a terrible cough, then he began having chest pains, so our doctor put hm in the hospital for observation.
After four days he was released, with instructions to go straight home. Instead, he walked clear across town, a matter of five or six blocks, got his truck, which was at a friend's home. Then he stopped to catch up on the news at the VFW, smoked cigarettes (which he had been warned not to do), drank several beers and finally came home, and went to bed. By 4:00 a.m. he had such severe chest pains that I called the ambulance, and he was taken to St. Francis Hospital in La Crosse, WI. He had suffered a myocardial infarction, which was a major F-4 heart attack, and part of his heart muscle was dead.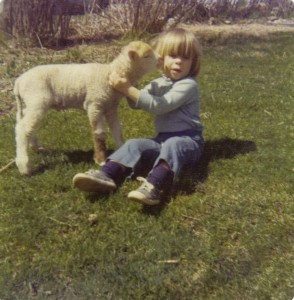 He was in the hospital for two weeks. After he was home for a week or so, he tried going to the docks at Alma to oversee the barge repair work, which would soon be shutting down for the winter. He twice passed out on the dock, so that was not going to be feasible. At this point the doctor declared him to be permanently disabled, after six months he would become eligible for Social Security income.
1974 – A New Year – and we hoped for better times. On January 12, Lisa and Jerry celebrated their birthdays; she was 12 and he was 51. She had been born on her dad's 39th birthday, so he claimed he could stay 39 from then on, and she could have all the birthdays, but of course, it didn't turn out that way. Sean reached the age of 3 on Feb. 3.
April and lambing time! I was grateful I had my sheep flock. The lambing went well, the numbers were growing and there would be some income coming in. This was the year to have big gardens for sure! And we planted lots of everything! Eventually, Jerry was able to sell his barge repair equipment to another fellow at Alma, WI, and by early summer, he began receiving Social Security checks, which was a great relief! We would get by!