If you read GoodFood World's last article on the subject (Grass-Fed vs. Feedlot beef), you already know that the difference between organic and conventional meat is bigger than the cost at the checkout. Meat and poultry that is conventionally produced to reach the market quickly and in large quantities comes to us at a cheap cost, but it's a high price to pay for the environment and our health (not to mention animal cruelty issues).
Fortunately, there are steps we can take to make it easier; not only for the earth, but for our wallets, our conscience, and our bodies. Here are some ideas, in no particular order of importance. Depending on your situation, one might take priority over another, but I find that they work best in combination.
Tofu Marinade

Eat less meat (best for: the environment, your health, the animals, your wallet)
.
There are lots of reasons to eat less meat. For one, it's expensive! When we decided to switch to a mostly organic diet, we found we couldn't afford to eat as much meat. But as a result we found that we really didn't need to. According to the Harvard School of Public Health, having meat as the center of every meal is neither necessary nor healthy.
.
You're likely to eat a more balanced diet when you break free of the meat-and-potatoes mindset. We have found that we enjoy vegetarian meals just as much, and having meat less makes us appreciate it more. We incorporate it as a sort of complementary ingredient into recipes for stir-fries, tacos and curry.
.
If your health and your budget aren't a factor, there's still the environmental strain caused by large-scale meat production. You've probably heard of "Meatless Mondays" –people everywhere are going without meat one day a week for a variety of reasons. Check out this website for more info. .

Tabbouleh, Instead

Eat organic meat or "all natural" (best for: the environment, your health, the animals)
.
This bit of advice is best taken in conjunction with the one above, due to the fact that organic meat is much more expensive than conventional. In a survey of my local grocery stores, I found that organic chicken was at least twice the cost of conventional (per pound) and as much as five times the cost for certain cuts. But if you eat less of it in general, you'll be able to afford the higher-quality stuff. If you still can't afford organic (I'll be honest, I usually can't) then all-natural is the next best thing.
.
Meat with the "all-natural" label contains no artificial colors, additives, or preservatives. It means minimally processed… it doesn't mean that the animals were humanely treated or fed only organic feed. The label is not well-regulated, so use your own discretion. I find that the next-best to organic is all natural from a local producer. Which brings me to my next recommendation… .

Soba Veggies

Eat local meat (best for: the environment, likely your health, the animals)
.
Eating local means that less resources were put into bringing the meat to you. It doesn't guarantee that the animals lived happily, or that the meat was minimally processed. It means you're supporting your community, and usually that's small farmers.
.
If you buy from small farmers, you're closer to the source of your food, and that makes it easier to know what you're getting for your money. If you do a little digging (farmers markets are a great place to ask questions), you'll be able to make the right choices..

Butcher your own meat (best for: your wallet, the environment)


.


It doesn't mean you have to wear a dirty white apron and hack at carcasses with a meat cleaver! When you pay for boneless, skinless, fat-trimmed meats, you're paying extra to have someone eliminate those parts of the animal. Cooking with meat that has bones and fat is going to be cheaper and more flavorful… it only takes a little more effort to prepare on your part. You'll also be saving resources that would otherwise go into extra processing.


.


You can roast whole cuts of meat (like a whole chicken, or thighs and drumsticks) and make gravy from the drippings, or boil the scraps to make an excellent broth. Just be sure to cool the liquid and skim off the fat that rises to the top.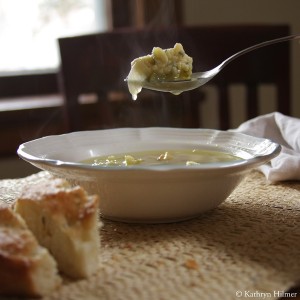 Last week, we bought a local, all-natural, whole chicken, and from it we were able to have more than four meals for two. Here's the recipe: delicious Roasted Chicken with Herb Butter. More recipes to come soon, including surprisingly yummy marinated tofu, on my new blogsite, Natural Born Baker.
Sources:
http://helpguide.org/life/organic_foods_pesticides_gmo.htm
http://www.hsph.harvard.edu/nutritionsource/what-should-you-eat/protein/
http://www.meatlessmonday.com/why-meatless/