Hello Dear Readers,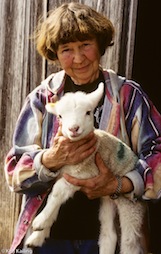 I am sorry to have been away so long, and I hope you are still with me!
I am all put back together again after the eye surgery in August and hip replacement in December, and am doing fine! Six weeks after the hip surgery I was walking without a cane for the first time in more than two years, which is great! I'm looking forward to a lot of gardening this Spring. As for the eye surgery, I had a wonderfully talented doctor, and the operation was a huge success. I have no more double vision, all the prisms were removed from my eyeglasses, but I do need to have one more upgrade in my lens a week from now, and then I should be all set.
Actually, the double vision (diplopia) wasn't such a bad thing when I was still raising sheep, as I could look out at my flock grazing happily in the pasture, but instead of one flock, I would see two flocks. Also, the two images I saw were at different levels, so one flock was in the lower pasture, and the other in the upper pasture. Pretty cool! But of course it didn't help with the bottom line, as when it came time to sell my flock(s), I could only sell one flock.
I do still miss my beloved sheep, but I know they are safe and well cared for at my friend Jim's farm, only 5 miles form mine. I can go and visit them at lambing time this Spring, and enjoy it without the stress and strain that comes along with it!
Still a 'Shepherdess' at heart,
Lea McEvilly