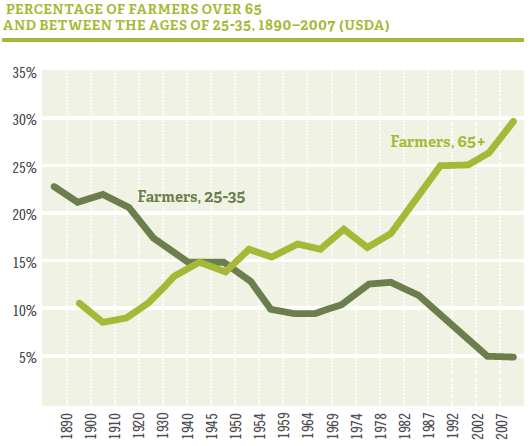 We've got young people who want to farm, but they can't. When the New York Times recognizes that an industry is in trouble, it is time to correct the problem – fast!
In 1870, nearly a quarter of all farmers in the US were between the ages of 25 and 35. Only about 10% were 65 or older. The country was young then and farming was hard. Farming was one of the major employers at the time: between 70% and 80% of our population was employed in agriculture.
By 2007, that ratio had flipped on its head and the distance between the two had increased even further. Now more than 30% of our farmers are 65 and older, and fewer than 5% are between 25 and 35. And farming is no longer a key employer; in fact, only 2%-3% of the population is directly employed in agriculture.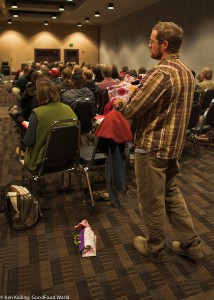 And to make it worse; it is estimated that between now and 2030, a quarter of American farmers will retire. There are more than 840,000 farmers over 65 and over that own nearly 200 million acres of land. Who will grow our food? How do we get more young farmers on the land?
We need hundreds of thousands of new and beginning farmers to feed our country in the future. The good news is that there are 1000s of young people who are trying to break into farming. They come from diverse backgrounds and experiences and they embrace sustainable growing practices.
The bad news: as a society we are putting up as many obstacles as possible to keep them from succeeding.
The price for farmland has more than doubled in the last decade from $1,090 an acre in 2000 to $2,140 an acre in 2010. Financing – always tough for young farmers – has all but dried up and funds for capital, credit, and small operating loans are simply not available. Finally, in an industry known for being hazardous and rife with work-related injuries and death, health care is absolutely necessary and yet absolutely unaffordable.
A recent report by the National Young Farmers' Coalition, Building a Future with Farmers, surveyed 1,300 people from 34 states. Eighty-one percent of those respondents are farmers, and many of the non-farmer responses came from aspiring young farmers. And more telling, 68% of the farmers responding were under 35, the majority between 25 and 29 years old.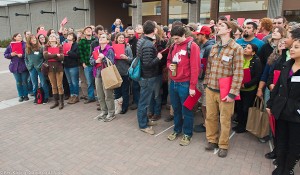 The biggest challenges they identified:
78% – lack of capital
68% – access to land
47% – health care
40% – access to credit
36% – business planning and marketing skills
30% – profitable markets
26% – education and training
Do a Google search for "Beginning Farmer Training Programs" and you will find that the top four challenges identified in this survey – capital, land, health care and credit – are rarely addressed in organized programs.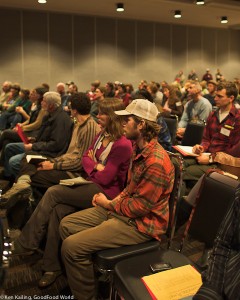 And in 2011, as part of the $18 million awarded by the USDA for its Beginning Farmer and Rancher Development Program (BFRDP), only one major project was designed to assist beginning farmers with building an asset and capital base. Very few programs are targeted to sustainable agriculture; what there is available continues to be geared toward industrial farming techniques.
Where as there are a variety of formal and informal training, education, and degree programs to teach young farmers everything from planting vegetables to pasturing sheep, only a few teach the business of farming and almost none focus on finance. And the programs through colleges and universities are almost entirely directed to industrial agriculture.
While formal training programs may be valuable, the young farmers surveyed felt they benefited from more "hands-on" types of experiences:
74% of farmers ranked apprenticeships as among the most valuable programs for beginners
55% of farmers ranked local partnerships as one of the most valuable programs
49% ranked Community Supported Agriculture (CSA) as a top program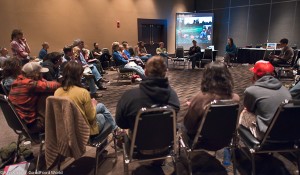 Regional events like last week's Tilth Producers of Washington Conference link young farmers with mentors, peers, and educators. More than 500 people attended and participated in organic farming sessions that included subjects like:
All about the organic certification process
Poultry breeds for small farm meat production
Soil organic matter, minerals, and nutrient cycling
Farm paperwork and business management
Using technology to increase sales and efficiency
Food safety and the small farm
It's clear when you look around the audiences at events like the Tilth Conference we've got a cadre of tough, energetic, smart and dedicated young men and women who want to farm.
They're ready! All we need to do now is give them the financial support they need to do the job.
________________________________________
Resources:
Minnesota's Farm Beginnings through the Land Stewardship Project
The Midwest Organic and Sustainable Education Service (MOSES)
Tilth Producers of Washington