WAYS TO IMPROVE HEALTH AND HAPPINESS BY EATING HOME-COOKED REAL FOODS:
ATTITUDE, STAPLES, IDEAS & UPGRADES
PART 2
Continuing with suggestions that are pertinent on the path of eating and cooking healthier real foods, perhaps you will remember a few forgotten gems and/or find a useful new suggestion from this next list.
MORE ON ATTITUDE
Grow your spirit connection to food:
Cook with love. Trite and very "60's" sounding I know, but I've found that good intention really carries a transformative ingredient into my experience of food preparation. Sometimes stopping for a little gratitude check goes a long way. See for yourself.
Shop at a farmer's market when possible and/or join a CSA (Community Supported Agriculture).
Plant a seed, watch it grow, and eat it by making a small garden patch, growing a potted vegetable, or herbs.
Growing herbs get special mention because they are an extremely accessible way to connect with growing something that's your own food. You can even grow them inside on a sunny windowsill. There is nothing like snipping some fresh herbs and putting them directly into your own salad, sandwich, soup, or stew. And the smell of fresh herbs on your fingers is wonderful!
Shut off your mobile device when you sit down to eat! (That includes vibrate!)
STAPLES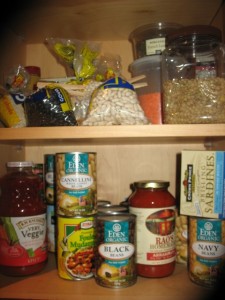 Staples are recurring or principal ingredients we rely on having in our pantries, fridge, and freezers to make meals. They also shine a light on our cooking habits and lifestyles. If you want to improve your health and happiness by eating home cooked real foods, I cannot stress how important it is to have some staples on hand.
Depending upon your circumstances, you might need to purchase some initial staple items if you're new to cooking, may be interested in upgrading your staples to healthier versions (a global strategic change that can happen incrementally), or may want to experiment  with including more vegetarian foods such as beans, lentils and new grains.  If you're new to cooking, please also consider buying a good, practical cookbook. (There are so many good cookbooks available it would be another article to outline them.)
I want to give honorary mention to the sustaining ingredients that you cannot buy in a store. They will grow in abundance and character over time, and only through experience, repetition, making valuable mistakes and accidental discoveries. I'm talking about the three C's: confidence, curiosity, and creativity.  Together these form fluency with food, and bring our pantries to life. Like music, your food can be created jazz-style-improv on the spot from what's in the fridge and cabinet to healthy easy foods you can tote to the office, to well-orchestrated everyday meals and symphonic specialties.
Below I am offering these categorical items from my pantry, not to convert you to purchasing the particular foods I have, but to be exemplary – as one who cooks healthfully and regularly – by showing the array of staples I've got on hand. I have been cooking for over 35 years. These staples reflect me NOW, as an empty-nester living with my husband. Most often we eat home and have friends for dinner once or twice a month. I hope my example will give you new ideas to incorporate, upgrade, or experiment with.
For what it's worth, I am not a vegetarian, though I eat predominantly from the plant kingdom. Many of my foods are organically grown but not 100%. (I will discuss which are most important to purchase in an upcoming article.) For my needs, I purchase fresh fish and occasional animal protein.
Fall and winter suggestions:
Healthy canned beans

for super easy meals. Add to rice, grains, pasta, stews and soups. If you cook stews with meats and poultry, consider using less or no animal protein, and substituting or adding beans.  In my pantry: black beans, chick peas (garbanzos), cannelloni, red kidney, pinto. Dried beans to pressure cook for soups and stews, to make wonderful vegetable burgers, un-meatloaf and un-meatballs. (I use chick peas and lentils for veggie burgers most often – not TOGETHER!) The dried beans are mostly the same as above. Let me mention right here that I also have Kombu (dried seaweed strips) on hand for cooking dried beans with. I add a 2-3 inch strip to my pressure cooker or soup pot.  This adds flavor, minerals and makes beans more easily digestible. I always have

red and green/brown, and sometimes French lentils on hand.

For Indian style dal I prefer red lentils (over moong or yellow split peas). Red lentils cook very quickly, are tremendously healthy, versatile, and taste delicious. I use green lentils for soup, un-meatloaf, un-meatballs, and veggie patties and for Mujadara (a very simple Middle Eastern dish of rice, lentils and caramelized onions).

Grains:

  Several kinds of whole wheat pasta, long and short grain brown rice, white basmati rice, Arborio rice for risotto, quinoa, buckwheat/kasha, pearled barley, brown rice Soba noodles, whole wheat couscous, slow cooking cornmeal grits for Polenta, a box or two of some kind of fast Risotto mix.

A can of wild salmon and sardines

.

Refrigerator staples and condiments:

 Fresh seasonal mostly organic vegetables and lot's of them as they dominate our diet. Whole unsalted raw almonds, walnuts, sunflower seeds, whole wheat or spinach wraps, humus, Peanut butter, almond butter, miso paste, (Earth Balance natural) buttery spread, Parmesan cheese, low salt tamari, salsa, hot sauce, ketchup, various mustards, tamarind chutney, salad dressing, horseradish, mayonnaise, toasted sesame oil, hot chili oil. Higher priced staples: Organic free range eggs, organic butter, biodynamic organic yogurt, a good piece of cheese (sometimes feta), balsamic fig vinegar, kalamata olive spread, olives, Ume plum vinegar, non GMO Organic canola oil, toasted sesame oil, maple syrup. These don't require refrigeration and I regularly have them on hand: garlic and onions, cold pressed virgin olive oil, a squash or two, red garnet yams (my favorite). Also some kind of whole grain/multi grain bread.

Three non–refrigerated important condiments:
A good vegetable powder bouillon – chemical and additive free for some soup stocks (left-over bean water from pressure cooking is excellent for soup stocks as well – freeze in containers!).
Bragg's Liquid Amino Acids: an awful name for a fabulous product I've used for 27 years; it's certified non-GMO soy and vegetarian, like a tamari sauce but much lighter. I use it with olive oil sprinkled on steamed vegetables, and for general cooking.
Apple cider vinegar
5.  Freezer:  I probably had the most ever in my freezer when my daughters were in middle school through high school, as they would often come home from school and want a good, quick snack or late lunch. Invariably, this would include some prepared frozen boxed foods, to be honest! (Discussion for another article.) 
My empty nest fall/winter freezer always has frozen peas and organic corn nibblets in it. Also a mileage food or two (things that get made in larger quantity and frozen for 2nd and 3rd meals) like homemade soups – black bean, lentil/squash, split pea, shitake mushroom barley, chicken soup, potato/kale/mushroom, etc. – often a container of turkey chili or chili non carne, chick pea or lentil veggie burgers, un-meatloaf, or a vegetable pie. NOT ALL OF THESE AT ONCE! There's usually an Amy's bean burrito or two as well, and sometimes ravioli.
Stay tuned, as the list continues, with strategies, upgrades, and more ideas.
Until then,
Keep me posted.
Ina