I'm inspired in this moment to discuss the topic of cooking meals, as it's one that's near and dear to me. With Monday, October 24, 2011 officially having been designated as Food Day, the time is ripe. The focus is to bring cooking – not just anything, but real food – back into home and hearth across America.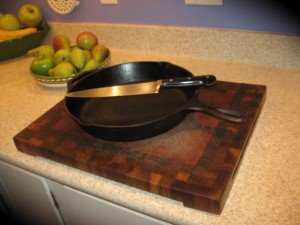 I feel hopeful about the declaration to herald in the dawn of a new day – one that harkens to an older,  slower way that celebrates the healthy planting and growing of food, cutting and chopping, cooking and eating together, doing the simple acts of living that are real and ought to form the pattern of everyday life. Eating real food from home will make us healthier, wealthier and wise because what we put time and money into up front – for wellness, healthier eating and living – we'll save by not paying as much for prescription drugs, sick days and medical procedures.
There are many reasons why we have gone astray, and I'm taking leave of recounting them in this article. Instead, I want to offer all kinds of suggestions that are pertinent on the path of eating and cooking healthier real foods. I hope at least a few will prick your interest and be of service, depending on who you are on the continuum of cooking and healthier eating, whether you live alone, with a loved one or other housemates, cook for a family of toddlers to teens, are a college student (with cooking facilities), work part or full time, are at home in any capacity, whether you have ample money or little, and oodles of time or none.
Go through the list below, even the categories that don't fit "you" (you might see something helpful to pass on to someone you know), and see what you come up with. I think three takeaways are good for starters. If you find more than three good ideas consider prioritizing them so you don't feel overloaded, and add one a week thereafter. Real internalized change doesn't happen overnight in one fell swoop. If you find less than three, congratulations! Please consider helping a friend or loved one and share your wealth of experience.
From one who has been cooking for 34 years, experimented with ALL kinds of dietstyles – beginning from  cultural Jewish 1950's cuisine to raw foods, from making homemade breads (and selling them) to baby food, from feeding my family until my daughters went off to college to empty nesting and middle age… I say Happy Trails to you… and let the new healthier games begin!
WAYS TO IMPROVE HEALTH AND HAPPINESS BY EATING HOME COOKED REAL FOODS:
ATTITUDE, IDEAS, STAPLES, STRATEGIES, & UPGRADES
PART 1
For Your Attitude:
Keep it (the food expectation) simple. Real food tastes great. It doesn't have to be "Kitchen Stadium" to satisfy.
Everyday  remember you are worth cooking for and taking good care of, whether you live alone or with others.
Expect that no matter how you do it, cooking takes a little time and effort, longer than just popping some over-salted store-bought frozen dinner in the oven. (You'll have your own frozen dinners to use once you start stocking up.) Try saying this daily: "I eat, therefore I cook," before you do it, and soon it will feel true.
Everyday remember that your body depends upon the nourishment it receives. Eating real food is the best fuel and life force your time and money can buy.
Approach cooking (especially if you're a beginner) with a playful, experimental, kind and patient attitude. If you make something that doesn't work, don't fret, have eggs or pasta (whole wheat w/veggies!) or a PB & J sandwich – you'll be fine. It's part of the process.
For Your Body:
Take a breath before you begin to eat. Look at your food and think about where it came from. Thank the earth, the farmers, and the animals if you are eating anything from them. (You may want to re-read the Mindful Eating article.)
Chew your food! Slow it down, baby! Taste and chew. Engage your senses when you eat. Digestion begins in our mouth. Take care to not just gulp and swallow.
Give yourself no less than 20 minutes to eat. That may be easier for dinner, but I'm talking about lunch and breakfast as well. It takes 20 minutes for our brains to register satiation with our stomach. Rushing our eating causes overeating, not to mention being "out to lunch" for our lunch.
Sit down to eat.
Stop eating when you are no longer hungry (which is before you are "full"). Breathe, and feel if you "need" anymore, or just want it.
My 6 Most Used Kitchen Tools:
Large 12" cast iron fry pan. Buy 10" if you live alone or mostly cook for 1! They are inexpensive, $30 for the 12", sold in my local hardware store, preferred over my expensive All Clad sauté pan, invaluable, heavy, are the best pans for sautéing, braising (never frying!), making anything crispy or caramelized on the outside and succulent inside (veggies or chicken or fish), can go in the oven for roasting and baking, cleans easily – need I say more?
A Cook's Knife for dicing vegetables. Mine is 9" long and 2"wide at its widest point, easily costs over $100 today, and is 26 years old. The size and sharpness matter most, so you can buy way less expensive versions.
A pressure cooker for beans. About $30  Can be used for rice as well, but I use mine just for beans. You won't believe how much better homemade beans taste to canned ones, even the good organic ones. Canned beans are fine… I eat them too! Homemade are AMAZING. Easy to use and they save money too.
Salad spinner. If you plan to eat any salad greens, this is a necessity. It makes for dry, unwilted salads. I like the company  Zyliss (from Switzerland).  Another inexpensive piece of equipment, mine is 15 years old, and I use it several times a week.
 Vegetable steamer. As you explore bringing vegetables into your meals more, a vegetable steamer is an essential. Vegetables have such a bad rep because our mothers' may have cooked the living color out of them, turned to pabulum, and then said we had to stay at the table until we finished them! Good fresh produce is mind blowingly tasty, and should not be OVERCOOKED! If you're new to cooking vegetables other than peas and carrots, you cannot go wrong with gently steaming. Steamers can be as easy as a metal insert from the supermarket, or a bamboo double stacker, or a double type pot where the colander fits inside a slightly larger pot. I have 3 steamers, small, medium, and large.
A cutting board for everything but meat and fish. This one is so important to me I actually forgot to include it, and decided to break my "only 5 of everything rule" right away. Cutting boards are personal, depends upon style, room in your kitchen, etc. I love a wood cutting board and have mine out all the time. I prefer the surface of wood to any other surface to cut upon. It feels alive and receptive, and even wears down over time, amazingly. I think the size is the most important feature of the board. In the best of all worlds, it should be larger than your knife by several inches, so you can freely move your hand as you slice and dice (with speed and fluidity as you do it more and more).  Bamboo is also a good surface available these days.
Next Wednesday the list continues, with staples, strategies, upgrades, and more ideas.
Until then,
Keep me posted.
Ina
________________________________________
Photo credit: Ina Denburg