"Putting by" is an old-fashioned term for preserving food for eating long after the harvest or butchering. Back in my grandmother's day the cooks and other food preservers who did excellent work saving the harvest survived the lean months and flourished, while others not so fortunate or skilled may have gone hungry.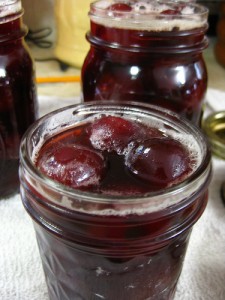 Not long ago I interviewed one of the chefs at Olympic Provisions in Portland. I wrote about their meat processing, focusing on their array of pork salamis, which are a form of "putting by" meat. That interview impressed me so much that I decided to go back for a meal, taking a friend with me to help with taste testing.
Cathy, who has shared a number of adventures with me, looked at the Olympic Provisions menu and decided to let me do the ordering. We both enjoy trying new things, so I boldly made some choices. We shared a large sampler plate so we could taste several salamis plus a pork rillette hand pie. The main dishes were very good, but for me they were overshadowed by distractingly delicious side dishes. We were served pickled onions, celery, and cherries, which I found so delightful I asked for extras on the pickled cherries. So-o-o good!
Inspired by the cherries, I've just made some myself. Apparently pickled fruits have been around for decades, as my antique Joy of Cooking has a whole section on this topic. The Internet has lots of options, too. Fruit harvest is in full swing now and from what I've learned, you can pickle almost any of them. My grandmother would be proud of me, to see me putting by some fresh cherries, pickled for winter enjoyment. I can't report on the flavor, however, as the instructions say to wait two weeks.
The time goes slowly, waiting to taste.
________________________________________
About Susan W. Clark
Susan W. Clark is a freelance writer and photographer focusing on sustainability. She lives on an organic farm near Canby, Oregon. Her blog, publication list, and clips are available here.
Photo credit: robotika, used with permission under Creative Commons license.