Our first stop in Montana was at Amazing Grains, miller and marketer of Montina™ brand Indian rice grass, where we met Grace Lee – "Amazing Grace" – and her husband Brad.
Eastern Montana is part of the huge "bread basket" of the Great Plains, but most of the grain grown there is wheat. Tucked away in Pablo MT, about 60 miles north of Missoula, is a small miller bringing a very special grain to market. Amazing Grains mills, packages and sells Indian rice grass, a unique gluten-free perennial grain widely grown, but rarely eaten today.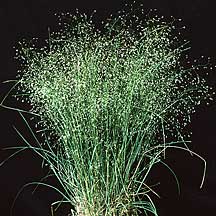 Indian rice grass (Achnatherum hymenoides) is a sturdy grass bearing an airy collection of fine seed heads on delicate stems. While much admired for its ornamental effects, Indian rice grass is tough and grows especially well in dry, sandy soils. Most of it is grown as a conservation measure to prevent wind erosion.
A wild grass first used by native Americans thousands of years ago, Indian rice grass has a very versatile seed. Historic uses included:
Raw seeds eaten to relieve stomachache, colic, and aching bones
Cooked seeds eaten as dumplings
Seeds added to soups
Seeds ground into flour and meal for cakes, pones, and flat bread
While we don't use it as raw seeds anymore, the grass makes a terrific gluten free flour.
For more information about Amazing Grains, visit their website.
Today we're on to Great Falls where we'll be meeting a quartet of farmers. Come along for the ride!